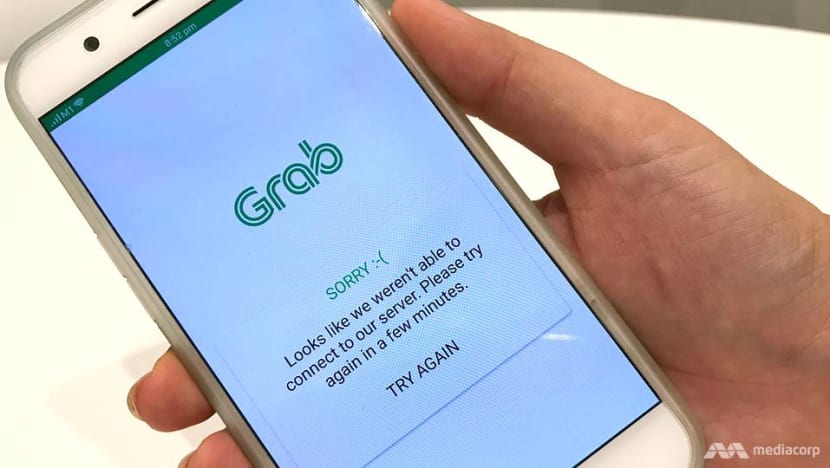 SINGAPORE: Ride-hailing platform Grab experienced a service disruption of at least 3.5 hours on Tuesday night (Apr 3), affecting customers in several Southeast Asian countries and causing price surges on rival operator Uber's platform. 

When Channel NewsAsia tried accessing the Grab app at about 8pm, there was an error message: "Looks like we weren't able to connect to our server. Please try again in a few minutes."
It came back online at about 11.30pm.
In a Twitter update at about 9.30pm, Grab had said that it was "experiencing a service interruption".
"We are working hard to fix this, and we are working around the clock to resolve it," the tweet said.
In response to enquiries on its social media pages, Grab replied earlier that it was "experiencing some technical difficulties with our app and it had affected some users". 
"Our engineers are working to recover the app. Please be patient with us and try again later. We're sorry for the inconvenience caused," it said. 
Grab users also took to social media to report similar error messages, from countries including Singapore, Malaysia, Indonesia, Vietnam, Myanmar and the Philippines. 
In addition, several Grab drivers reported this evening that the app for drivers was also not working. One driver, who did not want to be identified, said his driver's app had hung.
At around 9.55pm, another driver in the WhatsApp group said he received the following message from Grab: "Dear partner, due to a technical issue, you may not be able to receive or complete bookings as per normal. We are working hard to fix the issue and will be back to serve you as soon as we can. Apologies for the inconvenience and thank you for your support."

This comes after separate complaints earlier this morning when drivers experienced a "job card glitch". 

One person in a WhatsApp group for Grab drivers forwarded this message from Grab which was received at around 11.20am: "Dear Partner, we apologise for the job card glitch this morning, where fare and destination were not shown. This technical glitch has now been resolved. Please restart your phone and Grab Driver App to see the destination and fares again. Apologies for the inconvenience and thank you for your support."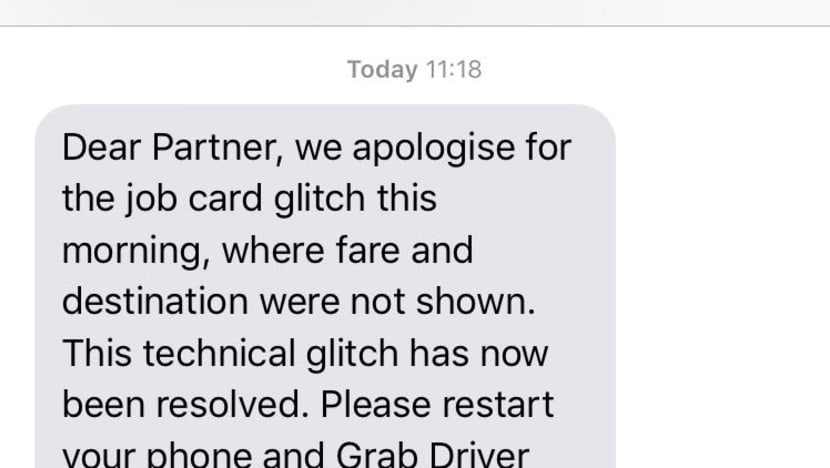 In an update at around 10.50pm, Grab notified its drivers that incentive payouts "might be delayed until Wednesday" due to a technical issue. A Grab driver shared that the weekly incentive payouts are usually received by Monday night or Tuesday afternoon.

In a statement on Wednesday, Grab apologised to those affected and said the app was down due to "underlying infrastructure" problems.

"The app was down due to problems with our underlying infrastructure, and our third-party infrastructure providers are immediately fixing the problems on their platforms," said a Grab spokesperson.

Grab announced last Monday that it will be taking over competitor Uber's Southeast Asia operations, but there have been concerns that the merger violates anti-competition laws in a few countries.
This story came from a reader tip-off. If you would like to send in photos or videos of something newsworthy, WhatsApp our Mediacorp news hotline at +65 8218 8281 or message us on Facebook.