From Grab driver to software engineer: Why gig economy companies are upgrading their workers' skills
SINGAPORE: After working in the aerospace industry for almost six years, Mr Farhan Ramdan made the switch to join the oil and gas sector in early 2020. 
His new position as an inspection specialist offered him better pay and the opportunity to travel, compared to his previous role as an aircraft testing inspector, he said. 
However, just a month into his new role, he was told he was out of a job. 
"Right before the circuit breaker, my MD (managing director) told me that they had to let me go because of COVID," the 31-year-old told CNA. 
"I didn't even know how to actually explain it to my wife," he said, adding that his wife was pregnant at the time. 
Mr Farhan, who had been driving for Grab in his free time, turned again to private-hire driving while he was unemployed.
But with most people working from home and a steep drop in tourist numbers amid travel restrictions, Mr Farhan found he no longer had the steady stream of passengers he once enjoyed.
"It took me about one week to realise that, you know, this is really not happening," he said. 
He then started delivering food for Grab, though this was still not enough to make up for the loss of income from his job in oil and gas. 
It was then that Mr Farhan came across GrabAcademy – the ride-hailing giant's training initiative – while scrolling through the Grab driver app.
He found himself drawn to an eight-month train-and-place programme in software development, a collaboration between Grab, Microsoft, Temasek Polytechnic and non-profit organisation Generation.
While he had no prior experience in the tech industry, Mr Farhan believed it would be more stable than his previous jobs, with the increased demand for tech roles during the COVID-19 pandemic. 
The course helped "mould him into a techie", he said. Besides programming languages such as Javascript and CSS, he also learned soft skills such as cultivating a "growth mindset".
Mr Farhan now works as a junior software engineer with Grab. 
His role in service assurance involves optimising the processes for software developers, such as improving the processes when an outage occurs, he explains. 
Grab Singapore managing director Yee Wee Tang said the firm also offers "second-skilling opportunities" for drivers and delivery riders. These help them acquire skills such as entrepreneurship as well as professional certifications such as in culinary and personal trainer, he said. 
The company has also collaborated with the National Private Hire Vehicle Association (NPHVA), SkillsFuture Singapore and Workforce Singapore to organise workshops for drivers who want to move to other careers.
Grab is "fully supportive" of its drivers and riders – who are considered self-employed – who wish to pursue new career paths outside of the company, Mr Yee said. 
He cites an internal poll conducted in 2019 which found that more than 70 per cent of drivers intended to stop driving after two years and that half were willing to take part in career-related training. 
Grab is not the only company offering gig workers such upgrading opportunities. 
Earlier this year, food delivery company foodpanda partnered with Temasek Polytechnic and e-learning platform Gnowbe on an e-learning portal, offering more than 200 courses in areas such as customer service, finance, digital skills and personal branding.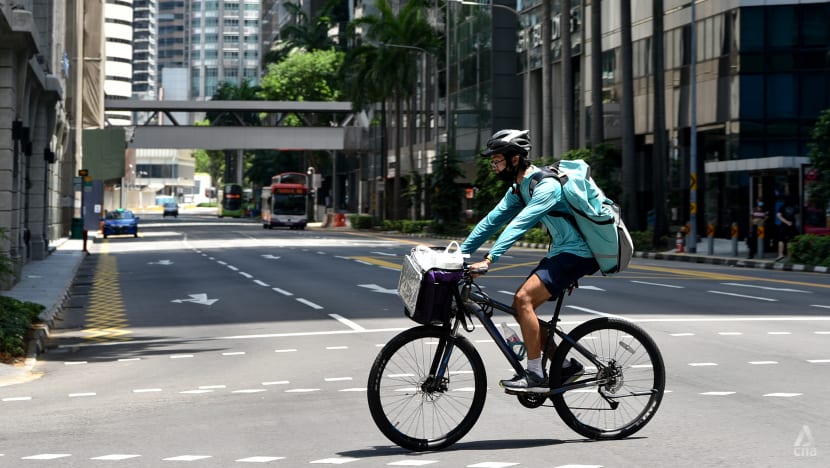 Earlier this month Deliveroo announced it would expand its own learning initiative, with the aim of getting 1,000 riders to complete at least one training course by the end of this year. 
As part of a partnership with education platform OpenClassrooms, the company offers 700 free online courses – in areas such as e-commerce, business management and coding – to delivery riders and their families.
Almost 300 riders here have completed at least one course on the platform since it was launched in 2019. 
The food delivery service also has a scholarship scheme with OpenClassrooms, funding associate-level degree programmes for its riders. 
The courses, which include web development and digital marketing, take six months and require an average of 20-hour weekly study hours. Riders will also be assigned a "career coach" to help them land a job in the relevant field upon graduation.
"This year, two Deliveroo riders have completed their scholarships, and one is currently undergoing the programme. Deliveroo plans to fund more scholarships in the coming 12 months," the company said. 
Deliveroo Singapore general manager Sarah Tan said the firm was committed to supporting riders in their professional and educational development. 
"Riders are at the heart of all that we do, so we regularly engage our riders through various initiatives, including providing upskilling and training opportunities," said Ms Tan. 
"We constantly ask our riders the skills they want to acquire so that we can identify the right training providers to offer such courses." 
ADDRESSING THE SKILL SUPPLY GAP
Gig workers without marketable skills could lose out if companies change their hiring policy, said National University of Singapore Business School's Professor Sumit Agarwal in a commentary for CNA earlier this year.
"Ideally, there would be schemes for gig workers to undergo training in skills tailored to their fields of freelance work that creates potential for progress within the sector," he wrote. 
He suggested such workers could learn how to generate business leads and start their own gig business, noting this would be in line with the Government's push to build a "skilled, relevant and future-ready workforce". 
Simply making the time for skills upgrading is a tall order for many, said MP Yeo Wan Ling (PAP-Pasir Ris-Punggol). 
Ms Yeo – an adviser to the NPHVA, National Taxi Association and National Delivery Champions Association, which are affiliated with the National Trades Union Congress (NTUC) – said this is especially so for gig workers, with their less predictable work schedules. 
"This makes it challenging for gig workers to take on conventional training programmes as this would call for sacrifices in earnings, including future earnings, as incentives are dependent on the regularity and volume of work activity," she said. 
One of the priorities for NTUC and its associations is making training possible for self-employed people, she said. 
"This includes catering for training that accommodates the work patterns of gig workers, for example, in two-hour sessions during the lull periods of the day." 
Ms Yeo also pointed to training in the form of "quality online courses", such as the NPHVA's initiative to provide and sponsor access to more than 60 online courses in areas such as safe driving and customer care and business fundamentals. 
Companies like Grab or Deliveroo may be offering such upgrading opportunities for gig workers out of a sense of social responsibility, said career coach Adrian Choo.
These firms may be anticipating the longer-term career needs of their workers, who may not be able to drive passengers or deliver food indefinitely, noted the chief executive of career consulting firm Career Agility International.
Mr Choo notes that doing so also addresses the issue of underemployment – defined by the Manpower Ministry as the "underutilisation of the productive capacity of the labour force". 
"So we have graduates who train for managerial positions, but they end up driving for Grab, and they don't progress. And then when they're 40 years old and they go out and look for jobs, they don't have the relevant skills," he said. 
This in turn becomes a problem, not just for gig workers, but for the economy, said Mr Choo, pointing to a potential "huge skill supply gap".
Upgrading opportunities should be tailored to the individual, and this requires longer-term career planning, he adds.
"The challenge is that the skills they have graduating from school, by the time they hit the job market their skills are not really relevant," he said. 
As such, skills and training need to be continually updated, he said. 
For Mr Farhan, his new job is very different from what was he used to. The nature of the job means he is constantly being challenged, and as such he does not get too comfortable, he said. 
He also enjoys the opportunity to learn from his more experienced colleagues, whom he treats as mentors.
"With that, at least I have an investment in myself," he said. "In five to 10 years' time, I will still continue to grow."