SINGAPORE: Singapore Prime Minister Lee Hsien Loong said on Thursday (May 18) that there is "great potential" to expand bilateral cooperation between Kenya and Singapore.
"Kenya's strategic location serves as a gateway for Singapore companies into East Africa. Likewise, Singapore can serve as a gateway for Kenyan companies into Southeast Asia," he said at a joint briefing with Kenya President William Ruto.
The briefing was held at State House, Kenya's presidential residence in Nairobi.
Mr Lee noted that the economic cooperation between both countries has been on an upward trend. 
"Kenya is one of Singapore's important trading partners in Sub-Saharan Africa. Despite COVID-19, bilateral trade in 2021 (has) increased by almost a quarter year-on-year," he added. 
Mr Lee added that several Singapore companies are already operating in Kenya in a variety of sectors from shipping to agribusiness. 
A delegation of Singapore companies also accompanied Mr Lee and government officials to Kenya with the intention to pursue opportunities for investments and partnerships with Kenyan companies.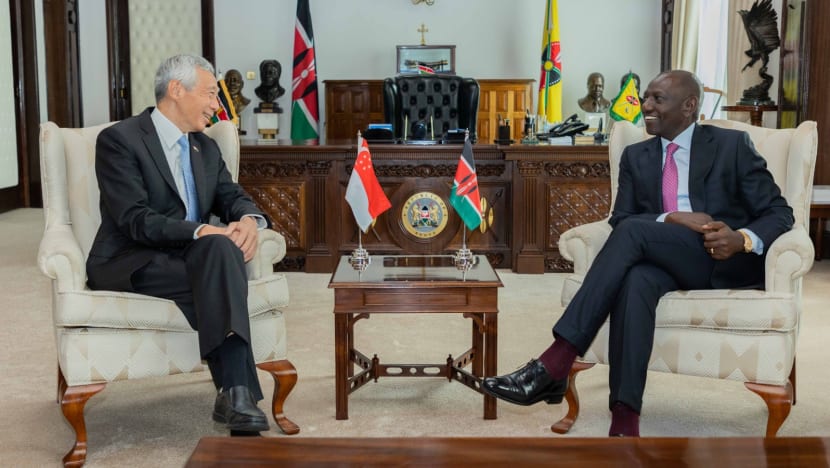 On Thursday, Singapore and Kenya also signed Memorandums of Understanding (MOU) to collaborate on areas like information and communications technology (ICT), climate change and skills development. 
The MOU on climate change will focus on the carbon credits collaboration under Article 6 of the Paris Agreement. 
Under Article 6, countries will be able to transfer carbon credits earned from the reduction of global greenhouse gas emissions to help one or more countries meet climate targets. 
It allows countries to voluntarily cooperate with each other to achieve emission reduction targets. 
This MOU will encourage, develop and facilitate collaborative carbon credits projects of mutual interest, said Mr Lee. 
"International collaboration, such as this agreement between Singapore and Kenya, is critical to promoting global climate action to achieve the goals of the Paris Agreement," he added. 
The MOU on ICT will allow the exchange of best practices and knowledge, while also promoting talent development and innovations, and strengthen strategic cooperation in cybersecurity. 
The MOU on skills development will encourage closer cooperation between both countries in areas such as leadership and governance, education, and digitalisation. 
During the visit, the two leaders also affirmed their shared commitment to multilateralism and a rules-based global order. 
Both Singapore and Kenya agreed to continue cooperation at the United Nations (UN) and other multilateral organisations, and to cooperate on UN reform to enhance its effectiveness.
Mr Lee also welcomed the ratification of the bilateral investment treaty and Mr Ruto's commitment to settle the avoidance of double taxation agreement as soon as possible. 
"These moves send a strong, positive signal to businesses and provide clear clarity and assurance on cross border transactions and investment," he said.
Mr Lee added he invited Mr Ruto to visit Singapore, which he hoped would be sometime early next year. 
Mr Lee's trip to Kenya concludes on Friday, having visited South Africa earlier in the week.