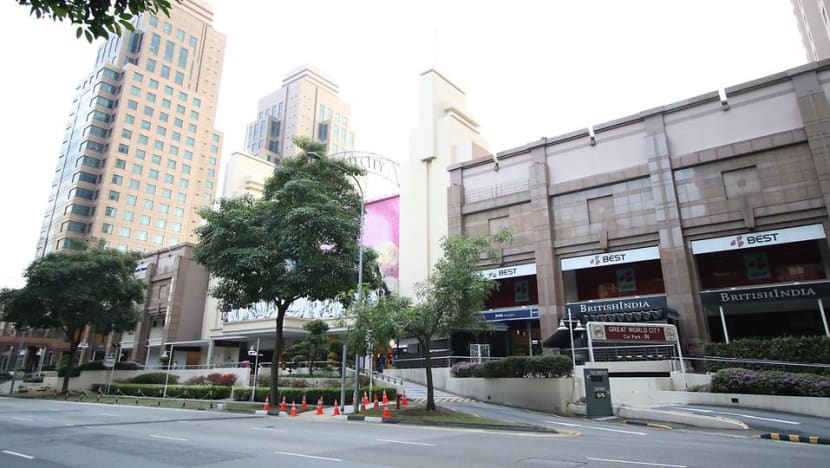 SINGAPORE: Great World City will undergo enhancement works from mid-April, ahead of the opening of the Great World MRT station along the Thomson-East Coast line in 2021, according to a joint media release by property group Allgreen Properties Limited and Great World City on Tuesday (Apr 10). 
The works will be carried out in phases over the course of two years and will be completed by the third quarter of 2020. 
There will be a reconfiguration of interior walkways and escalators for ease of movement and "self-contained pods" housing creative retail concepts. 
The shopping mall will also see food and beverage outlets covering 30 per cent of the space, up from 20 per cent at the moment, according to the press release. 

The first floor of the mall will feature a zone dedicated to food and beverage and children will have an outdoor playground on the second floor. 

Additionally, about 50 new tenants, including Japanese-focused retail and food outlets, will be introduced to the mall.

"With the revitalisation of Great World City, we are very excited to bring a new-found vibrancy to the River Valley area whilst maintaining its roots as a beloved leisure and lifestyle destination," said the CEO of Allgreen Properties Limited Lee Yew Kwung.
With the upcoming Great World MRT station, commuters can also easily access the revamped Great World City with a new retail link on Basement 2 of the mall that gives easy access to the MRT station. This is alongside an entrance to the mall from the station on the first floor and on the second floor via a pedestrian overhead bridge. 
Despite the enhancement works, the mall will remain open and "tenants will continue to operate with minimal disruption during this period", said the press release. 
Major retail, dining and lifestyle tenants such as Zara, Golden Village, Best Denki, Cold Storage, Imperial Treasure Cantonese Cuisine, Kuriya Dining and Food Junction will be unaffected. 

Office tenants in the building will also see improvements after the enhancement works. There are plans to allow office lifts in the building to directly connect to the third floor of the mall.