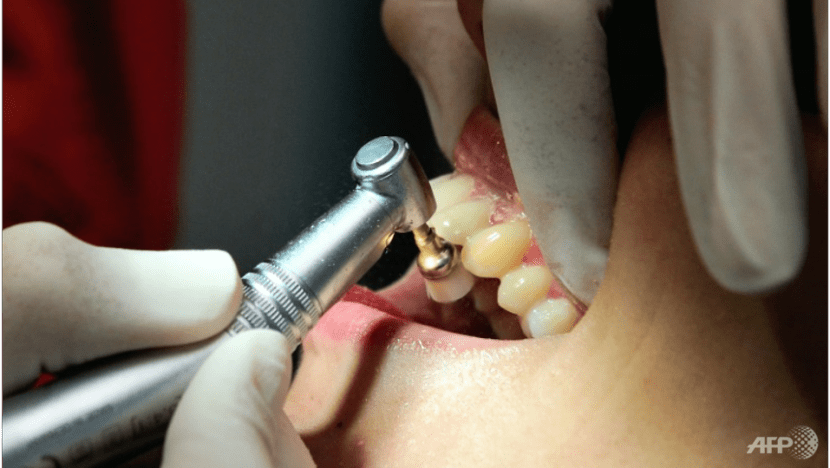 SINGAPORE: It may be possible to use screening for dental patients as a touchpoint to detect diabetes, doctors at National Dental Centre Singapore (NDCS) said at a briefing on Wednesday (Aug 29).

A recent study presented in June this year found that those with severe gum disease - where the tooth is in danger of falling out - were more likely to have undiagnosed diabetes. Among those studied, 8.6 per cent of severe gum disease patients were detected to have undiagnosed diabetes.
In comparison, only 1.5 per cent of those with moderate gum disease were found to have undiagnosed diabetes.

In all, 5.8 per cent of participants in the study - ranging from those with normal to severe gum disease - have undiagnosed diabetes.
The study looked at 500 patients who were being treated or who were referred to the NDCS for possible gum disease. They declared that they did not have diabetes during their pre-medical screenings.

Those with moderate and severe gum disease were also more likely to have pre-diabetes. 
More than 30 per cent of the patients were detected to have pre-diabetes. Of these, 70 per cent had moderate to severe gum disease.

DENTAL CLINICS WAY TO IMPROVE EARLY DETECTION OF DIABETES
Diabetic patients are two to three times more at risk of getting gum infections, and diabetes will also worsen symptoms of gum disease. 
At the same time, inflammation from gum disease will increase insulin resistance and worsen the diabetic condition.

As such, the team suggested that apart from usual diabetes screenings, dental clinics may be a feasible setting to screen for diabetes as well.

This may be a way to inprove early detection of diabetes in Singapore.
NDCS's Dr Chee Hoe Kit, who is leading an extension of the study, advised diabetic patients to see a dentist at least once a year. 
"Ask for a detailed gum examination so that you will know the health of your gums and take measures to get any gum disease to be treated by your dentist," he said.
"If you're not a diabetic patient ... and you have severe gum disease, then you may want to consider getting a blood test done in order to rule out that you may be having diabetes or even pre-diabetes."
A patient with pre-diabetes may not necessarily develop diabetes later in life. Through early detection and management, development into diabetes can be mitigated through lifestyle and diet changes.