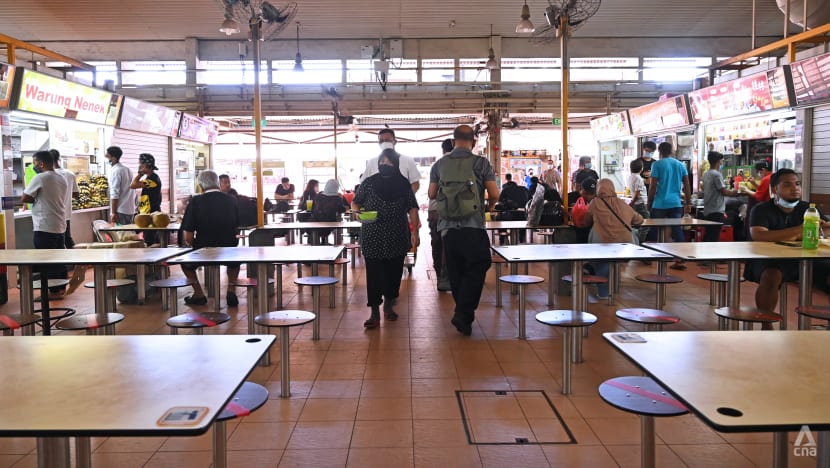 SINGAPORE: Fully vaccinated members of the same household will soon be able to dine together in groups of up to five at some hawker centres.
The first group of hawker centres is expected to put in place access control and checking systems before the end of November, the Ministry of Health (MOH) said on Monday (Nov 15).
The remaining hawker centres "should then be able to follow soon after", it added. 
Co-chair of the COVID-19 multi-ministry task force Gan Kim Yong said at a press conference that by the end of this month, the "majority of hawker centres" will have the necessary control measures in place.
Groups of up to five fully vaccinated household members have been able to dine together since Nov 10 at other F&B outlets that have put in place vaccination checks. Those not from the same household can dine together in groups of two.
Implementation and enforcement of vaccination-differentiated measures are "more challenging" at hawker centres and coffee shops, MOH said, adding that the National Environment Agency has been engaging hawkers' associations and town councils.
For coffee shops, the Singapore Food Agency has similarly been engaging the operators. Those that put in place a system to control access and check the vaccination status of their patrons will also be allowed to have groups of up to five from the same household dining together. Otherwise, the prevailing group size of two will apply.
Vaccination-differentiated measures are needed to protect the vulnerable from exposure to COVID-19, said Health Minister Ong Ye Kung at the press conference.
"Of particular concern are places with high footfall, high human traffic and which seniors tend to frequent and they are hawker centres as well as coffee shops," he said.
In such mask-off settings, the unvaccinated can easily be infected with COVID-19, MOH said. 
"It is therefore important to have proper checks on vaccination status before someone enters a hawker centre or coffee shop, and to allow only those who are fully vaccinated to sit down to eat," the ministry added.
"This can make a very significant difference to our healthcare capacity, and especially ICU occupancy."
MOH also announced that household members dining together can now use the myICA and SGWorkPass apps as proof of residence, in addition to using the NRIC or SingPass app. This comes after some foreign residents said they had difficulty showing proof of residence for verification.
CHEAPER ART KITS TO BE AVAILABLE
Prices of antigen rapid test kits are expected to fall with more of such kits being approved for sale.
The self-test kits typically cost about S$10 at retail stores in Singapore, but the new test kits are expected to be cheaper, Mr Ong said.
"We expect some of these kits to be sold well below S$10 and hopefully below S$5 for each test, but we know these are commercial decisions, but the cost of these kits are considerably lower," he said.
The Flowflex ART kit was authorised under the Pandemic Special Access Route (PSAR) for self-test use on Nov 8, bringing the total number of approved ART kits in Singapore to nine. 
Two other ART kits have been approved to undergo PSAR registration.
The Government and healthcare institutions have been sourcing for more ART kits "to bring down costs while ensuring that those authorised for sale in Singapore continue to meet stringent safety and quality standards", the ministry said.
"We expect these kits to be priced significantly below the current prices of ART kits," MOH said.
Watch the full news conference, including the Q&A session with journalists: