Hawkers say they have 'no time' to check vaccination status, many rely on safe-distancing ambassadors
SINGAPORE: Vaccination-differentiated safe management measures kicked in at hawker centres and coffee shops on Wednesday (Oct 13), but hawkers whom CNA spoke to said they didn't have time to check their customers' vaccination status as it was "troublesome".
Under the new rule, only fully vaccinated people can dine in at these places. 
Instead, the hawkers said they relied on safe-distancing ambassadors stationed at the entrance of hawker centres to do the job.
"We don't check. It is troublesome. Outside there, (the safe-distancing ambassadors) check once at the entrance already. I'm okay with that," said Mr Hussein Rashid, 68, an employee of Kelate at Beo Crescent Market. 
Last Saturday, the Ministry of Health (MOH) announced that fully vaccinated individuals may continue to enter shopping malls or dine in at hawker centres and coffee shops from Wednesday, but only in groups of up to two people. Those who are unvaccinated can still take away food.
Under the vaccination-differentiated measures, children aged 12 years and below, recovered individuals and unvaccinated people with a valid pre-event test result can be included in the group of two.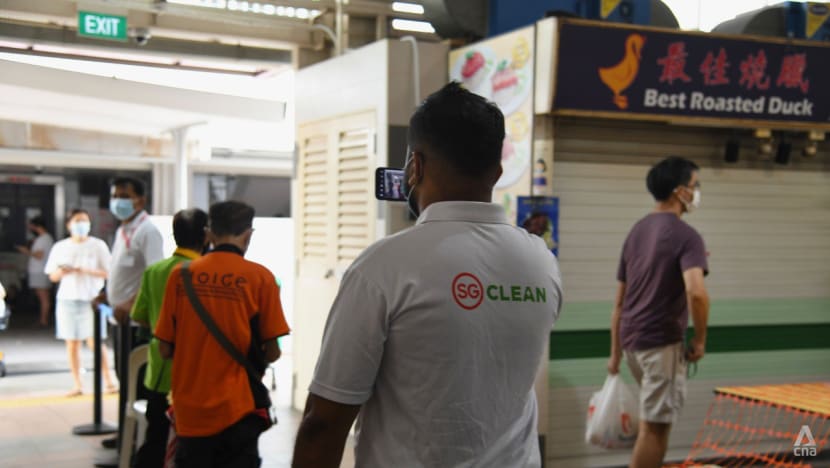 The measures will be "implemented in a very pragmatic way", said Minister for Sustainability and the Environment Grace Fu on Tuesday.
"So at our hawker centres and coffee shops, we require operators to remind their patrons, that if they are not vaccinated that they shouldn't dine in."
Ms Fu said there will also be posters and public announcement systems, where applicable, to "constantly remind" diners who are unvaccinated that they should not be dining in.
Coffee shops will also be required to check a diner's vaccination status at a fixed point, such as their drink stalls or coffee stalls.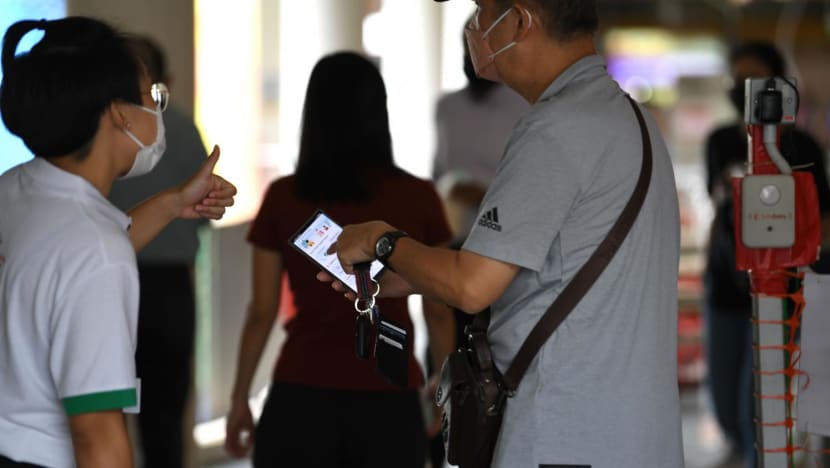 "NO TIME TO CHECK" 
When CNA visited Tiong Bahru Market at around lunchtime on Wednesday, an employee of L21 Hot & Cold Beverages who only wanted to be known as Ms Wong said there was simply "no time to check" each customer's vaccination status.
"Some people can't accept (the new vaccination-differentiated measures). Some people might not be vaccinated, and when you ask them if they are vaccinated, they might not want to buy coffee anymore," she told CNA in Mandarin. 
Customers also told CNA that they were not asked to show their vaccination status when they placed their orders, such as those at Oikos Western Delight in Chinatown Complex.
An Oikos worker also expressed confusion and said he didn't know if he was supposed to check their status. 
But safe-distancing ambassadors were seen at Beo Crescent Market, Tiong Bahru Market and Chinatown Complex, checking customers' vaccination status before they entered the premises. 
At standalone restaurants like Old Tiong Bahru Bak Kut Teh, however, such checks were done by employees themselves. 
"Some older folks get angry, but can't be helped. But most are vaccinated so it's not too much trouble," said employee Jason Tan, 38, in Mandarin. 
"In the end, it's just about helping each other out. You help me, I help you."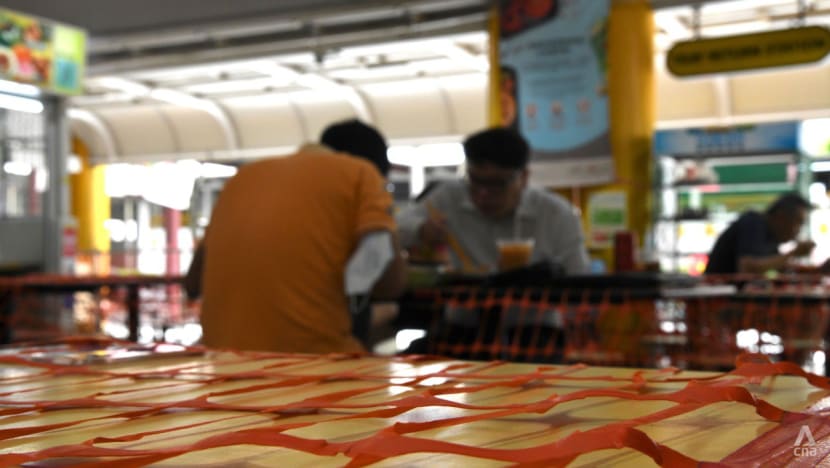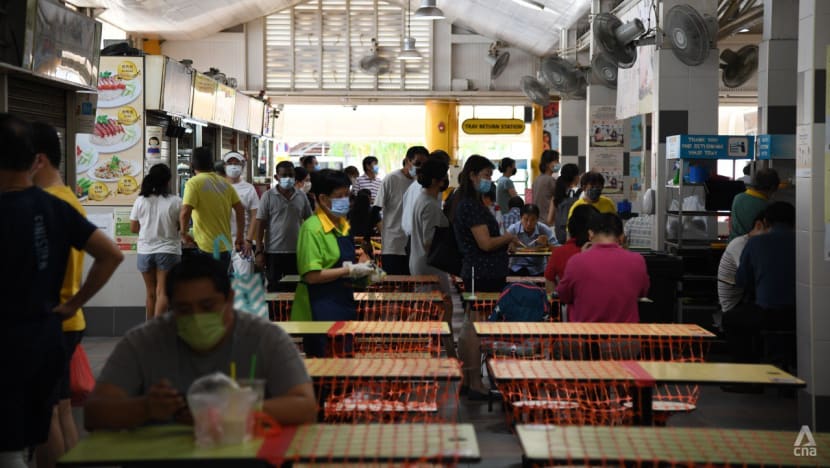 TURNING AWAY THE UNVACCINATED 
Safe-distancing ambassadors on the ground said they had not run into particularly difficult customers yet. But they added that the new rules take time to implement. 
"When customers see the advisory poster, they will automatically show me their vaccination status even before I ask. But I will ask the elderly ones," said a 51-year-old safe-distancing ambassador at Chinatown Complex, who only wanted to be known as Mr Yun. 
He said that if unvaccinated elderly folks insist on entering, he "will just let them go", but he will strongly advise them to only order takeaways. 
"A few" unvaccinated customers at Beo Crescent Market wanted to dine in, but had to be turned away, said another safe-distancing ambassador, who only wanted to be known as Adam.
The 34-year-old spent about 15 minutes explaining the situation to an elderly man who would only become fully vaccinated on Oct 15. 
"(With customers like this), we just advise them and try to educate them. Some will listen," he said. 
"Some (older folks) also don't have their TraceTogether token or the app because they don't have a phone. So they have to show us a letter that says they've been vaccinated."
Inspections may be done at selected hours, added Ms Fu on Tuesday. And they may be conducted more frequently at hawker centres and coffee shops where there may be large numbers of unvaccinated seniors gathering.
Those who breach the vaccination-differentiated measures will be warned and have their particulars recorded, said the National Environment Agency and Singapore Food Agency in a media release last Saturday.
"Enforcement action will be taken against repeat offenders and those who refuse to cooperate," they added.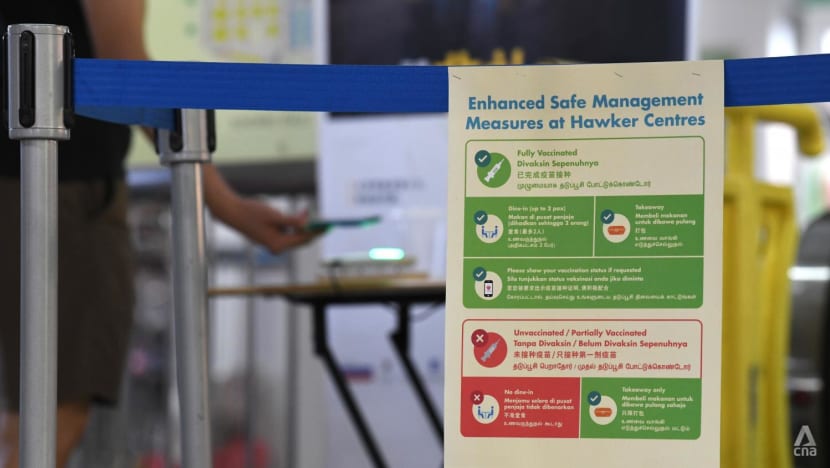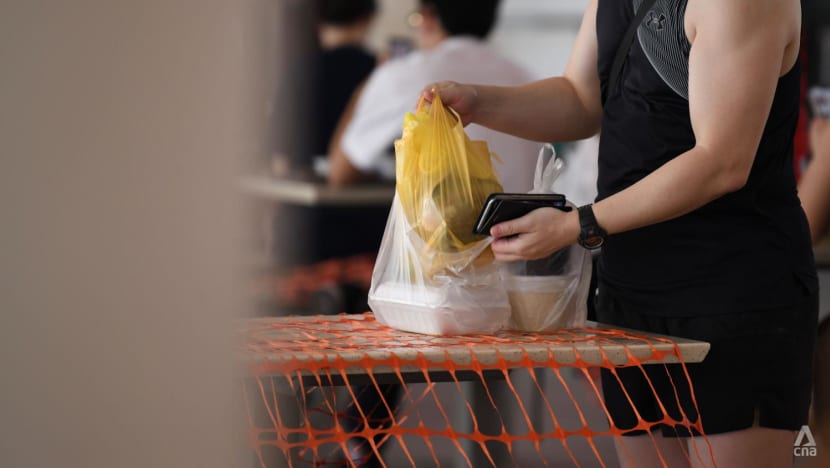 DO VACCINATED DINERS FEEL SAFER?
But there were mixed feelings over the new measures. 
"A hawker centre is well-controlled. But once you're out there, it's a different situation altogether," said Mr John Lim, 44, a customer at Tiong Bahru Market.
"I feel safe because I'm vaccinated, but I still do the usual things, like mask up and take the usual precautions. COVID is still around.
"But the (new measures specifically) don't make me feel any safer."
On the other hand, 25-year-old Ms Natasha Tan said the restrictions eased her concerns for her grandparents and parents. 
"Even though it's an open space, it's a mask-off situation. So of course with the new restrictions, I do feel it's much safer," she said. 
"I'm sure there are some (unvaccinated) people with health restrictions or they're not educated enough ... so given that, I feel bad for them. I'm not sure where they can go to eat. For the elderly, hawker centres are the one-stop place to go."
But she added that "these steps need to be taken" as the country moves towards living with COVID-19 as an endemic disease.
"You just need to start closing off the radius that non-vaccinated people are able to venture, then maybe they will understand the importance of getting vaccinated."
Editor's Note: Following clarifications by the Ministry of Sustainability and the Environment, this article has been updated to remove reference to the need for operators of hawker centres and coffeeshops to remind patrons as they walk in that if they are not vaccinated that they shouldn't dine-in.