About 240 assisted living HDB flats for seniors to be launched in Queenstown in November BTO exercise
The Community Care Apartments in Queenstown integrates senior-friendly housing with care services that can be scaled according to a person's needs.
SINGAPORE: About 240 assisted living Housing and Development Board (HDB) flats will be launched in Queenstown in the upcoming November Build-to-Order (BTO) exercise.
The Community Care Apartments (CCA) will provide senior-friendly housing with care services that can be scaled according to a person's needs. 
They aim to better support seniors to age independently within the community, said the Ministry of National Development (MND), Ministry of Health (MOH) and HDB in a joint factsheet on Thursday (Oct 27).
This is the second CCA pilot, with the first in Bukit Batok - launched in February 2021 - drawing an application rate of 4.2 applicants per unit.
The flats in Queenstown will be part of the Queensway Canopy BTO development, sited alongside blocks of three-room and four-room flats.
"This deliberate integration is to encourage and promote intergenerational bonding as well as foster inclusivity and community interaction," said the authorities.
Located at Queen's Crescent, Queensway Canopy is situated within the Health District @ Queenstown. 
The district is where HDB, the National University of Singapore (NUS), healthcare partners like the National University Health System (NUHS) and local grassroots organisations collaborate to pilot new strategies to create a built environment that promotes a healthy lifestyle and active and healthy ageing. 
The nearby Alexandra Hospital will also enable medical and healthcare services to be incorporated into the care services for residents.
The blocks in the development will have staggered heights, from six to 40 storeys, and will be orientated to "maximise the views" from their units, said the authorities.
On the side of the development fronting the rail corridor is a stretch of interconnecting rooftop gardens overlooking the canopy of trees. 
FLAT FEATURES
Each CCA unit will be equipped with senior-friendly fittings, including grab bars, wheelchair-accessible bathrooms with slip-resistant flooring and wide wheelchair-friendly main doors.
The flats – with an internal floor area of about 32sqm – come with a built-in wardrobe, cabinets and a furnished kitchen. This will allow seniors to move in quickly with minimum renovations needed.
They are designed with an open layout and come with sliding partitions to separate the living room and bedroom for privacy.
Each CCA unit will be paired with essential services so seniors can live independently with some healthcare assistance when needed. Services include 24-hour emergency monitoring and response, as well as basic health checks.
An onsite manager will help link residents up with relevant care service providers according to their needs. They will also help with simple household fixes.
Seniors who require assistance with daily activities or household services such as meal delivery, laundry and housekeeping can opt-in for these services at additional costs.
| Optional services | Indicative prices | Applicable for government subsidies |
| --- | --- | --- |
| Social Day Care | S$50 per day | No |
| Housekeeping | S$20 per hour | No |
| Meal Services (delivered to home) | S$5 to S$7 per meal | No |
| Home Personal Care | S$20 to S$31 per hour | Yes |
| Laundry | S$20 to S$40 per load | No |
| Medical Escort and Transport | S$50 to S$90 per hour | Yes |
FACILITIES
There will be communal spaces on every floor and seniors can use these spaces as "extensions of their own living rooms to mingle and bond with one another", such as sharing meals or taking part in programmes curated by the community manager, said the authorities.
They can also access a wide range of social and communal facilities at the Social and Wellness Hub beside the CCA block. The hub includes an Active Ageing Centre (Care), an ActiveSG gym with age-friendly designs and rooftop gardens with community gardening plots.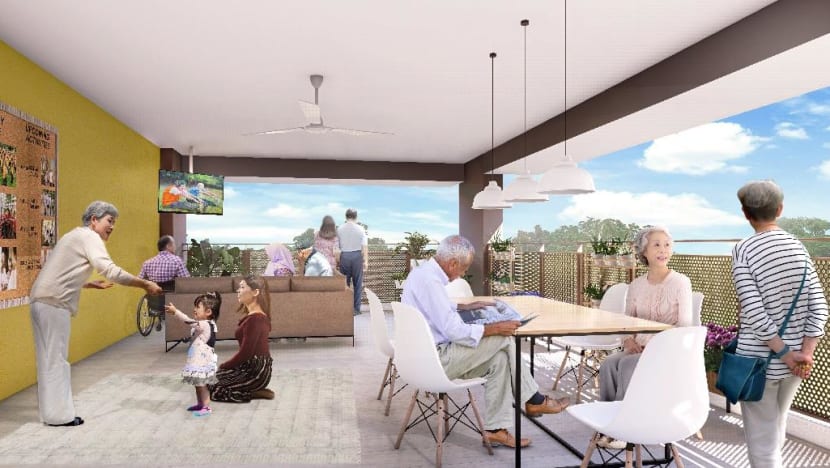 "These facilities promote active living and provide opportunities for residents across different age groups to interact and build relationships as they participate in various social and recreational activities within a wider community," said HDB, MND and MOH.
The nearby amenities include the Rail Corridor and Queenstown Sports Centre. Food centres such as Alexandra Village Food Centre, ABC Brickworks Market and Food Centre, Mei Ling Heights Market and Food Centre are also located near the development.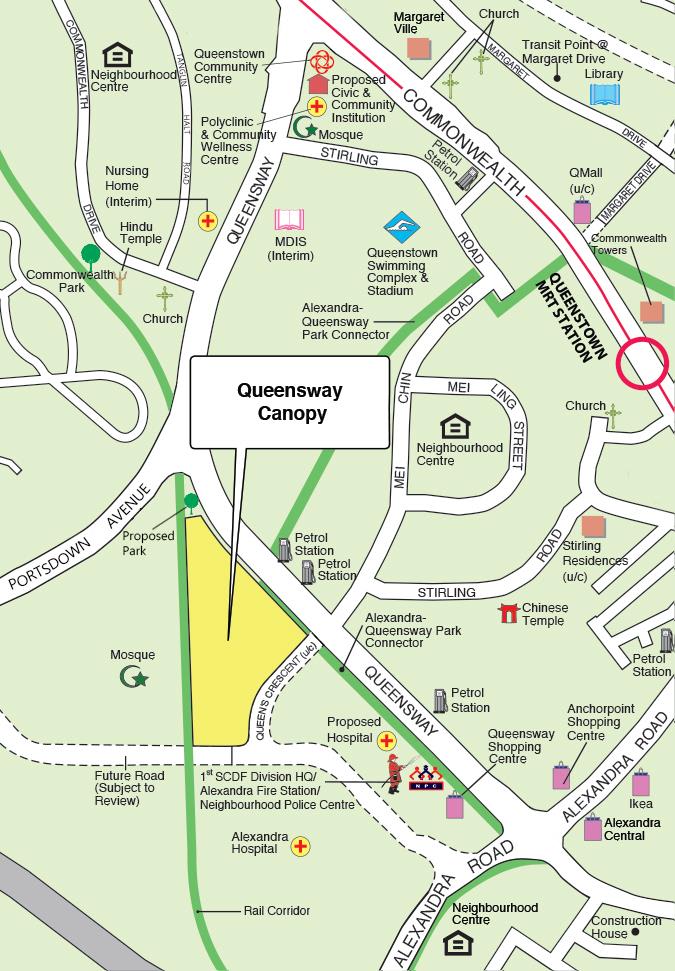 ELIGIBILITY CRITERIA
To apply, applicants must be 65 years old and above. They can choose a lease ranging from 15 to 35 years in five-year increments, as long as it covers both the applicant and their spouse until they are at least 95 years old.
Allocation of flats will be prioritised for seniors with care needs, where at least one applicant or occupier requires permanent assistance with daily living activities.
The average gross monthly household income cannot exceed S$14,000. Applicants who own a private property or an HDB flat must dispose of the property within six months from collecting their keys to the CCA flat.
Those who have enjoyed two housing subsidies before, and have bought a studio apartment or short-lease two-room flexi-flat before are not eligible. 
Members of the public may visit an exhibition at the HDB Hub about the CCAs from Oct 28, 2022 to Mar 31, 2023.