HDB to launch up to 23,000 new BTO flats each year in 2022 and 2023 to meet 'strong' housing demand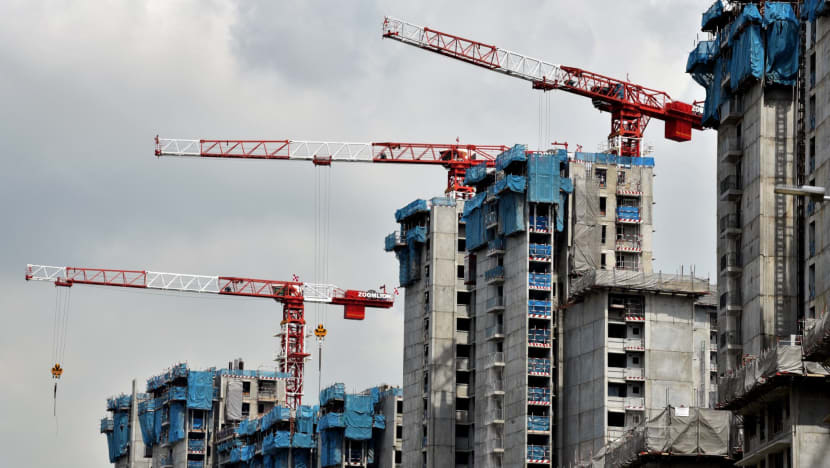 SINGAPORE: The Housing and Development Board (HDB) plans to launch up to 23,000 new Build-to-Order (BTO) flats each year over the next two years, as it ramps up supply to meet "strong" housing demand from Singaporeans.
These new launches in 2022 and 2023 will be located across mature and non-mature towns, HDB said in a press release on Thursday (Dec 16).
For instance, there will be a "good mix" of new flats coming up in Bukit Merah, Jurong West, Kallang Whampoa, Queenstown, Tengah, Toa Payoh and Yishun next year.
"The increased supply of flats will provide more housing options for young couples planning to start their marriage and parenthood journey, as well as for second-timer families, multi-generation families, the elderly, and singles," it added.
Looking ahead, HDB said it is prepared to "launch up to 100,000 flats in total from 2021 to 2025, if needed, subject to prevailing demand".
The announcement comes after the surprise introduction of fresh property cooling measures. From Thursday, the Additional Buyer's Stamp Duty (ABSD) rates for those purchasing additional properties will be raised.
The total debt servicing ratio (TDSR) for borrowers will also be tightened, while the Loan-to-Value (LTV) limits for loans from HDB will be lowered.
Authorities also pledged to raise the supply of private and public housing, adding that further details will be announced on Thursday.
In its press release, HDB noted that it has increased the supply of new flats in recent years – launching around 14,600 BTO flats in 2019 to about 17,100 this year. The planned launches of up 23,000 new flats a year in 2022 and 2023 mark a 35 per cent increase from 2021's figure.
Demand for public housing has increased "significantly" in recent years, with the overall number of applications received per BTO flat up from 3.7 times in 2019 to 5.5 times in 2021, it added.
This is due to more marriages as the larger cohorts of those born in the late 1980s to 1990s reach marriageable age, as well as the growing trend of smaller households. COVID-related factors and the buoyant resale market have also spurred demand for BTO flats, the agency said.
HDB stressed that it will continue to monitor the housing needs of Singaporeans, "taking into account long-term demographic and population trends".
"We are also watching the construction progress of current BTO projects closely to ensure that they can be delivered on time. We will continue to develop new housing areas in the future and ensure that public housing remains affordable and accessible for Singaporeans," it said.
STEPPING UP PRIVATE HOUSING SUPPLY
Separately, the Government Land Sales (GLS) programme for the first half of 2022 was announced, comprising five confirmed list sites and eight reserve list sites.
These sites can yield about 6,500 private residential units, 90,000 sq m of gross floor area (GFA) of commercial space and 530 hotel rooms, said the Ministry of National Development (MND).
Planned and announced every six months, GLS programmes release state land for private development.
Land on the confirmed list is launched for sale at pre-determined dates, with most land parcels sold through tenders.
Land on the reserve list, meanwhile, is not released for tender immediately but is made available for application. A reserve list site is put up for tender when a developer indicates a minimum price which is accepted by the government.
This time round, the confirmed list comprises five private residential sites, including an executive condominium (EC) site at Bukit Batok West Avenue 5. Together, they can yield about 2,785 private residential units, including 495 EC units.
The reserve list is made up of five private residential sites, including an EC site at Tampines Street 62, two white sites in Kampong Bugis and Woodlands Avenue 2, and one hotel site. These sites can yield an additional 3,715 private residential units including 700 EC units, 90,000 sqm GFA of commercial space and 530 hotel rooms.
On the buoyant private housing market, MND noted that transaction volumes and prices have been on the rise over the past year despite the COVID-19 pandemic's economic impact.
Meanwhile, the inventory of unsold private housing units has also declined.
"To ensure that there is sufficient supply of private housing to meet demand and ensure market stability, the Government has decided to increase the supply of private housing on the confirmed list to 2,785 units for the 1H2022 GLS programme," said the ministry, noting that there were 2,000 units under the GLS programme from the second half of this year.
MND added that it is "prepared to step up supply further if demand remains strong".
At the same time, the additional supply on the reserve list will give developers a good selection of sites to initiate for development if they assess that there is demand, it said.
"The Government will continue to monitor economic and property market conditions closely and adjust the supply of future GLS programmes, as necessary."