SINGAPORE: Resale prices in the public housing market are at an all-time high after rising 2.7 per cent in the third quarter of 2021, according to flash estimates released by the Housing and Development Board (HDB) on Friday (Oct 1).
The resale price index, which provides information on the general price movements in the resale public housing market, rose from 146.4 to 150.4, the HDB estimates showed.
This comes after prices in the second quarter of 2021 climbed 3 per cent over that in the previous quarter.
"Prices climbed a sixth consecutive quarter and have risen 8.9 per cent year-to-date," said OrangeTee analyst Christine Sun.
"Currently, prices have already surpassed the peak in the second quarter of 2013 (price index 149.4) by 0.7 per cent."

Seventeen out of 26 HDB towns saw price increases in the third quarter, said Lee Sze Teck, senior director for research at Huttons Asia.
The biggest price increase was in Bukit Timah at 12.4 per cent while the biggest fall was in Marine Parade at 9.1 per cent.
While sales volume is estimated to be 19.8 per cent higher quarter-on-quarter, "the slower price increase indicates price resistance has set in", said Mr Lee.

Prices in Toa Payoh fell for the second quarter running, while prices in another mature town, Marine Parade, also went down.
"Lease decay may be one possible reason behind the decline in prices," said the analyst.

In the same period, 67 flats were sold for S$1 million and above, 14 more than the previous quarter. The most expensive flat sold in the third quarter was a 10-year old 5-room flat at Bishan Street 24.
BTO CONSTRUCTION DELAYS
Demand is outstripping supply especially for flats that are well-located or have other good attributes, according to OrangeTee's Ms Sun.
She said: "The current housing boom is largely fuelled by couples turning from the BTO market to the resale market, and upgraders who are buying bigger flats."
Amid growing uncertainty about the completion dates of new BTO flats, more couples are opting for completed homes in the secondary market. The BTO construction delays were mainly caused by manpower shortages, supply chain disruptions and closures of construction firms, said Ms Sun.
She added: "Some flat owners have chosen to upgrade to bigger flats which are still relatively more affordable than private housing", due to rising private home prices and dwindling private home supply in the suburban areas.
"They may need more space as their families have expanded or to work more comfortably as the work-from-home or hybrid work may become a norm."
Moving forward, if construction delays are prolonged, more people may turn to the HDB resale market.
"The increased demand may push prices higher in the coming months. Resale prices may hit between 11 and 12 per cent this year, which is one of the fastest gains since 2010," said Ms Sun.
Resale prices increased 14.1 per cent in the fourth quarter that year compared to the same period in 2009.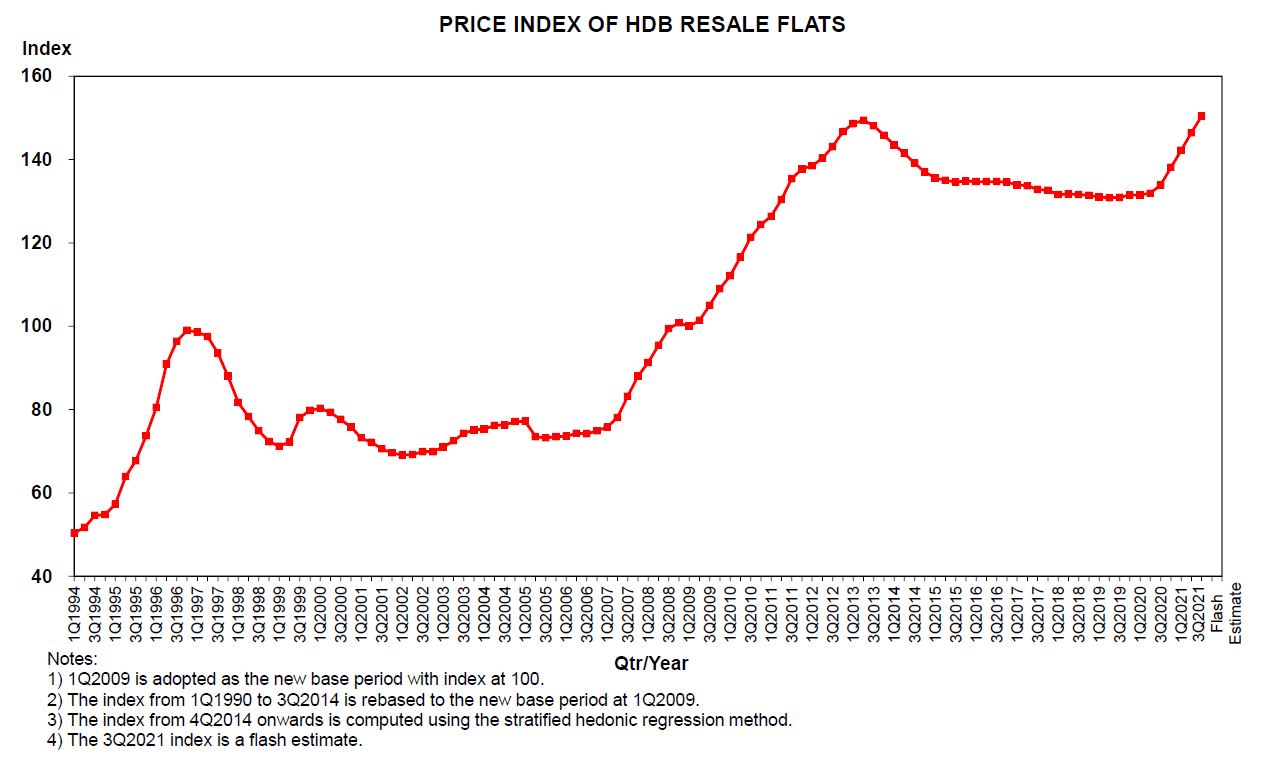 More detailed housing data will be released along with the final resale price index for the full quarter on Oct 22, said HDB.
In the release, HDB also said that it will offer about 4,400 BTO flats next month in Choa Chu Kang, Hougang, Jurong West, Kallang Whampoa and Tengah.
In February 2022, about 2,000 to 3,000 BTO flats in Geylang, Tengah and Yishun will be offered. 
"HDB will continue to monitor the housing demand and make adjustments where necessary," said the agency.