Jail for man who paid doctor linked to Healing the Divide group to obtain fake vaccination records
David Christopher Newton paid S$6,000 to have himself and his unsuspecting wife injected with saline so he could enter Australia despite being unvaccinated.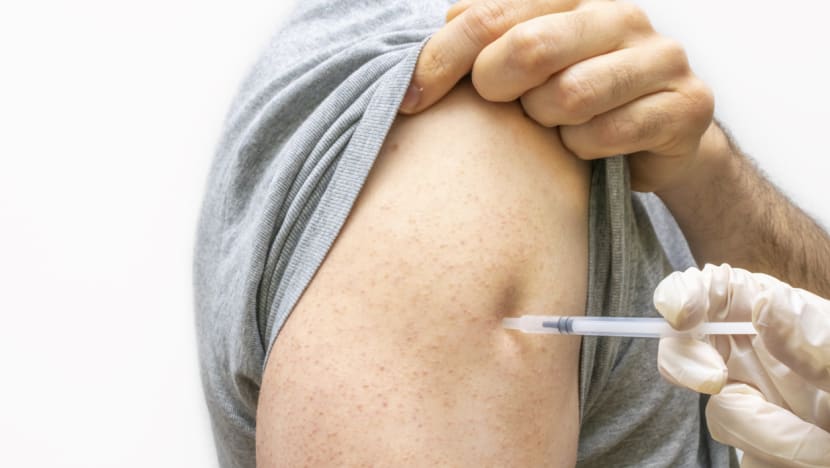 SINGAPORE: Wanting to enjoy the benefits of being vaccinated without actually receiving the COVID-19 jabs, a man paid S$6,000 to a doctor linked to anti-vaccination group Healing the Divide group.
In exchange, he and his unsuspecting wife received two injections that were recorded in Singapore's National Immunisation Registry as Sinopharm COVID-19 jabs, but in reality, they contained just saline.
Australian national David Christopher Newton, 44, was sentenced to 16 weeks' jail on Thursday (Apr 27).
He pleaded guilty to one charge of being party to a criminal conspiracy with Dr Jipson Quah and Quah's assistant Thomas Chua Cheng Soon to cheat the Health Promotion Board (HPB) that he was fully vaccinated against COVID-19, when he was not.
A second charge involving his wife was taken into consideration.
The court heard that Newton joined the Healing the Divide group on Telegram around December 2021 and obtained Chua's contact number from there.
Chua worked as a logistics supervisor for Quah, a 34-year-old Singaporean registered medical practitioner who owned several clinics.
THE CONSPIRACY
Newton told Chua that he had a job offer in Australia, but that he would face significant difficulty entering the country as he was unvaccinated. He asked if he could get certified as vaccinated without actually taking the jab. 
He also wanted his wife to be certified as being medically ineligible to receive any COVID-19 vaccine.
Chua said he would consult Quah, and later arranged for Newton and his wife to get fake vaccines at Mayfair Medical Clinic in Yishun for S$6,000.
Newton agreed, and the pair received saline injections, although his wife was under the impression she had gotten the Sinopharm vaccine.
The injections were given over two days to comply with requirements - Dec 29, 2021 and Jan 15, 2022.
Newton paid Chua S$6,000 in three parts - in advance, and after each set of injections. According to the prosecutor, Chua and Quah split the payment between themselves.
Quah documented in his clinic's medical records system that Newton and his wife had received the Sinopharm vaccine and the records were sent to the National Immunisation Registry.
The Ministry of Health later alerted the police to Quah's alleged role in enabling patients to be falsely certified as having been vaccinated with the Sinopharm vaccine.
Police investigations revealed that Newton was one of at least 17 such patients who instead received saline injections from Quah. 
The prosecutor sought 16 to 18 weeks' jail for Newton, while defence lawyer Paul Loy sought a fine instead. In the alternative, he asked for four to eight weeks' jail.
Mr Loy said his client was swiftly arrested, even before his TraceTogether records had been updated. He said Newton's wife had a "condition" and his client was looking for an exemption.
JUDGE TAKES ISSUE WITH ARGUMENTS
District Judge Soh Tze Bian took issue with many of the arguments put forth by the defence lawyers, Mr Paul Loy and Ms Adelle Yii of WongPartnership. Judge Soh told Mr Loy that there are clear rules for exemption that everyone has to comply with instead of going to "do things on your own".
"These rules apply to all, whether you are citizens or foreigners working here," he said.
Mr Loy said Newton's motivations should be contrasted with the motivations of his co-conspirators.
"You mean the doctors?" interjected the judge. "They have made their money. Assuming S$6,000, by 17. The doctor has been suspended, right?"
Mr Loy said his client was not a criminal and just had "a serious lapse in judgment". He added that Newton would not reoffend.
Judge Soh said there was no way to be sure about this. "What if there's mandatory vaccination for all again? We don't know. In Rome, you do as Romans do," he said.
The lawyer persisted and asked if it was fair to "throw the book" at a single patient, adding that there were at least 17 involved, but only his client had been charged.
The prosecutor jumped in to clarify that while Newton is the only patient who has been charged at the moment, the prosecution has yet to rule out charging others.
"The prosecutor talks about public disquiet," said Mr Loy. "Public disquiet doesn't arise because of press reports. Public disquiet is when people are talking about how things have happened and how the authorities were cheated.
"I daresay public disquiet might arise more if it transpires that everyone else is let off and this one individual is not."
Deputy Public Prosecutor Etsuko Lim said Newton was not the same as the other patients, as he was the only one who applied to leave the country, bringing some urgency to this case.
In his written mitigation plea, Mr Loy described how Newton first came to Singapore in 2006 to work as Citibank's head of mobile banking. 
He flew to Sydney regularly to visit his wife and daughter, but relocated them urgently to Singapore when COVID-19 hit.
When he got a job offer in Australia, he considered relocating back, but it was difficult for non-vaccinated individuals to enter Australia at the time.
Due to his wife's pre-existing heart condition and blood disorders, Newton had "grave concerns" about his wife undergoing a vaccine, said Mr Loy.
"The fact of the matter is that wherever one may personally stand on the personal cost or benefit of COVID vaccines, there were already documented cases of severe, even fatal, adverse side effects from vaccination, which weighed heavily in Newton's mind," said the lawyer. He described Newton as a foreigner trapped in Singapore for what was then an indeterminate period of time.
JUDGE'S COMMENTS
In his judgment, Judge Soh said the public interest considerations call for a deterrent sentence, with a fine as submitted by the defence being "wholly inappropriate". This would represent no more than a slap on Newton's wrist, he said.
The vaccination-differentiated safe management measures (VDS) were carefully calibrated to protect the unvaccinated and those at risk of developing serious COVID-19 symptoms, while allowing the vaccinated to go about their day-to-day lives unimpeded, said the judge.
"Unlike the approximately 91 per cent of Singaporeans who have been vaccinated against COVID-19, the accused person selfishly took advantage of the attendant privileges of being vaccinated without in fact being vaccinated," said Judge Soh. 
"He was a willing participant in a fake vaccination scheme that undermined our national response to a global pandemic."
He said Newton's motivations were "purely selfish", wanting the benefit of accessing VDS settings and entering Australia without being vaccinated.
His wife, who was not fluent in English, also did not consent to being injected with saline, which the judge said was a "gross violation of her bodily autonomy".
He added that Newton's serology test results showed that he likely contracted COVID-19, possibly after receiving his second saline injection in January 2022.
If he had contracted COVID-19 after his vaccination status on the TraceTogether application had been updated, he would have been able to roam freely in VDS settings even while being infected with COVID-19, said the judge.
He also said Newton's personal circumstances are not mitigating.
"The court should not have regard to the loss of the accused person's job offer with the Commonwealth Bank of Australia or any future difficulties he may face in seeking employment," said Judge Soh.
"Any adverse impact on his career or job prospects is a natural consequence of his offending and should be given no mitigating weight.
"The accused person had no misgivings about participating in the criminal conspiracy, despite knowing full well the consequences that would befall his family if he was caught and punished. He who lives on borrowed time cannot complain when the clock runs out.
"The present case represents an audacious assault on nationwide public health measures – measures which were enacted to contain a worsening public health emergency, and which required the honest co-operation of all Singapore residents.
"The sentence imposed must resonate with the public's shock at the accused person's brazen fraud on the HPB, which threatened to make a mockery of those public health measures."
The cases for Quah and Chua are pending.