Heart of the Matter: How to get more people to blow the whistle on family violence?
More cases of family violence are being reported in Singapore, but few are because bystanders called the authorities. Why do neighbours hesitate to call the authorities? Heart of the Matter host Steven Chia gets answers from two social workers and a psychologist.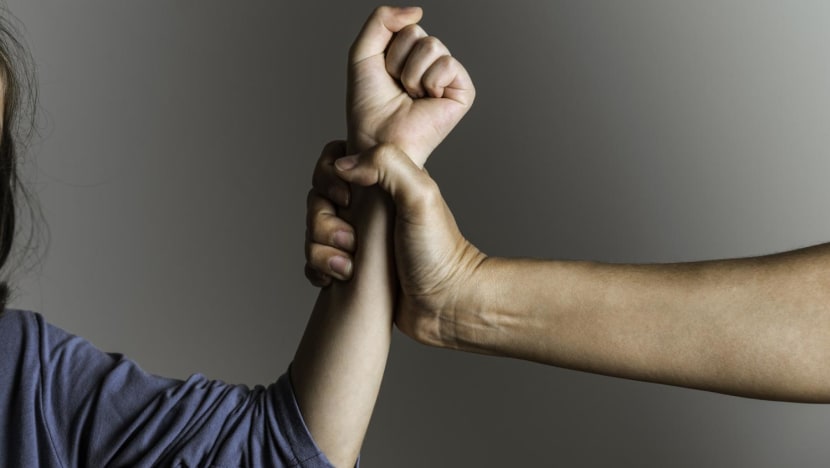 SINGAPORE: If someone is losing sleep over a rowdy party next door, he or she may have no qualms about calling the police, says Dr Joseph Leong, senior consultant psychiatrist from Promises Healthcare.
But most people overhearing a family fight behind closed doors would hesitate to alert the authorities.
A key driver of this difference in behaviour is fear.
Fear of getting the assessment wrong, fear of "destroying" a family or fear of becoming embroiled in a potential police case.
In Singapore, more cases of family violence are being reported, but few are because bystanders called the authorities. Among child abuse cases investigated by the Ministry of Social and Family Development (MSF) Child Protective Service, only 1.5 per cent were reported by the public.
Yet, neighbours who hear something and speak out can make a huge difference, say Marcus Lim, head of TOUCH Family Support and Mohamed Fareez, deputy director (family & community support) at AMKFSC Community Services. Both men were guests on the Heart of the Matter podcast and deal with family violence cases as part of their work.
When does an ordinary argument become a sign of family violence? If bystanders do decide to intervene, what should they do?
Here are some highlights of their conversation:
IT IS SOMEONE ELSE'S PERSONAL PROBLEM
Fareez: "I lived in a rental flat when I was young and I had neighbours where there was violence happening as well."
The perception has always been the moment your door is closed, anything personal is confined within the personal space.
Lim: "People are worried, naturally, about being a busybody. It might also be that they also do not know what to do in the face of family violence. It is quite a daunting issue. They might be questioning whether this issue warrants police intervention and that comes from not knowing where else they can approach for help."
Fareez: "As practitioners on the ground, we take a child-centric approach … Removal is always the last resort."
Members of the public might be fearful, "if I make a report, am I destroying the family?" But that is not the case.
SIGNS THAT SOMETHING IS NOT RIGHT
Leong: "Number one, look at the frequency (and intensity). From once a month becomes weekly or daily, you hear (the fights) become louder and louder and the duration becomes longer and longer."
Lim: "If we are only looking for those (bigger) signs of violence, we might miss the opportunity to respond earlier."
Witnessing somebody getting beaten up or hearing screaming and shouting or observing bruises … is when violence is already at its peak. If we are only looking for those signs of violence, we might miss the opportunity to respond earlier.
Fareez: "Violence takes time ... (it) starts from maybe being confined at home, or verbal abuse happening, which then escalates into high levels of physical abuse or punishment."
YOU DON'T ALWAYS HAVE TO CALL 999
Lim: "Beyond just the police there is also the National Anti-Violence Helpline (NAVH). Information like what they have observed, physical injuries, verbal violence … or weapons used … Identifiable information helps as well like block number, unit number, the characteristics of the person."
Leong: "It is useful when you call the police to say, it has been happening the last few months. I have been hearing this, it is almost every week. Now it is getting more intense and I am very concerned somebody has been hurt. Somebody's life is at risk."
Fareez: "The person making the report can choose to remain anonymous."
Whenever you are concerned that violence might be happening and you are not sure whether to call, the suggestion I always give is always to err on the side of caution.
MANY EYES AND EARS ARE NEEDED
Lim: "We can look beyond the community of neighbors to maybe a community of colleagues, friends, relatives, because when you know the person better, you actually can observe changes in (the victims') behaviour."
Fareez: "I've worked with families where I've been engaging them for 10 to 15 sessions, but they might not be wanting to share any struggles. But the moment we found someone in the community ... reaching out was much easier."
"It is whether people perceive such problems as problems that are confined within a family or is it a societal problem."
For more on this conversation, listen to the full episode