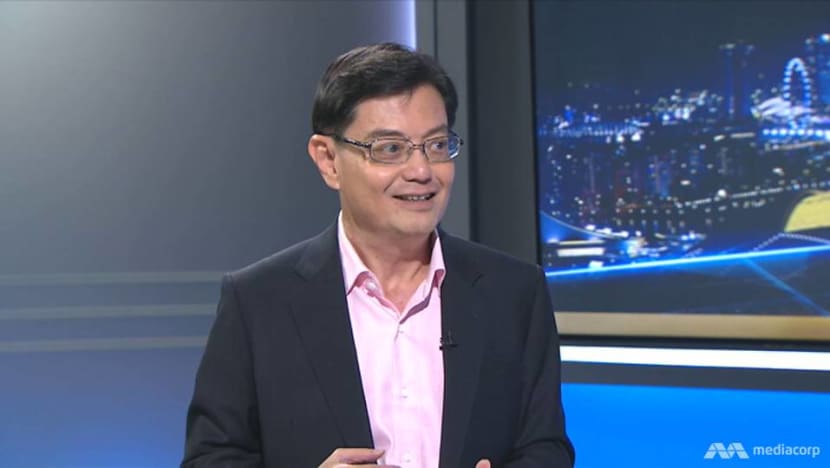 SINGAPORE: The Government has sufficient resources to fund the extension of the Community Health Assist Scheme (CHAS) and the Merdeka Generation Package, Finance Minister Heng Swee Keat said on Thursday (Aug 30).
The two initiatives were part of a string of measures announced by Prime Minister Lee Hsien Loong at his National Day Rally recently.
In a studio interview with Mediacorp's News 5 programme, Mr Heng was asked whether the new schemes announced by Mr Lee would mean there would be a further increase in the Goods and Services Tax. 
Mr Heng had said in his Budget 2018 speech in February that GST would be raised to 9 per cent between 2021 and 2025.
In response, Mr Heng said that while new schemes like Home Improvement Programme II and the Voluntary Early Redevelopment Scheme will have "very significant" fiscal implications, these have been a part of the Government's long-term planning.
"I think we are very unusual in planning multi-years' projects way ahead. And that's how we have been able to do our CHAS as well as the Pioneer Generation Package and the Merdeka package now," he said.
"So the package that has been announced by PM, the extension of CHAS and the Merdeka package, we have sufficient resources in the coming years to do that.
"I announced earlier the 2 percentage point increase in the GST rate. This is to fund our expenditure which is going to go higher and is going to recur year after year. And we're making early preparations for that so that we can take better care for Singaporeans."
The Merdeka Generation Package will help Singaporeans born in the 1950s with healthcare costs, PM Lee had said at the National Day Rally.
The package will cover outpatient subsidies, Medisave top-ups, MediShield Life premium subsidies and payouts for long-term care for about 500,000 Singaporeans.
The package will not be as big as the S$8 billion Pioneer Generation Package, Mr Heng said.
"How big a package that will be: We have some ballpark figures but I would like to scrub the number a lot more carefully and I will announce details of this at next year's Budget," Mr Heng said.
On whether the GST increase is projected to happen sooner or later, the finance minister said much depends on how the economy is doing.
"We are seeing very significant structural changes in the global economy. We're seeing significant changes in technology and technological advances will happen faster than we expect," he said.
"Therefore we've got to make early preparations for this. If our economy continues to grow and be vibrant, we will, not just the Government, but our people will continue to have enough resources to manage these changes that are coming."