High Court dismisses bid by activist Han Hui Hui and 5 others to declare COVID-19 vaccination measures as 'unlawful'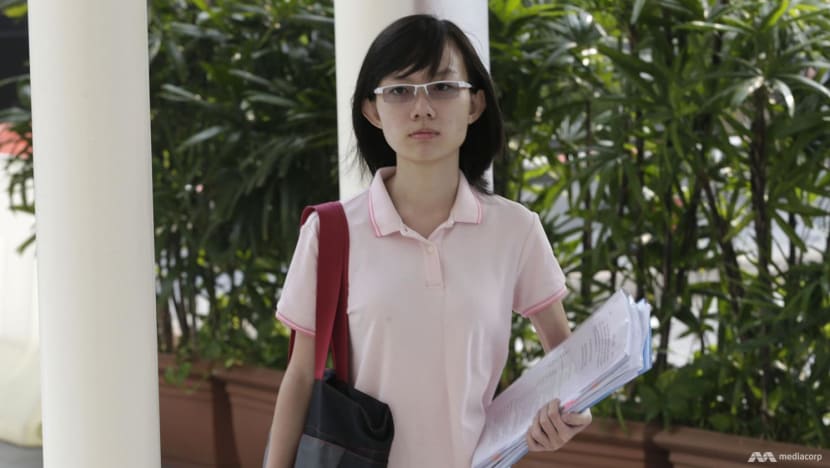 The High Court has dismissed a bid by political activist Han Hui Hui and five other people to quash COVID-19 vaccine-related measures rolled out by the Government.
Among the applications was a request for the court to declare some of the directives as "unlawful" or "irrational".
In Judge Dedar Singh Gill's judgement published on Thursday (Jun 16), he rejected the applicants' arguments, adding that the statistics cited by them were incorrect and grounded in "shaky assumptions".
The applicants had sought to quash the Government advisory that employers may terminate staff who remain unvaccinated by choice.
They also applied to quash the "directive" from the Ministry of Health (MOH) which stated that COVID-19 patients who remain unvaccinated by choice will have to pay the cost of their medical treatment in full.
Last October, authorities said employers may terminate their workers' employment as a last resort, if alternative work arrangements could not be made. It was also announced that from Dec 8, 2021, all COVID-19 patients who were unvaccinated by choice will have to pay their own medical bills if they were admitted to hospitals or COVID-19 treatment facilities.
"I find that the (multi-ministry task force) and MOH have acted in good faith by relying on proper reasons which have been backed by objective evidence. They have not failed to take into account relevant considerations or taken into account any irrelevant considerations," said Justice Gill.
He added that it was clear that the multi-ministry task force and the Health Ministry considered independent clinical studies that established the efficacy of the vaccines and weighed the situation in favour of "incentivising" vaccination in order to minimise risks to the society at large.
Justice Gill also said that if the applicants submit that those unvaccinated by choice should remain able to seek full subsidy for their medical bills if they are infected with COVID-19, it is "not a matter for the court".
Apart from Ms Han, the other five applicants named in the judgement were Sng Su Hui, Yeo Sheau Yuen, Lim Beng Kwang, Lawrence Simon Anthony and Muhammad Faizal Mustafa.
The six applicants were represented by lawyer and opposition politician Lim Tean.
SKEWED, MISLEADING STATISTICS
Justice Gill ruled that the advisory in October was not "susceptible to judicial review" as it was "guidance issued independent of any statutory power, and does not hold any legal effect".
The applicants also cited statistics which they calculated by themselves, based on publicly available data from MOH on the COVID-19 deaths and those who were critically ill.
They claimed that more vaccinated people died from COVID-19 compared to those who were unvaccinated, as of Dec 5 last year.
They also claimed that there were more vaccinated people who were critically ill with COVID-19 in the intensive care unit (ICU) compared to those who were unvaccinated.
Furthermore, they also claimed that data published on MOH's website this year on Apr 10 showed there was "not a single person in ICU who was aged 70 and above and was non-fully vaccinated".
Given the statistics, the applicants argued that there were no reasonable or rational grounds for the Government's announcements and that they have "suffered detriment" as a result of the vaccine-related regulations. 
Lawyers from the Attorney-General's Chambers (AGC) argued that the applicants' challenge was "based solely on skewed and misrepresented statistics".
"The death and (critically ill) statistics rest on certain assumptions, which are not thoroughly explained or erroneous."
Even if the court accepted their calculations, the statistics comprised only the raw numbers of deaths or critically ill patients, and do not account for the larger eligible fully vaccinated population compared to those unvaccinated.
Deputy Director of Medical Services (Public Health Group) at MOH, Dr Heng Mok Kwee Derrick, reproduced data which showed that deaths and patients who were critically ill due to COVID-19 were higher among the non-fully vaccinated population compared to those fully vaccinated. 
AGC also pointed out that the manner in which the applicants sought to use the statistics for Apr 10 was "misleading". 
They argued that the statistics the applicants relied on spanned a limited time period, and a longer timeframe would be necessary for sufficient data points to "assist in policy-making". 
Justice Gill also added that the "narrow group" of non-fully vaccinated people aged 70 and above "can hardly be said to be a good representation" of the entire population of people who were unvaccinated. 
"It is more accurate to compare the incidence rates of (critically ill) cases in the entire fully vaccinated population and the entire non-fully vaccinated population," he said. 
Justice Gill stated he would separately hear submissions on the issue of who pays the legal costs in the case.