IN FOCUS: 'It was a nightmare' – Why are renovations still such a minefield for home owners?
Complaints about delays, shady practices and shoddy workmanship have plagued the renovation sector for years. CNA looks at why this is so, and what's being done about it.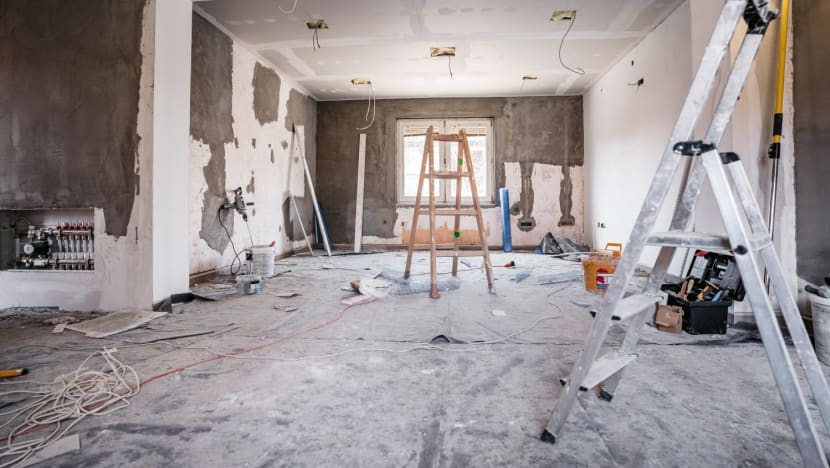 SINGAPORE: After 30-year-old Ms Choo had her honeymoon scuppered by the pandemic, designing a new home was the one thing that kept her going.
She was especially eager to move into her new five-room flat, as she and her husband were still living with their families two years after getting married. 
After browsing around, the couple settled on a small design-and-build firm. They liked their designs and their costs were "more friendly", said Ms Choo, who works in R&D.
"I was really looking forward to our house … (The beginning) was quite exciting because you slowly see the house coming up."
But excitement turned into frustration, anger and anxiety when work began last April. The process, which was meant to take at most two months, dragged out for five-and-a-half months.
Her original designer was terminated within weeks after they signed a package in 2020, and their second designer was fired weeks into renovations commencing.
Works were severely delayed, and at one point, two months went by without any work done. The firm's managing director took over their project, but was unfamiliar with many details, she said.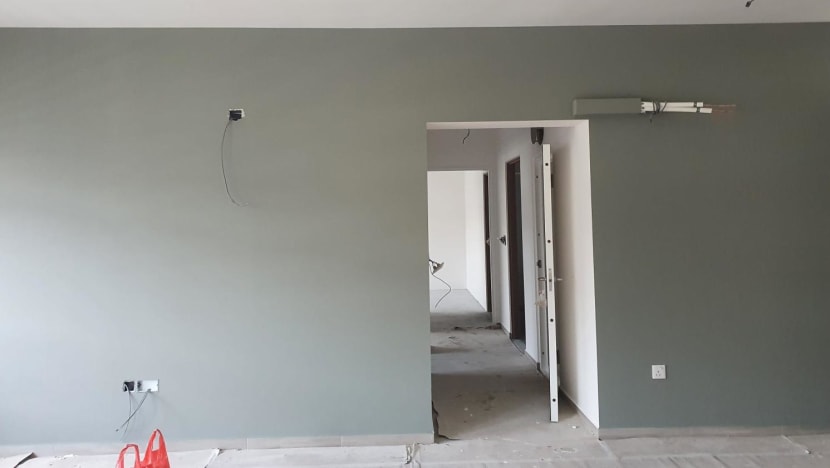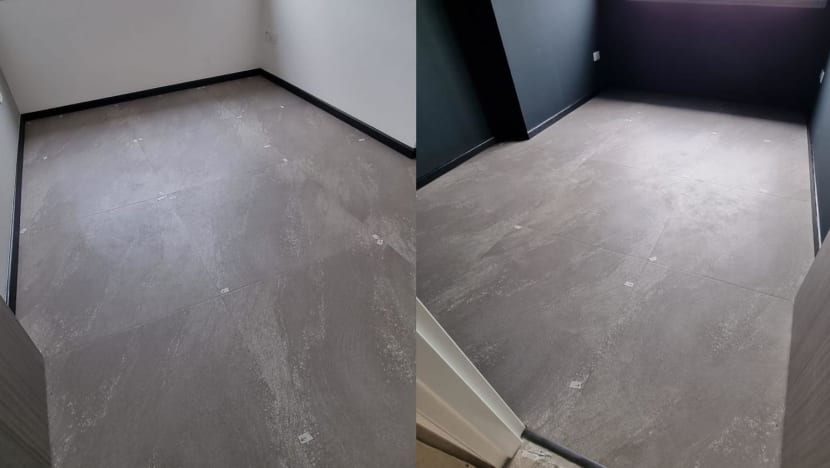 Tensions over constant delays soon boiled over, and the director even "screamed" at them during a virtual meeting, Ms Choo said. It was also a "shout fest" when they finally asked for a refund.
"Every time I had a phone call with the director, I had to do a voice recording because I couldn't trust his words.
"I had anxiety every time I was waiting for his call or waiting to meet him because I didn't know what to expect from him anymore."
Work was slipshod with scores of defects, said Ms Choo, adding that they caught many details the director had missed out on.
"Throughout the process… I said: 'Why am I paying this company?' Because it feels like I'm doing all the work."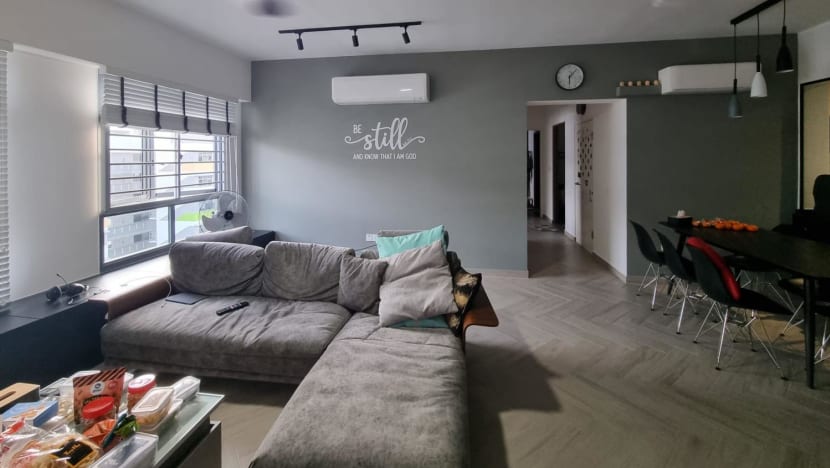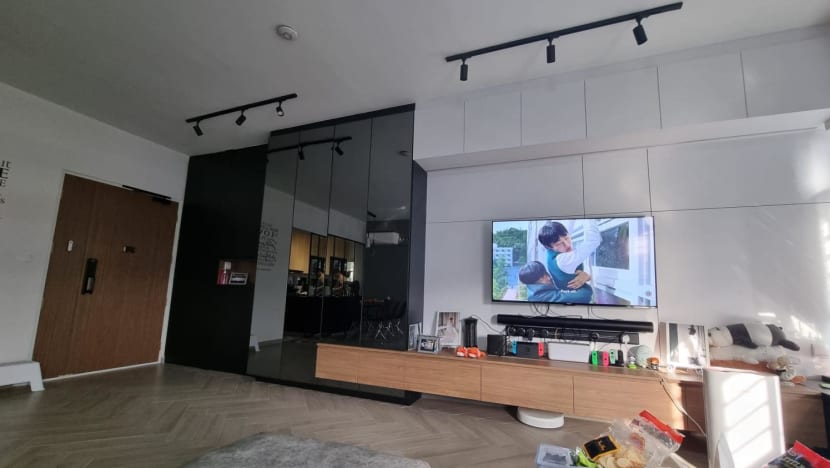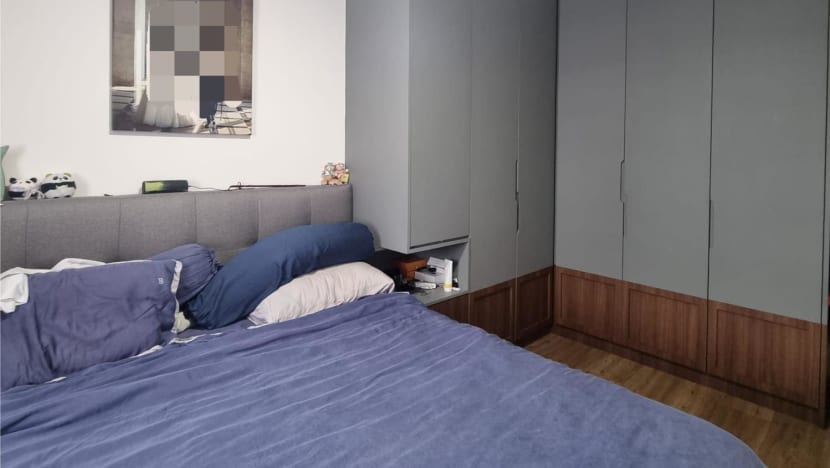 After exasperating back-and-forths, she finally managed to get an S$18,000 refund, out of S$40,000 that had already been paid.
She moved on to find another firm to complete the job, but the ordeal had already taken a serious toll on her.
"Because of all these issues, and (also having to do shift work during the pandemic), it also affected my sleep. I had insomnia, I had anxiety, I was having a lot of meltdowns."
"It was a nightmare. I really would not wish anybody to have the same experience. It's really unnecessary stress."
COMPLAINTS SPIKED IN 2021, BUT EXISTED BEFORE PANDEMIC
Ms Choo is not alone in her experience of a renovation nightmare. Online forums and social media are rife with stories about contractors or designers "from hell".
In 2021, the Consumer Association of Singapore (CASE) received 1,300 complaints against renovation contractors.
"Close to half of the complaints against the industry were about renovation contractors failing to complete projects on schedule and unsatisfactory workmanship," it said.
Examples of the latter include uneven floor tiles, wrong paint colour for walls and water leakage from pipes.
Other common complaints: The contractor including extra items which raised final costs, or the contractor being unwilling to refund deposits despite not completing the project.
Last year's figures were also nearly 50 per cent higher than the 869 complaints from 2020. The increase was pinned on prolonged manpower and material shortages, and pent-up demand.
But problems in the renovation industry were already present long before the pandemic. From 2014 to 2019, complaints against contractors hovered between 1,144 to 1,462 every year.
WHAT'S THE ISSUE?
At the core of these perennial issues is the lack of regulation on who can enter the industry and how they should operate within it.
"This industry doesn't have any authority or any body to manage the whole lot of (renovation companies)," said Mr Michael Ong, the assistant secretary of the Singapore Renovation Contractors and Material Suppliers Association (RCMA).
For instance, though the Housing Board requires certain works, such as hacking, to be done by a firm listed in their Directory of Renovation Contractors, it "does not endorse nor guarantee the quality" of works done by them.
It also does not regulate works that do not affect the block's structure, such as carpentry.
The overall lack of regulation means there is no standardised training nor service guarantee, Mr Ong said.
"The problems of contractors scamming and all, have largely to do with the quality of people in this industry," he suggested.
"Quality meaning: Are they educated on the ethics of being a renovation contractor, are these people being screened or trained before being allowed to do renovation works?"
Professor Keat Ong, the president of the Society of Interior Designers Singapore (SIDS), added that there is little scope to stop those with no background from calling themselves designers.
"I've met so-called IDs who used to be (from professions with no relation to interior design), who claim to understand the market.
"But they don't understand the trade, because IDs are properly trained. They go through three to four years of tertiary education for them to be up to mark, to handle not just the hardware or software, but also a lot of knowledge goes behind the training."
Not having proper experience can lead to issues, such as over-promising customers – without understanding if their ideas are actually feasible, said RCMA's Mr Ong.
OVERSTRETCHING DESIGNERS
Problems can also crop up when companies are overstretched and field others "who are inadequate or undertrained" to do the job, said Prof Ong.
Even if a firm has trained designers, these employees may not have a fixed pay, relying on commission instead.
"The more jobs they take on, the more commission they get. It's not uncommon to have designers handling eight, 10, 15 projects a month, juggling a lot where they don't really get to meet the owner in a full-fledged manner. … That's where issues start to come in."
"Like if a conveyor belt can only handle 10 parcels a minute and you're trying to stretch it to 30, when you overstretch any machine or human, things will go haywire."
Given the low barriers to entry, there are also bad eggs – some of whom hit the headlines.
One renovation contractor was convicted in February of cheating more than 100 home owners of S$247,400. 
On Wednesday, CASE gave a warning to three renovation contractors, who have had 21 complaints lodged against them since last November. Though they had different names, they appeared to share the same director, office address and the same contact person.
Even within accredited firms, there are black sheep. Mr Choo Chee Kwang, founder of Azcendant, recounted how an ex-employee once used his company's name card to engage a client, later scamming her of thousands of dollars.
"This line (sector) is not regulated. Like for property agents last time, there was no regulation, meaning any Tom, Dick or Harry can become an agent."
"To regulate this line, there might be a lot of inflexibility in terms of things you need to do. But if we don't regulate, I believe more and more will be getting into this … (like that) ID absconding with money."
RCMA has about 150 companies that are members, representing about 4,000 to 5,000 sales designers or IDs, said Mr Ong. SIDS has around 1,200 individual members.
But the associations only have jurisdiction over their members, leaving many beyond their remit.
Mr Melvin Yong, CASE's president, expressed concern about the growing trend of complaints about renovation contractors.
"To better protect consumers against prepayment losses, CASE would like to reiterate our call on the Government to consider mandating prepayment protection in industries which collect large sums of prepayment, such as the renovation, beauty and furniture industries."
HIDDEN COSTS, UNPROFESSIONALISM
Consumers can also feel scammed by renovation firms – not because of such flagrant offences, but because of shady sales tactics or unprofessional service.
One home owner, Mr Syafiq, told CNA about how his designer only informed him about an extra S$4,000 charge for changing some floor tiles – after they had already been installed.
"They should have told us this cost, then asked if we wanted to proceed," said the 26-year-old who works in manufacturing operations.
He added the price seemed unjustified, as these were "normal tiles" that retailed for S$3.20 per square foot, and he was only changing the floor tiles of his three-room unit's kitchen and toilets.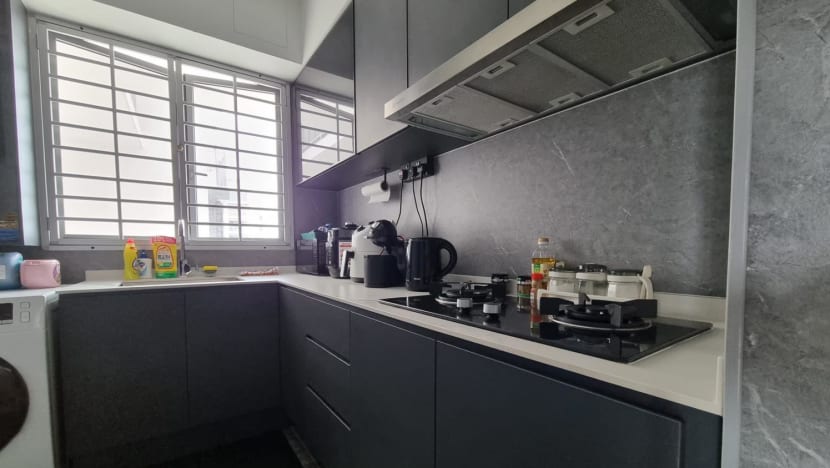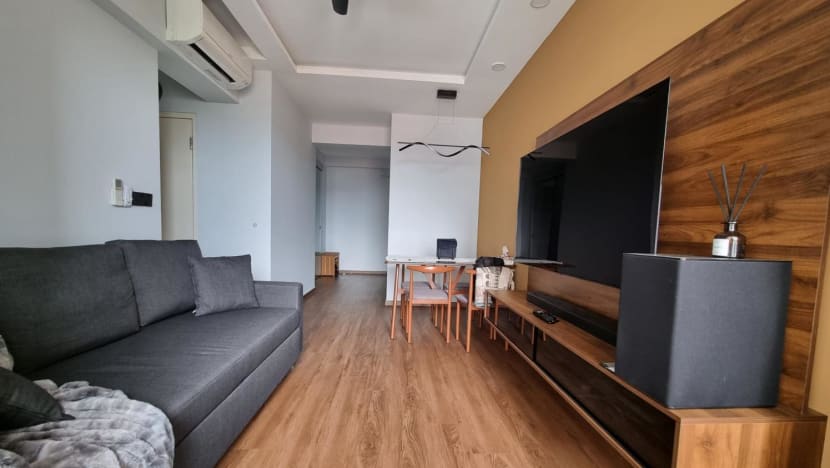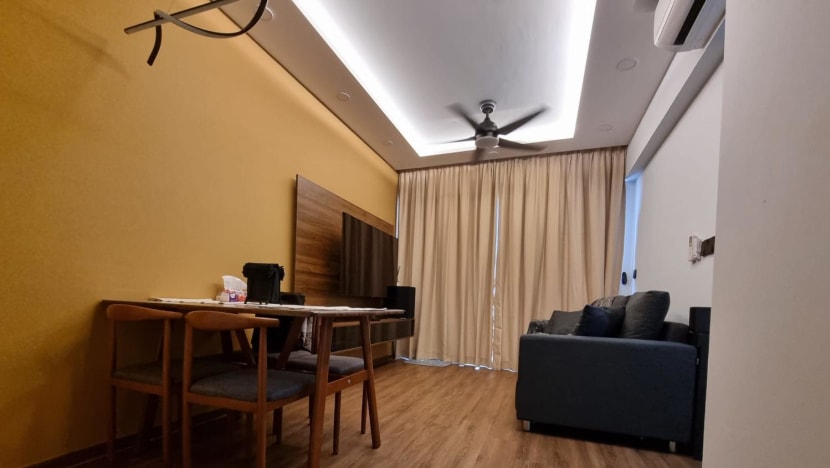 Other home owners have lamented the opaqueness of pricing and suspicions about inflated quotes, with "under the table" deals between firms and suppliers.
For Mr Syafiq, the firm also nearly double-charged him for items that were already part of his package.
"It's unprofessional service by them. Before even giving an updated quotation, they should check what I'm paying for."
As for workmanship, the firm identified an "internal pipe leak" – which turned out to have been caused by them unknowingly sealing up a bidet pipe hole, said Mr Syafiq.
They had also incorrectly installed a kitchen hood and window grilles, making both elements non-functional – the tip of the iceberg for other issues they uncovered.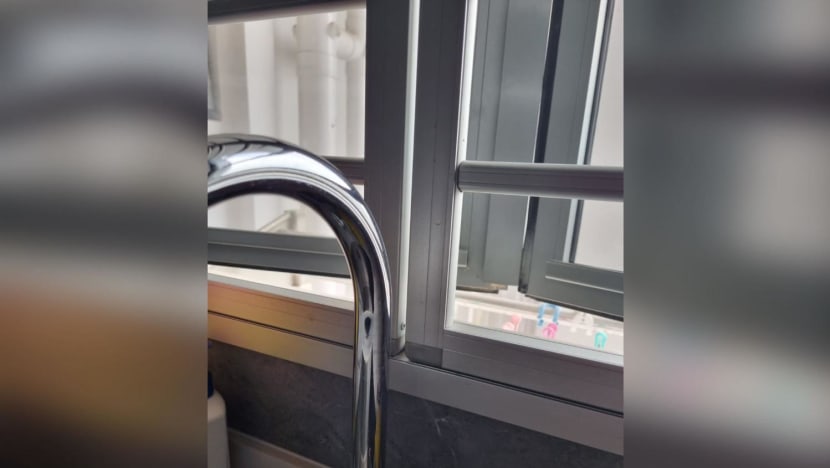 "They should not be doing these kinds of silly defects. If I engage the contractor myself, I expect silly mistakes, but I was the one who caught theirs."
Shoddy workmanship is a frequent complaint, CASE noted. In this respect, contractors must be skilled enough to execute the work, said RCMA's Mr Ong. 
Azcendant's Mr Choo noted that different companies have varying approaches, and some may "look for a cheaper contractor to generate more revenue and profit for them".
"(Work that is not up to par is) a bit hard to prevent … But at the end of the day, it is still the ID's job to catch these flaws.
"The ID must know what they are doing also. I can have a bad contractor, but if I know my work … I can say it shouldn't be like that."
PANDEMIC ADDING TO WORKFLOW ISSUES
A perfect storm induced by the pandemic and other global developments have squeezed renovation firms across the sector.
On the manpower front, labour is a rare commodity these days, said SIDS' Prof Ong.
While the Singapore-Malaysia border closure was earlier blamed for construction delays, its reopening has not changed much, said Mr Richard Yea, the founder of accredited firm Design4Space.
"A lot of work permit (WP) holders request to go back every weekend after the border opened up," he said, adding that this slows down progress.
"We've hired some new WP holders, but the existing Malaysian workers are also not willing to (work overtime) anymore, because the borders are open and they want to go see their families. So it's about the same, not much difference."
Altogether, timelines have had to be extended. "Before COVID, a resale flat would've taken one-and-a-half to two months, but now we need at least three months," said Mr Yea.
Carpentry used to take seven to 10 days, but now the minimum lead time is 20 days, he added.
On the other hand, wages have shot up by 30 to 50 per cent. "Everyone is asking for a higher salary because of supply and demand. There's a lot of demand but not enough supply."
The price of all materials, such as wood and cement have also risen in the past one to two years, he said. In particular, he cited the "sky high" spike in prices of nickel, which is used in pipes.
But the firm has to absorb these costs, to honour the contracts that home owners signed a year ago, he added.
HOME OWNERS ARE PART OF THE PROBLEM
While there are genuinely some bad apples in the sector, consumers also play a role when ties sour, said industry players.
SIDS' Prof Ong said: "We don't play by the mantra that the customer is always right. Both sides could have contributed to disputes."
Azcendant's Mr Choo said some owners without technical expertise may not understand the difficulty of achieving their desired aesthetic. It's also a problem if the consumer is too particular, even about differentials of about "3mm to 5mm", he said.
RCMA's Mr Ong added that the most frustrating consumers are the minority who "want to spend very little money, but demand the most, or a lot, from designers".
It's even worse when these consumers then write untruthful, negative online reviews as leverage to get what they want, Mr Ong said.
"No harm trying ... To them, it's zero cost but there's a chance they get something back … And (for the company to challenge them legally is) quite a hassle and you cannot guarantee any action.
"Some companies (accede) to their demands, then they 'spoil market' because it leads other consumers to think alike," he said.
Design4Space's Mr Yea said consumers' indecisiveness can be frustrating if they cause delays.
"We encounter a lot of home owners who today confirm, then tomorrow (say): 'Eh, change leh.' Then changed already, when we have already started fabricating the cabinets, they say we want to change this. Out of 10 households, I think about three to four are like that.
"The problem is we cannot stop there, wait maybe a week (to see if there are changes), then start. Because the lead time is too long for us to wait, we have no time for that, you see."
WHAT CAN BE DONE TO SOLVE THE PROBLEM?
Associations and firms are pushing for regulation as the answer.
RCMA hopes to emulate the journey taken by the real estate agent industry sector – which was once unregulated. A statutory board, the Council for Estate Agencies, was set up in 2010 to enforce a regulatory regime for the industry.
Mr Ong said authorities would want to "see what the industry provides first", and whether "someone can come forward and lead the way to show what can be done".
To that end, RCMA launched an academy last year, with courses for those who want to join the industry, or who are already in it without prior experience. So far, the course has had five runs with about 400 to 500 students in total.
"We want to make sure they understand the ethics involved, the correct way to do works. They need to have knowledge of tiling, carpentry, so they can be good project managers, making sure things are delivered properly," said Mr Ong.
Upon completion, they get a certificate and an offer to join the association as a member. As members, they must abide by certain rules for quality and practices – or risk being struck off. This is an affirmation of the quality of work they produce, he said.
The association is also working with CASE to see "iron out some differences", said Mr Ong.
Currently, there are two types of accreditations: One purely by CaseTrust, the accreditation arm of CASE, and another joint one by CaseTrust and RCMA.
"Customers are confused why there are two ... So we (will be meeting CASE) with our adviser, Ang Wei Neng, to sit down, have a look through and see where we can bring this to the next level."
ELEVATING THE INTERIOR DESIGN PROFESSION
On SIDS' part, it also launched an accreditation system last November. Under this, there are three classes.
Class 1 designers should have degree qualifications and at least two years' experience. Class 2 designers need a relevant diploma and 18 months' experience, while Class 3 designers will need a National ITE Certificate (NITEC) certificate in spatial design and 12 months' experience.
Take-up has been "very good", said Prof Ong, adding that more than 100 designers applied for the scheme within the first two days.
"We are not the first in the world to do this, so there is a lot of good precedent."
At the same time, it is aiming to release its own register of all "proper ID firms" by the third quarter of this year, with criteria such as requiring accredited designers or professional members.
"It slims down the chances of (consumers) taking a black sheep," said Prof Ong.
Yet he caveated: "But we cannot zero it to that extent … Even a trained professional like engineers or architects can make mistakes."
And though scams and a sullied reputation have plagued the industry for years, Prof Ong believes 2022 could mark a turning point.
"This year will be the year that you will see … substantial changes to the whole climate. We are getting a lot of enquiries from design-build firms and renovation firms, a lot of trained ID students within each company."
Home owners who have suffered ordeals, such as Ms Choo, certainly hope this will be the case.
"I hope they really can crack down these bad interior design firms, because it's really no joke handling these issues."