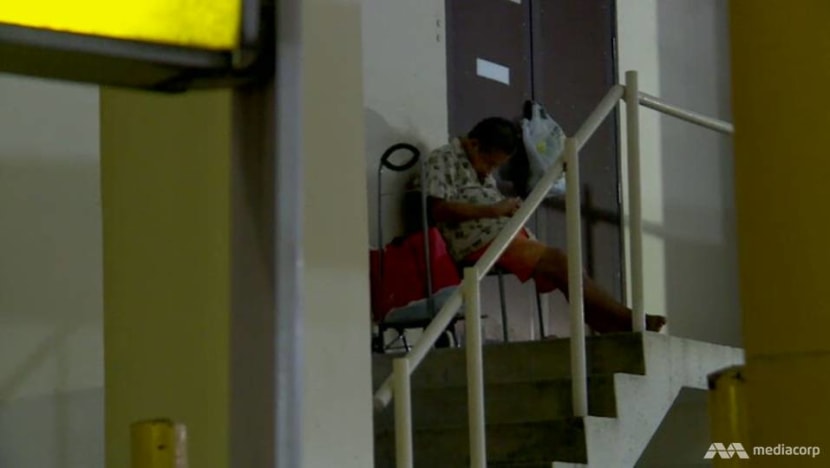 SINGAPORE: Singapore's rough sleeping population has shrunk by about 40 per cent, according to a survey conducted by the Ministry of Social and Family Development (MSF) on Nov 11, 2022.
The nationwide, single-night street count found 530 rough sleepers, down from a 921 figure first unearthed in a pioneering 2019 study by the Lee Kuan Yew School of Public Policy, a graduate school at the National University of Singapore.
In a news release on Monday (Apr 24), MSF said this "significant decrease" now meant that for every 100,000 people in Singapore, about nine were sleeping rough. 
"The reduction in the number of rough sleepers reflects progress in whole-of-society efforts to engage and support rough sleepers," the ministry added. "While much work remains to be done, the incidence of rough sleeping is lower than global cities such as New York (40) and Hong Kong (21)."
MSF defines "rough sleepers" as people sleeping in public spaces, and "homeless" as those without access to adequate housing.
"Not all homeless persons may have slept rough, as they may have had alternative accommodation ... while seeking long-term stable housing," it noted in a report on the findings.
In 2021, a follow-up study by the Lee Kuan Yew School of Public Policy found - in a cumulative count over several months - that while the number of "street homeless" people had fallen to 616, occupancy of temporary shelters had increased from 65 to 420.
MSF's November 2022 street count involved 860 volunteers covering 400 areas of Singapore in one night.
They were either from the public, academia or the government's Partners Engaging and Empowering Rough Sleepers (PEERS) network, which includes community groups.
The volunteers also spoke to 57 rough sleepers, who cited challenges such as difficulties in securing and maintaining stable housing, disagreements with family or cohabitants and irregular income or debt.
Homeless persons and rough sleepers often grapple with "multiple interrelated issues" and "complex circumstances", said MSF in its report.
About half of those surveyed started sleeping rough less than a year ago, with 40 per cent moving around different locations.
And about 60 per cent of the respondents had not sought help from personal sources of support, while just over half of them sought community and government assistance, said MSF.
How the street count was carried out and key findings
The November 2022 single-night count was conducted over four hours, from 11pm on Nov 11 to 3am on Nov 12.
Rough sleepers were counted if they were asleep in public locations, and if they were awake but looked like they were going to sleep. People lying down, setting up bedding and carrying many possessions - such as a very large bag - were counted.
People in camping tents were not counted.
Most rough sleepers were males, middle- to older-aged and Chinese. 
Almost half (45 per cent) were sighted near Housing Board (HDB) blocks, including at void decks, stairwells, pavilions, playgrounds and exercise stations. 
Around a quarter (23 per cent) were sighted around parks and benches, 12 per cent in commercial areas and 11 per cent in food centres and markets.
The most rough sleeper sightings were observed in the Kallang, Geylang, Bukit Merah, Southern Islands and Tampines areas.
The rough sleeping situation in Singapore has improved due to, among other factors, "concerted efforts by the PEERS network to reach out to rough sleepers and help them secure shelter and other forms of assistance", said MSF.
Senior Parliamentary Secretary for Social and Family Development Eric Chua noted that since its inception in 2019, PEERS has grown from 26 to 73 partners, and supported over 1,600 rough sleepers
Still, more can be done to reach out to those who have not been engaged and to support those in need, said MSF, as it called on Singaporeans to volunteer as part of PEERS.
"Working with rough sleepers to achieve stable long-term housing is a challenging task," the ministry acknowledged. "It takes time for befrienders to build trust, understand the unique needs of each rough sleeper, and take steps to meet these needs throughout their journey."
MSF said it would continue to conduct regular street counts to track the number and geographical spread of rough sleepers in Singapore over time.
Members of the public who encounter rough sleepers who need support or shelter can either email PEERS at MSF_PEERSOffice [at] msf.gov.sg, call ComCare at 1800-222-0000 or use the "Help Neighbour" feature on the OneService app.