HomeTeamNS opens new clubhouse at Bedok Reservoir, featuring Singapore's longest indoor water slide
SINGAPORE: A new five-storey clubhouse for Home Team national servicemen and the public was officially opened on Wednesday (Jan 4).
 
Located within Bedok Reservoir Park, the waterfront-themed clubhouse features a range of facilities such as an infinity pool overlooking the reservoir, two-storey villas for gatherings and staycations, as well as a water adventure centre with Singapore's longest indoor water slide.
The new clubhouse, with a development price tag of about S$85 million, is also equipped with "smart" digital capabilities and green features.
Speaking at the opening event, Law and Home Affairs Minister K Shanmugam said the launch of the Bedok Reservoir clubhouse concludes a year-long series of commemorative activities to mark 55 years of National Service.
"I have spoken previously about how important and integral our national servicemen are to the Home Team," he said, adding that NS officers perform many of the same duties as regulars and are trained to similar standards.
"Our national servicemen and their families across generations have supported National Service and the country as a whole has to be grateful for your commitment and for your sacrifices.
"Over the years, we have tried to build a community for our NSmen to build bonds, to cherish memories and as a whole … to tell you that we value you and we appreciate what you do for the country," said Mr Shanmugam, who is also chairman of the HomeTeamNS Board of Governors.
"And one of the ways we have tried to do this is through our new network of HomeTeamNS clubhouses around the island."
HomeTeamNS Bedok Reservoir clubhouse is part of a long-term master plan first drawn up in 2016 to build new clubhouses that are "state-of-the-art and first class" in terms of location, design and facility. The first of three clubhouses under this masterplan opened in Khatib in 2021, featuring "smart" capabilities.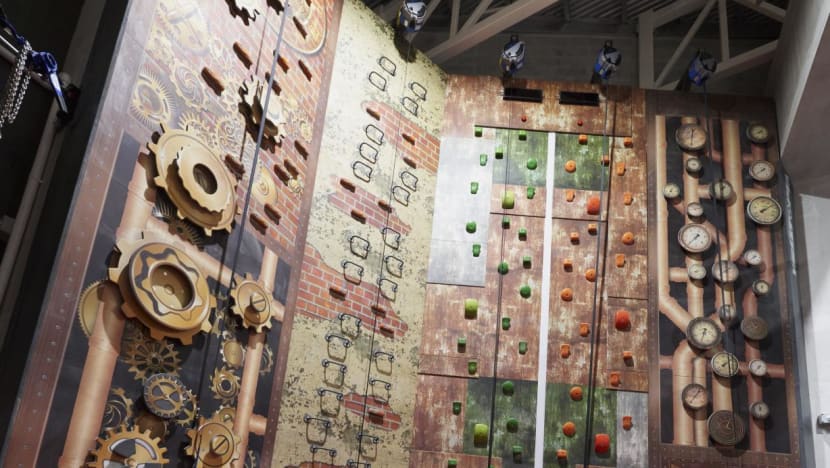 "We have moved beyond providing a traditional brick-and-mortar clubhouse experience for members," said HomeTeamNS chief executive Agnes Eu.
She pointed to innovative digital solutions at these new clubhouses that will provide visitors with a seamless experience.
For instance, the new clubhouses feature lobbies equipped with self-help kiosks where members can access membership services and facilities booking. Members can also access these services, book and check in at the clubhouses' facilities remotely via the HomeTeam NS mobile app, she said.
The ten villas located within the new Bedok Reservoir clubhouse - each equipped with a roof balcony and sheltered barbecue area - also come with a keyless QR code door access system that is synced with the mobile app.
The 14,500 sq m clubhouse is also home to a three-storey indoor water adventure centre, which comes with Singapore's longest indoor water slide at 114m long, a wet obstacle-rope course and rock climbing walls.
For its various green features that maximise energy efficiency and water conservation, the HomeTeamNS Bedok Reservoir clubhouse has been awarded a BCA Green Mark Platinum award.