Hotel restaurants see brisk business as crowds flock back for Christmas
At one hotel, this festive season has seen business surpass even that of 2019, before the pandemic.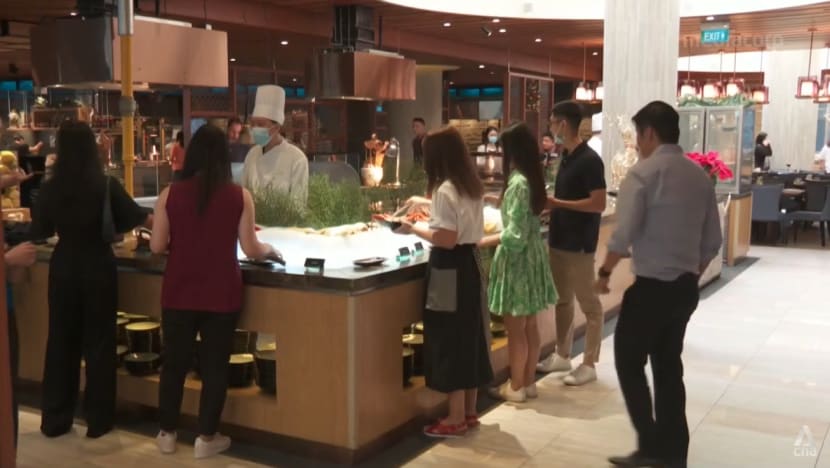 SINGAPORE: Crowds have returned to hotel restaurants this Christmas after two years of COVID-19 restrictions, and establishments are looking to stay sustainable even as business improves.
Mr Ryan Jette, director of food and beverage (F&B) at Pan Pacific Hotels Group, said that business is at 80 to 90 per cent of pre-pandemic levels. To ensure that there is enough supply to cater to the new demand, the hotel pre-ordered items such as wines, champagne and turkey.
"We were planning with our purchasing team to order back in August and September, putting those orders in with the suppliers so we're able to secure the products," he said.
At Sofitel Sentosa Resort & Spa, the situation is even more promising, with the number of diners and the average cost of bills surpassing the 2019 festive season, said its cluster general manager Cavaliere Giovanni Viterale.
With crowds at its three restaurants already set to beat pre-pandemic numbers, the hotel will be calling in additional manpower.
GOING GREEN
As the hospitality sector recovers, the hotels are also tackling the issue of sustainability.
At Sofitel, reducing food wastage is a priority which Mr Viterale called "the most important thing in our industry".
The hotel has implemented a nominal deposit from guests to confirm their dining reservations, a measure which has resulted in an 80 per cent drop in no-shows.
"This is really helping the outlets in reducing food waste in all our buffets," he said.
He added that the hotel will build a farm next year to grow its own greens and fruits, to cut down on the carbon footprint from transporting them.
The Pan Pacific Hotels Group has also been sourcing ingredients closer to home, Mr Jette said.
He said that with inflation and rising costs, the group has been looking to bring in products such as vegetables and other produce locally, and from countries within the region, such as Malaysia.
EATING WITH HEALTH IN MIND
While people may be excited about enjoying the festivities without COVID-19 restrictions looming over them, one doctor warned against throwing caution to the wind.
Over the span of a couple of months, cholesterol can go up by about 10 to 15 per cent, said cardiologist Yeo Khung Keong, noting that the upcoming Chinese New Year on Jan 22 coincides with year-end festivities.
Red meats and processed foods are among the items that are commonly associated with high cholesterol, said Associate Professor Yeo, a senior consultant in the Department of Cardiology at the National Heart Centre Singapore.
"With Chinese New Year coming up, one might expect the usual bak kwa, candies and sweets, so probably have to be careful about those things as well," he said.
"But I think the key thing is: Everything in moderation. Enjoy yourself, have a good time, celebrate with friends and family, but don't overdo things."
Alcohol can also raise bad cholesterol levels, he added.
Assoc Prof Yeo said high blood cholesterol levels, left unchecked, could lead to heart attacks and strokes, which are the top killer diseases in Singapore. There are, however, ways to deal with high cholesterol.
"You can try to cut (down on) smoking, but watching your diet, taking your cholesterol medicines if you've been prescribed cholesterol medicines, are really important," he said.
Equally important is staying active and exercising regularly, he said.
However, Dr Yeo said that healthy eating should be a habit for life and not just for the holiday season.
"It's important to remember that keeping one's cholesterol under control and healthy habits should be something that we do throughout the year and throughout our entire lives," he said.