HSA, dentists warn against popular DIY teeth whitening kit
The Beautiful – Cold Light Teeth Whitening Kit, contains 4 per cent hydrogen peroxide, well above the 0.1 per cent limit allowed for home use without a prescription.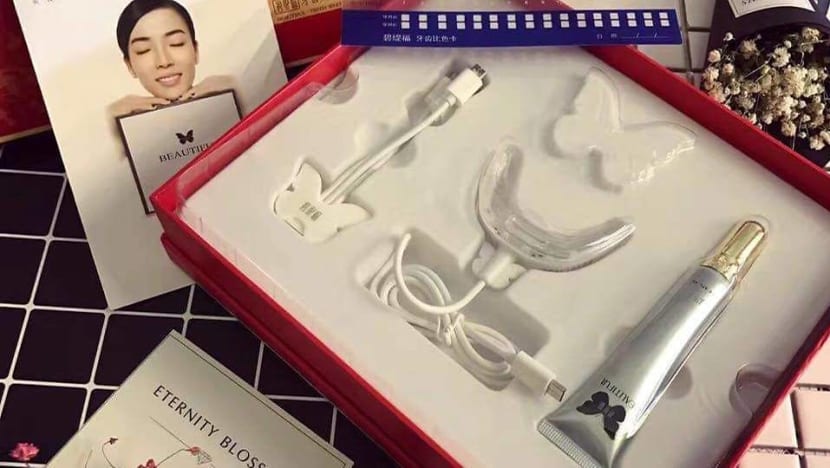 SINGAPORE: It is easy to find do-it-yourself teeth whitening products on online marketplaces such as Carousell, with some users posting glowing testimonies of how smoke- or tea-stained teeth became white again. At least 100 listings on Carousell are for a popular product that carries the "Beautiful" brand.
However, the product, called Beautiful – Cold Light Teeth Whitening Kit, contains 4 per cent hydrogen peroxide, well above the 0.1 per cent limit allowed in cosmetic products that are sold directly to consumers.
Teeth whitening products above the 0.1 per cent limit can only be supplied to registered dentists and used under their supervision, said a Health Sciences Authority (HSA) spokesperson.
In addition, the spokesperson said such products should be labelled with relevant warning statements such as "Not for direct sale to the public. For supply only through qualified dental practitioner."
Regulations on hydrogen peroxide are strict because high concentrations of hydrogen peroxide, a chemical agent that is commonly used in teeth whitening products, is potentially corrosive, and an assessment of the cause of teeth discolouration has to be made before the whitening can be done. 
"HSA is aware that the product is available on various e-commerce platforms and is working with them (the sellers) to remove the sale listings of this product," a spokesperson said.
Channel NewsAsia approached many sellers of the product who said they did not know that it contains hydrogen peroxide that crosses the limit allowed for direct sale to consumers.
A search on Monday (Oct 23) showed several products still listed online.
HSA said it will continue to monitor and take action against any company or individuals selling the product directly to the public. The spokesperson added that a "post-market surveillance system" has been put in place to monitor the safety of cosmetic products, and those found to be unsafe will be removed from the market.
Sellers of the product could face a fine up to S$20,000, a jail term of up to 12 months or both, for supplying an un-notified cosmetic product. Suppliers of products which do not comply with the labelling requirements may face a fine up to S$50,000, a jail term up to two years, or both.
DENTISTS SAY DIY TEETH WHITENING KITS MAY PRODUCE ADVERSE EFFECTS
Beautiful – Cold Light Teeth Whitening Kit, which has been promoted widely by social influencers in Singapore, was the cause of confusion among netizens recently, as legal and safety issues came into question. Some of them wrote that they had approached HSA before deciding whether to sell it, while one user reported migraines after using it.
While HSA has not received any reports of adverse effects relating to the teeth whitening gel to date, the authority said that products containing high concentrations of hydrogen peroxide can be potentially corrosive and may worsen pre-existing teeth and gum problems such as gingivitis, periodontal disease and gingival lesions.
Dr Huang Shiming from TP Dental Surgeons said that it is important to identify complexities and address them before starting on any tooth whitening procedure.
Proper diagnosis and treatment planning is more than half the battle won. This, however, takes a trained eye.
Poor identification or treatment of pre-existing conditions such as dentine hypersensitivity, active decay and gum disease may result in intense sensitivity after the whitening or bleaching of exposed nerve tissue, Dr Huang added.
Dr Bruce Lee, clinical director at T32 Dental Centre, said that that hydrogen peroxide is an oxidising agent which can be corrosive at higher concentrations. While it is used as a surface disinfection solution in diluted concentrations, in higher concentrations and longer contact time, it can cause "chemical" burns to the skin and in the case of teeth whitening products, the gums.
"This is the reason why higher concentrations have to be supervised by dentists for proper usage, exposure time and suitability of the case for whitening," he said.
As for the "cold" light which manufacturers claim will speed up the whitening process, research has proven that the whitening process is effected by the whitening gel.
Whether or not there is light or the source of the light makes no significant difference, Dr Lee explained.
Associate Professor Christina Sim from the National Dental Centre said that not all yellow-looking teeth or discoloured teeth are amenable to teeth whitening because tooth discolouration can occur externally or internally.
"Teeth can discolour for various reasons. When teeth are discolored due to tooth decay, the underlying cause has to be addressed. For example, the decayed area of the tooth has to be removed and the tooth restored," she said.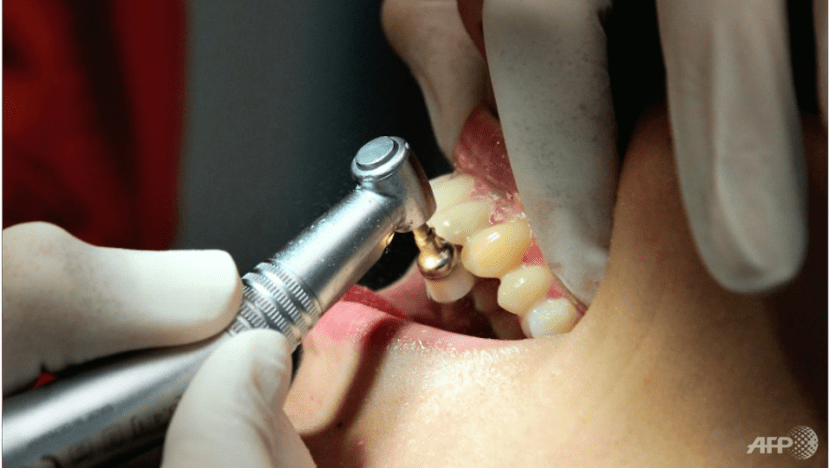 NO NEGATIVE FEEDBACK: SELLERS 
One seller, who only wanted to be known as Margaret, told Channel NewsAsia that she was not aware of the legal and health concerns surrounding the product. In a span of six months, she said she has sold more than 300 Beautiful teeth whitening kits and has not received any negative feedback.
She, too, has been using the product daily, and has not experienced any negative side effects. She said her teeth were "very yellowish" as she is a smoker, and a friend recommended this product to her.
"I've used whitening toothpaste but it didn't help. I also find teeth whitening with a dentist very expensive, so I thought why not try this since it's relatively cheap," she said.
Dental clinics charge about S$1,000 for in-house teeth whitening and upwards of S$700 for a take-home kit, according to a recent check by Channel NewsAsia. The Beautiful teeth whitening kit on the other hand is typically sold online for about S$70.
Margaret said she was impressed with the results of the Beautiful teeth whitening product within a week, and therefore started selling the product as well, with her own experience as proof that the product works.
She, however, warned against cheap replicas that are also being sold online, adding that she ensures that users are not pregnant and that parents do not use the product on their children.
HSA said that as a general rule, members of the public should exercise caution when purchasing cosmetic products online or from unfamiliar sources, "even if they are recommended by well-meaning friends or relatives".
"You cannot be certain what these products contain and where and how they were made. They could contain potent ingredients, or could be counterfeit or substandard," its spokesperson said.