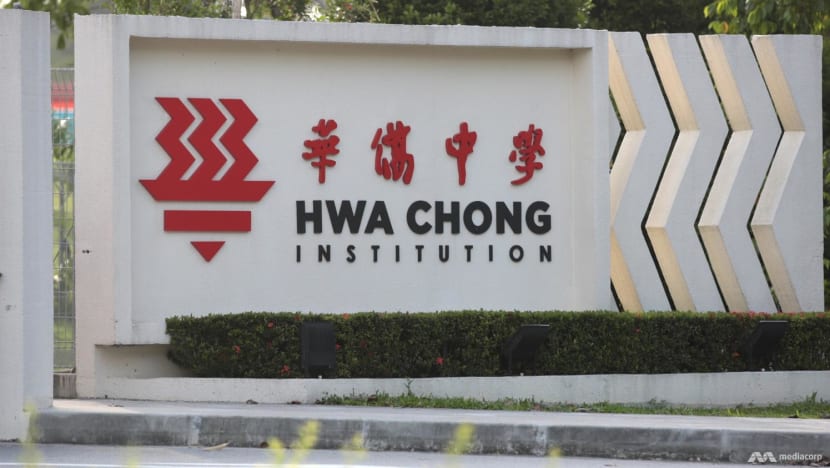 SINGAPORE: The Hwa Chong Institution counsellor who delivered a presentation containing discriminatory claims against the lesbian, gay, bisexual, transgender and queer (LGBTQ) community has been suspended from all duties.
Education Minister Chan Chun Sing gave this update on Tuesday (Aug 2) in a written response to questions from Non-Constituency MP Hazel Poa and MP Xie Yao Quan (PAP-Jurong).
The incident last month involved a Hwa Chong staff member giving a presentation on sexuality, which contained a slide filled with discriminatory content.
This included claims such as "58 per cent of homosexuals have problems with intestinal worms" and that "one in 15 homosexuals is a paedophile".
Hwa Chong clarified on Jul 18 that this content was outside the scope of the Ministry of Education's (MOE) sexuality education curriculum, and that the views presented were the counsellor's personal perspectives.
The school then said it had reprimanded and suspended the counsellor from delivering further sexuality education lessons. 
On Tuesday, Ms Poa asked about the duties the counsellor was retaining and what safeguards were in place to ensure such incidents do not happen again.
"Following the incident, the school counsellor, who is an employee of Hwa Chong Institution, has been suspended from all duties, pending further investigation by the school personnel board," said Mr Chan.
Parents and students have also been assured that the views expressed by the counsellor do not reflect that of the school, he added.
"The school has also emphasised the importance of respect and care for everyone in the school community," he said.
Mr Xie asked when the ministry expects to conclude investigations into the incident and if it was aware of any student who was personally affected by the counsellor's statements and had come forward to seek help.
In his reply, Mr Chan said Hwa Chong has been watching out for students who may be affected by the incident.
"Teachers have been vigilant in monitoring their students' well-being, and students who have concerns or require support have been encouraged to approach the school leaders or a trusted adult in school," he said.
"The school is reviewing its processes to ensure alignment with MOE's curriculum and guidelines."
Why is sexuality education tough to teach in Singapore? Listen: