Illegal breeder who kept 19 dogs in terrace house fined S$9,000
Goh Chong Tse arranged to have his corgi bred by a stud dog, selling one of the puppies for S$9,500.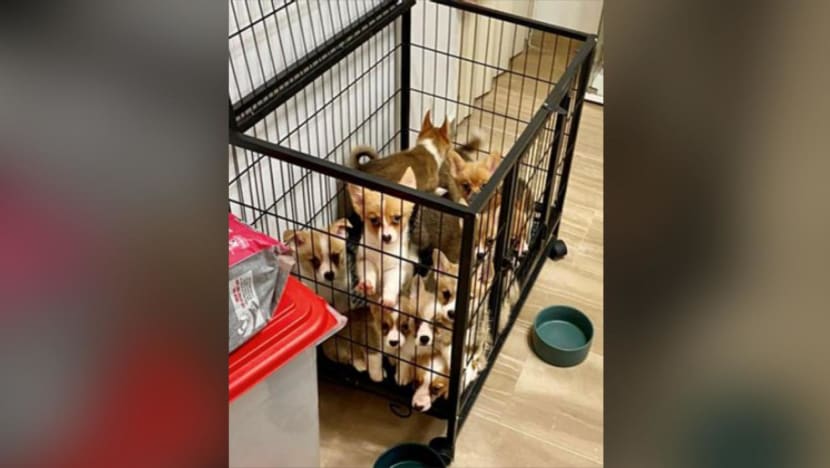 SINGAPORE: A self-professed dog lover kept 19 dogs in his terrace house and engaged in illegal breeding, selling one of the puppies for S$9,500 (US$7,017).
Goh Chong Tse, 37, was fined S$9,000 by a court on Wednesday (May 31) for his offences under the Animals and Birds (Dog Licensing and Control) Rules.
He pleaded guilty to five charges, including maintaining his home as a farm without a licence by breeding his dog with another dog, owning dogs without licences, and keeping more than three dogs in a place that was not a licensed dog farm or pet shop. 
Another seven charges were considered in sentencing.
The court heard that Goh lived with his wife at 11 Seletar Road from 2019 to about September 2021.
From 2019 to July 2020, the couple owned four dogs - two corgis named Nutella and Waffles, and two shiba inus named Milktea and Pudding.
They bought Nutella and Milktea from a licensed pet kennel, while Pudding was purchased from a seller on Gumtree.
Waffles was a stray that Goh's wife found. Goh registered Waffles' licence under his name.
In December 2020, Goh got to know a person named Jermaine Ang. The pair agreed that Waffles would be sired by Ang's stud dog, Bailey.
They agreed that Waffles would be artificially inseminated, with Ang paying for the insemination. They also agreed that Ang would share 30 per cent of the overall costs and keep one puppy from the subsequent litter.
Waffles gave birth to six puppies in late February 2021. Ang kept one puppy, while Goh and his wife kept four puppies.
The last puppy was sold to someone for S$9,500.
On Feb 9, 2022, officers from the National Parks Board (NParks) acted on information they had received and inspected Goh's home.
He had moved to a terrace house in Parry Road. During the inspection, the officers seized 19 dogs - most of them corgis.
The officers also found that Goh did not have valid licences to own three of the dogs, named Mantou, Ruffles and Truffles.
The prosecutor sought a fine of S$9,400 for Goh. She said almost all the puppies had discharge, tear staining and poor dental health.
Most of the puppies had dirty coats stained with faeces, and almost half of them had light staining of the teeth and gingivitis, she said.
DEFENCE'S PLEA
Defence lawyer Amarjit Singh asked instead for a fine of S$6,000.
He said his client worked as a chauffeur for private airport transfers before the COVID-19 pandemic broke out, and was also a Grab driver, while his wife was a homemaker.
However, he lost his job during the pandemic and took on various jobs including delivery work and a COVID-19 swabber to make ends meet.
Goh and his wife share a strong affinity for dogs, said Mr Singh.
"His actions were driven by his deep love and affection for his dogs and puppies," said the lawyer.
He said Goh had a history of anxiety and took solace and comfort in the companionship of his dogs and puppies.
The seizure of his dogs has negatively impacted both Goh and his wife, who self-harmed afterwards, said Mr Singh.
The judge allowed Goh to pay the fine in instalments.