Singapore welcomes Indonesia's ratification of agreements on bilateral issues, including defence and extradition pacts
The ratification of all three agreements is a sign of "the strength and maturity" of the bilateral relationship with Indonesia, says Singapore's Foreign Affairs Ministry.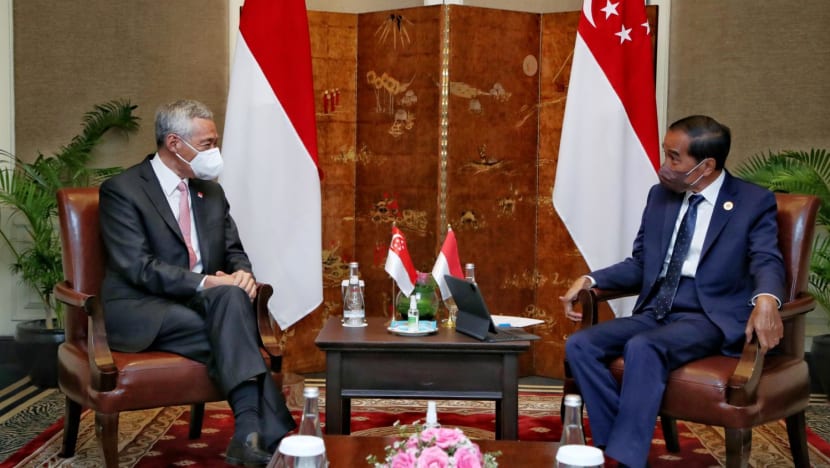 SINGAPORE: Indonesia's ratification of three agreements with Singapore, including a defence pact and an extradition treaty, is a sign of "the strength and maturity" of the bilateral relationship, said Singapore's Ministry of Foreign Affairs (MFA) on Tuesday (Jan 17).
The three agreements address the issues of air space management, defence cooperation and extradition of fugitives.
"The ratification of these agreements is a major step in resolving these three longstanding bilateral matters and lays a strong foundation for future cooperation," Prime Minister Lee Hsien Loong added in a Facebook post on Tuesday. 
Indonesia ratified the extradition treaty and the Defence Cooperation Agreement in December.
It earlier ratified the Flight Information Region (FIR) agreement, under which Singapore and Indonesia agreed to realign the boundary between the Jakarta FIR and Singapore FIR.
Indonesia will delegate to Singapore the provision of air navigation services in portions of the airspace within the realigned Jakarta FIR. This agreement will remain in force for 25 years and can be extended by mutual consent. 
In its statement on Tuesday, MFA said it welcomes the ratification of the extradition and defence cooperation pact, adding that Singapore has completed its domestic legal processes for all three agreements.
"Indonesia's ratification of all three agreements under the Expanded Framework between Singapore and Indonesia is a clear sign of the strength and maturity of our bilateral relationship, and our commitment to work together as close neighbours," said MFA.
"We look forward to exchanging with Indonesia our formal notifications of the completion of our respective domestic processes for all three agreements," it added.
"Singapore and Indonesia will then jointly seek approval from the International Civil Aviation Organization (ICAO) for the arrangements under the FIR Agreement, to enable the simultaneous entry into force of all three agreements on a mutually agreed date."
Under the extradition treaty, fugitives from both countries who had committed 31 types of crime, including corruption, drug and terrorism, will be liable to be extradited.
It applies to offences committed up to 18 years ago.
The Defence Cooperation Agreement will strengthen the relationship between the armed forces of Singapore and Indonesia, and advance the countries' defence relations.
"As part of the Defence Cooperation Agreement, the SAF (Singapore Armed Forces) will continue to conduct military training and exercises in training areas in Indonesia, with full respect for Indonesia's sovereignty over its territory, including its archipelagic and territorial waters and its airspace, and in accordance with the United Nations Convention on the Law of the Sea (UNCLOS)," MFA said previously.
In his Facebook post on Tuesday, Mr Lee said he is glad that Singapore and Indonesia have both completed their domestic processes to ratify the three agreements.
"I thank President Jokowi for his partnership and leadership in concluding these agreements," he wrote. "I look forward to our next meeting where we can celebrate the progress and explore new areas of cooperation."