IN FOCUS: How the e-commerce boom could shape Singapore's urban landscape
With Singapore embracing e-commerce, CNA examines how the urban landscape may need to change to make your deliveries arrive faster.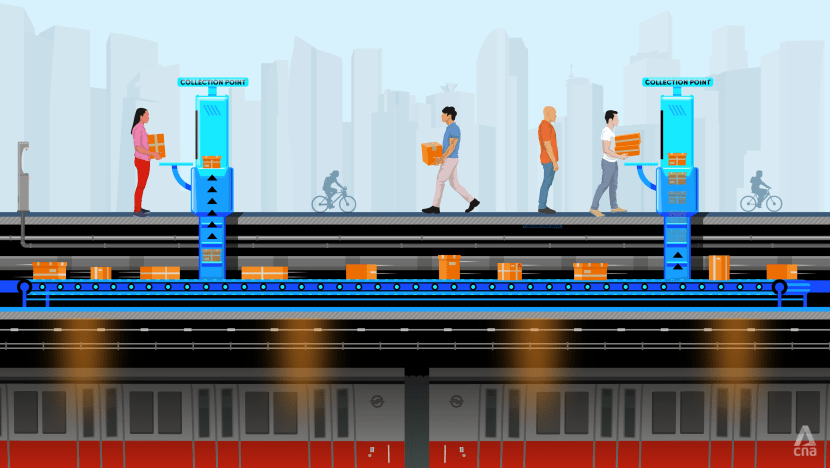 SINGAPORE: Most days are a blur for 34-year-old delivery driver Mr Hamry, who zips across estates to around 130 homes each day, bearing items that residents have been eagerly awaiting: Their online shopping orders.
During peak sale periods, that can go up to as many as 270 deliveries a day.
At those times, his stress levels can spike even more because of one major challenge - finding somewhere he can park in the private estates he covers.
"It's too narrow. You see all those cars parked on one side of the road, then it's very hard for you to find one slot.
"(If you park where you can), you hope that owner doesn't open the gate, if not they horn at you or ask you to shift."
Even when delivering in public housing estates, the parking grace periods are sometimes not long enough, he said.
And in some areas without established lots, one has to watch out for the fearsome "summons auntie" - or parking enforcement officer.
Fellow driver, 41-year-old Sandy Lim, said condominiums pose inconveniences too. "For certain condos, the intercom activates the lift. So even if in the whole block you have just five deliveries, you need to call via the intercom five times."
His company's warehouse in Tampines is also a considerable distance from his delivery areas in Ang Mo Kio and Bishan.
As Singapore continues to embrace e-commerce, such issues are likely to become more pressing, creating a need for even more solutions that will likely change the urban landscape.
For instance, what if residential areas - including private estates - had a central delivery point, cutting the need for door-to-door visits?
Would building more warehouses a stone's throw from residential areas improve efficiency? What if there was even an automated underground parcel delivery network?
E-COMMERCE BOOM
Over the past few years, the popularity of e-commerce - the buying and selling of goods and services online - has soared.
The COVID-19 pandemic has turbocharged the trend, as restrictions on mobility drove more people to online channels for uninterrupted access to shopping, food delivery or groceries, among others.
In fact, e-commerce values in Singapore skyrocketed by 87 per cent in 2020 compared to the year before, according to a report by Google, Temasek and Bain Southeast Asia.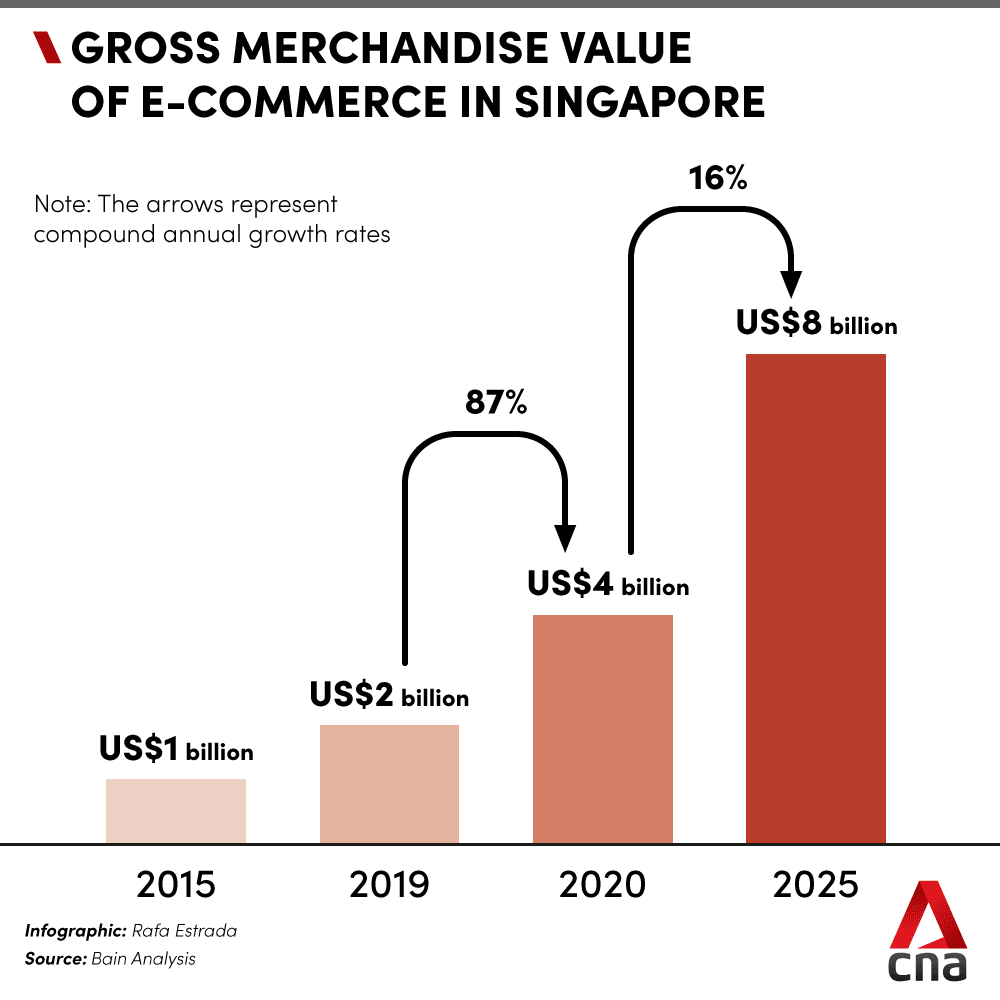 Regular mega sale events continue to fuel the online boom, with as many as 200 million items sold in a single day across the region. 
During the recent National Day weekend sale, e-commerce platform Lazada told CNA that it notched a 70 per cent year-on-year increase in sales on Aug 8. Shopee said it saw a five-fold increase in orders made in the first 12 hours of that day, compared to a year ago.
As a whole, e-commerce values could hit a whopping US$4 billion this year and double by 2025, according to Bain Analysis.
IS SINGAPORE READY FOR THIS BOOM?
But this could create challenges for densely packed Singapore, said experts.
The issues faced by drivers such as Mr Hamry and Mr Lim are just some examples of how existing urban systems are being disrupted, said Ms Iyn Ang, CPG Consultants' senior vice president of urban planning.
This is particularly due to "a lack of supportive infrastructure" to accommodate new delivery services, she said. 
Cities like New York have faced similar issues, with reports showing increasing competition for space in dense residential and commercial areas, she said.
As e-commerce grows, burgeoning deliveries could also clog up roads, said Professor Lau Hoong Chuin from Singapore Management University (SMU).
There are already far more vehicles for goods than for regular passengers, he noted. Official figures show there were more than 140,000 goods vehicles, compared to about 15,700 taxis and more than 71,000 private-hire vehicles in 2020.
The use of motorbikes for deliveries has also "increased exponentially, undeniably", said Mr Lau, whose work focuses on using artificial intelligence and data to improve logistics.
"Among (all the platforms such as) GrabFood, Deliveroo, foodpanda, you already see that they combine more than 24,000 such riders.
"Imagine if each of them makes 20 deliveries per day, minimum, you'll get easily half a million trips. That gives you a sense of how busy our roads are."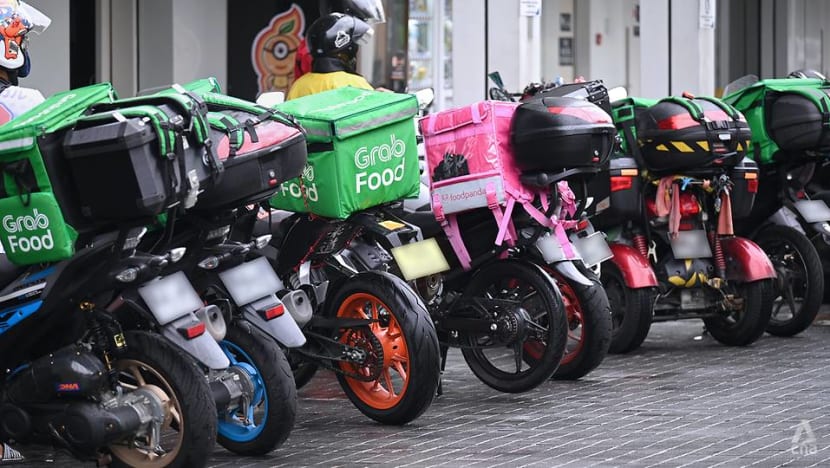 Anecdotally, you also see far more delivery riders on the roads these days, he said, adding that taxis and private cars are also increasingly being used as couriers.
"If we go back to normal, where people start travelling to work, I imagine that you would see the (congestion) would get worse."
Adapting infrastructure to the rise of e-commerce could also better protect drivers and riders, who are at risk of getting into accidents on roads or shared paths as they rush for deliveries, said Professor Sing Tien Foo, the director of the Institute of Real Estate and Urban Studies (IREUS).
Overall, a "set of short-term and long-term interventions" are needed to integrate logistics infrastructure into the existing urban fabric, said CPG's Ms Ang.
WHAT WOULD SINGAPORE LOOK LIKE IF IT WAS SHAPED BY E-COMMERCE?
Authorities are already examining the rise of e-commerce and what it could mean for urban landscapes and systems.
The Urban Redevelopment Authority (URA) told CNA that the Government is "studying how trends such as changing consumer behaviours and the increase in e-commerce have evolved".
This will be one factor to consider amid an ongoing review of Singapore's long-term land use plans, which will guide development over the next 50 years and beyond.
For now, initiatives are under way to improve last-mile delivery, which is the final leg of the process until the parcel gets to your door.
Authorities have already rolled out a nationwide parcel delivery locker network, which will have about 1,000 lockers across the island by the end of the year.
Several pilots have also enlisted robots to deliver parcels, groceries and meals in residential areas.
And in the coming months, some residents could benefit from a new pilot being developed by agencies and last-mile delivery firms.
Under the pilot, certain car park spaces could be used for the "unloading, sorting and distribution of e-commerce parcels to households", URA told CNA.
This could help delivery firms boost delivery capacity, improve efficiency and keep up standards, especially amid growing delivery volumes, it said.
The initiative could also involve "walkers" – people who collect these parcels and bring them on foot to your door.
URA said the aim is to launch the pilot later this year and see if and how it may be rolled out on a wider scale.
CONDO PICK-UP POINTS, MOBILE LOCKERS
People could also see central delivery points for food or goods becoming a default feature in developments, such as condominiums, said IREUS' Prof Sing.
Some developers are already looking at this, especially for luxury projects that are more exclusive because "they don't want so many (delivery riders) coming into the condominium", he said.
"You don't want to see so many people coming in and out, or sometimes they press the wrong button and call the wrong unit." Such delivery points at lobbies have also become common in places like China, he said.
Though this would mean the end of door-step deliveries, Prof Sing said "this little inconvenience can create a lot more conducive environment", adding that it is also better for security reasons.
Delivery driver Mr Hamry agreed such an initiative would certainly "make life easier".
Professor Mark Goh, director of industry research at NUS' The Logistics Institute Asia Pacific, suggested that Singapore could see more "mobile lockers".
An example of these are trucks from e-commerce platform ezbuy, which invites a mass of customers to meet at certain locations and times to collect their parcels.
"That's a nice innovation for Singapore – in that you save on infrastructure cost, infrastructure space, and yet … give the assurance of security and custody of goods."
All these developments would be crucial, because the last mile is usually the most inefficient part of the urban logistics network, consuming up to 75 per cent of costs, said Prof Goh.
These moves would thus manage costs and shrink carbon footprints, he said.
On a broader estate level, having dedicated parking for delivery vehicles and pick-up or drop-off zones with time limits would also help, said CPG's Ms Ang.
WHAT WILL HAPPEN TO MALLS?
Of all the sectors that have been disrupted by e-commerce, one of the biggest question marks hangs over the future of malls.
With e-commerce, retailers no longer need to be in prime, convenient, or even physical locations. Tough competition from online channels has continually pushed retail rents lower over the years.
Previous models of urban planning, which might have estimated that malls had a catchment of a 5km-radius, for example, also "don't work anymore", said Mr Tan Shee Tiong, an adjunct associate professor of architecture at the National University of Singapore (NUS).
Mr Tan, who is also CEO of architecture firm Interactive Architects Planners, added that land use allocations will change because of this.
And though malls will not disappear, their formats will evolve.
"With e-commerce, you fulfill your needs, you finish your transaction, but there's no experience involved," said Mr Jacky Cheng, the director of project development for Asia Pacific at JERDE, an architecture and urban planning firm.
"At the end of the day, human beings are social creatures - whether want to be seen or you want to do something, you still want to have interaction," he said.
As physical retail wanes, Mr Cheng believes stores will be used as a "campus" to display their products and teach people about them. An example would be the Apple store, he said.
He also believes it will be key to "blur the lines" and give malls different functions to attract different users.
CPG's Ms Ang echoed this, saying retail land use should be integrated with recreational and community facilities at district levels to prop up visitorship.
URA acknowledged that e-commerce "potentially leaves room for traditional retail spaces to transform beyond a simple point-of-sale and provide more experiential activities".
But it added that while e-commerce could lower demand for shop space, not everything is suited for online retailing – such as services provided in beauty salons.
It stressed that authorities will "continue to monitor trends in the economy, business models and the retail market closely, and take these into account when calibrating the amount of land to safeguard and release for commercial use".
FOOD DELIVERIES FROM MALLS
Another element that Singapore's malls have not quite prepared for is the explosion of food delivery, said IREUS' Prof Sing.
With more delivery riders zipping in and out of malls, combined with safe-distancing measures, workflows and indoor traffic must be relooked, he said.
"Do people need to walk all the way to level four or the basement to pick up food? What if restaurants are in different locations?"
Having a dedicated pick-up point would work, but it might cost developers space and rent revenue, said Prof Sing. Nevertheless, there are upsides such as reducing crowds and congestion, which might "translate into some savings in business operations".
Some players have already started thinking about this issue.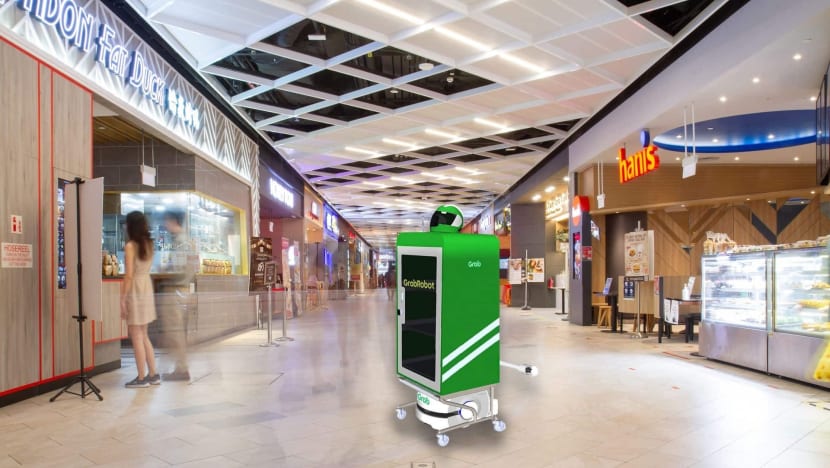 In June, Grab began a trial of an autonomous mobile robot at Paya Lebar Quarter (PLQ) Mall to consolidate food orders and bring them to a collection point.
It was predicted to "shave off between five to 15 minutes of the usual time taken to navigate shopping malls and collect each order", the firm said.
"Agencies are monitoring such developments and will work with the private sector to facilitate them," said URA.
To support the online food delivery boom, cloud kitchens will also feature more heavily in the landscape, said Prof Sing. These are used to prepare food exclusively for take-away or delivery orders.
Some F&B operators might consider downsizing in malls, to "transfer" that space to a cloud kitchen elsewhere which can better deal with rising demand from across the island, he said.
In response to growing interest in cloud kitchens, URA told CNA it has recently carved out new guidelines specifically for setting these up.
MORE DISTRIBUTION CENTRES NEAR YOUR HOME
Don't be surprised if distribution centres or warehouses start to emerge in more neighbourhoods too, said experts.
Typically, these industrial developments are kept tucked away from urban and residential areas. But it would be good to have these "closer to demand centres" where the client is to cut down on travelling, said Prof Sing.
For one, CPG's Ms Ang suggested having multi-storey warehouses with small footprints in urban areas - noting that cities, such as Seattle in the US, have started doing this.
You can also expect to see more "micro fulfilment centres" or pick-up facilities in neighbourhoods here, as such an approach is eco-friendlier and cheaper, she said.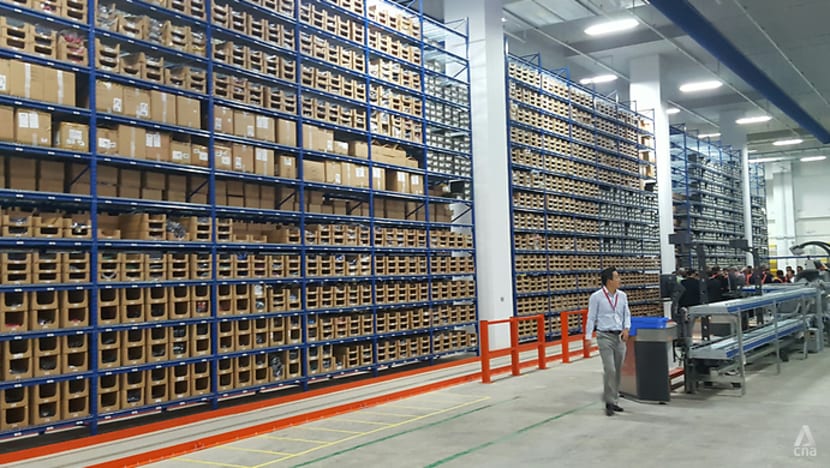 This was a suggestion welcomed by delivery driver Mr Lim. "If your vehicle cannot accept so many parcels, you have the luxury of finishing off whatever is in your vehicle, then going back to the warehouse to pick more up.
"If your warehouse is in Jurong and you're delivering in Pasir Ris, you cannot expect the driver to come back halfway through the journey to get more!"
SEPARATE ROAD LANES FOR DELIVERIES
Ms Ang also mooted carving out "dedicated delivery lanes or shared mobility lanes", to ensure safety and convenience for riders using sustainable delivery transportation, such as electric cargo bikes.
Making these routes shaded, with resting stations to boot, will further encourage these modes of transport, thus avoiding the increase of "fast vehicular traffic".
NUS' Mr Tan added that road space is already limited, and forcing delivery riders on motorcycles and bicycles to jostle with bigger vehicles "will pose a problem".
One change might be to cut the number of lanes for cars or buses, possibly freeing up one lane for bikes and delivery drivers, he said.
Feasibility aside, he added that this would only be one change out of many, eventually setting up for a future where roads are dominated by autonomous vehicles doing deliveries instead.
URBAN LOGISTICS
Singapore's urban logistics system – or the way these goods are moved – must also change, as the scene is currently "very fragmented", said SMU's Prof Lau.
"We have different companies serving different communities, all trying to get business and doing their deliveries. It's very uncoordinated and very unoptimised," he said.
To remedy this, Prof Lau has pushed for a national platform that coordinates deliveries to malls – a project called the Collaborative Urban Delivery Optimisation platform, which he worked on together with authorities.
But it hasn't quite taken off, as "the push to coordinate the delivery is not there" at a national level, he said.
"To roll it out operationally requires a lot of support. Companies will need to cooperate, and the Government will need to come in with some incentives to get them to subscribe to the system."
IMAGINING FAR IN THE FUTURE
Apart from autonomous vehicles, drones are another promising frontier being explored.
This might be tricky as it would require implementing an entire traffic system in the air, among other issues, said NUS' Mr Tan, who has four decades of planning experience.
Instead, if he had it his way, there would be a high-speed delivery network underground, like "a mini MRT" in future.
Imagine a network of underground delivery tubes, each up to a metre in diameter, with stops every 100m or 200m.
He likened it to a pneumatic system for waste collection that is already being rolled out in estates such as Punggol. This involves a network of "vacuum-type" pipes underground.
"So goods can easily be done with some sort of conveyor belt – not necessarily being sucked away in a tube system – just like a mini MRT system running all over Singapore."
"So just deliver there and you go to a collection point and take your things, that's all … I think this is all coming," said Mr Tan.
One more suggestion from Prof Lau for the future: Why not form a coalition between major food delivery platforms, for instance?
"They all do their own thing and they do a good job … But we have to find a way to encourage them to come together to share resources, such that you serve east, I serve west – the resulting number of trips will be much less."
He pointed to code-sharing between airlines as an example of how this would work. But he also acknowledged that this is easier said than done, given barriers such as a lack of trust and the complexity of cost-sharing.
MUCH TO LEARN
Singapore has much to learn about adapting to e-commerce, said the experts, adding that economies such as China have delivery infrastructure and systems that are more advanced.
The phenomenon itself is more mature there too. China is set to be the first country where e-commerce sales outweigh brick-and-mortar retail in 2021, according to research firm eMarketer.
In contrast, Singapore's online sales only made up less than a fifth of total retail sales, excluding motor vehicles, in June this year.
Still, the rise of e-commerce will be here for a long time to come, said Prof Lau, adding that this also means "a lot more scope" for stakeholders to work together to improve.
At the same time, the phenomenon is only one piece of the puzzle, as other trends to be navigated include an ageing population and environmental challenges, said NUS' Mr Tan.
Singapore has "all the attributes" to be number one in many areas – including in creative city planning and "we should do it", he urged.
Prof Goh added: "It's about how far we want to venture in the game of innovation."