'They're very, very hungry to learn': Inmates overcome prison constraints to graduate with media diplomas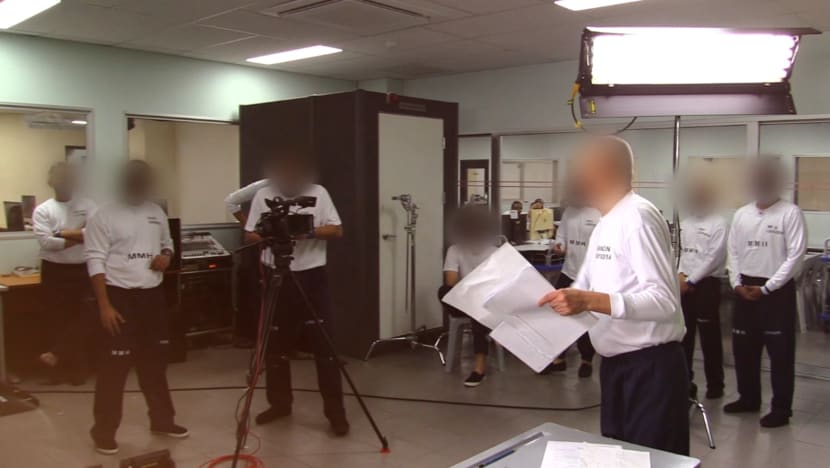 SINGAPORE: Coming from a family of professional photographers meant Enoch (not his real name) honed a good eye from young, but there were two things he didn't see coming. 
First, a jail term for drug-related offences, and second, finding his calling in prison. 
The latter came about when he undertook the Specialist Diploma in Social Media Marketing and Online Content Creation in the prison's multimedia hub at Tanah Merah Centre. 
The diploma programme, taught by the Singapore Media Academy, was possible through a collaboration between Yellow Ribbon Singapore and Mediacorp. 
As part of a module during the four-month course, which began in November 2020, Enoch needed to create a three-minute film – something he "wasn't big on doing". 
"I've always been really into photography, but part of the module required us to do a three-minute short film … which I really dread. For the longest time, I wasn't big on doing films because I personally think it's a real hassle," said the 31-year-old, who worked as a photographer and graphic designer prior to his sentence. 
"But I really enjoyed myself doing everything from scriptwriting, storyboarding, shooting the thing and post-processing … That was a bit of a turning point for me. I'd want to continue doing storytelling. It pushed my boundaries, and I've never enjoyed myself so much."
Enoch said he "found (his) calling doing creative work". 
BATTLING PERSONAL DEMONS 
But he wasn't always as optimistic. 
When Enoch first started taking drugs, he wasn't in "the right mental headspace" due to a host of personal problems, including the death of a friend. 
"I was actually quite depressed, so I was self-medicating to run away from my problems at that point in time," he shared with reporters during a Zoom interview organised by Yellow Ribbon Singapore on Tuesday (Oct 5). 
"Of course, doing time now, I realise that wasn't the right way to deal with my problems. Apart from the death of my friend, I have my own demons. I let down my family and mum, especially. I'm really, really close to my mum. That was a major setback for me."
Life was "actually good before this happened", he told CNA separately over email replies.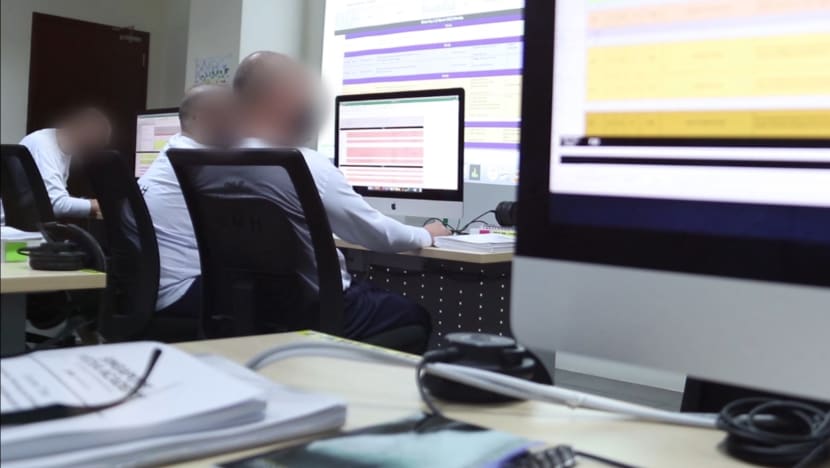 Likewise, fellow inmate Adam (not his real name), who was also incarcerated for drug-related offences, got involved with drugs when he was going through a "tough time at work". 
Back then, he was an audio and visual technician in the nightlife industry, and wasn't getting paid because the company wasn't doing well financially. 
"Drugs were exposed to me because of the people around me. Being in the nightlife (industry), drugs aren't something new. It's not something that's uncommon. Being in that situation, it was the quickest alternative, the easiest alternative," the 31-year-old told reporters.  
"I didn't think about how it would be affecting my family at that moment. But after seeing myself in here, and seeing how my family has to struggle out there, fend for themselves, it's given me an awakening. What I did was actually very selfish."
Under the same collaboration between Yellow Ribbon Singapore and Mediacorp, Adam pursued the Diploma in Media (Content Production and Management) - Assistant Director offered by the Singapore Media Academy. 
Despite having no experience in film production and the GCE N-Levels as his highest qualification, he took to the diploma like a fish to water. He graduated top of his cohort in a graduation ceremony held on Wednesday for inmates, including himself and Enoch, at Changi Prison Complex. 
Both Enoch and Adam were told about the media courses by their prison officers, with whom they'd shared their passion for media. 
But going back to school behind bars came with its own set of challenges – for both students and teachers.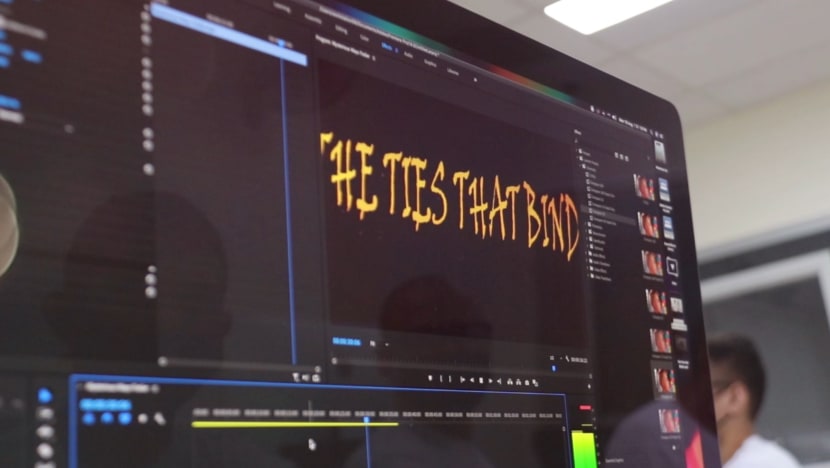 LIMITED RESOURCES, "CAN'T OPENLY USE GOOGLE"  
Unlike regular students who can readily access information on the Internet, inmates relied on the "handful of resources" brought in by lecturers. 
"We can't openly use Google. So there are a lot of things that are being controlled. Like if we need images, the lecturers have to get it for us pre-prepared," said Enoch, who is also a graduate from LASALLE College of the Arts. 
"We have to be more creative with work. Because we can't find reference images on the fly, we have to draw things up by ourselves."
Enoch recalled, for instance, being tasked to build a website through WordPress for a module. To work around the restrictions, he used PowerPoint. 
Similarly for Adam, learning about film production meant he had to deal with limited location options in prison. 
"There were quite a number of limitations in terms of resources. Because ours is film production, so number one, location wise is restricted. We're in a controlled environment," he said. 
The Singapore Media Academy said its priority was ensuring the diploma programmes were "realistic" for inmates. 
"Before embarking on the collaboration, the main concern that we had was how do we make the training experience as realistic as possible, compared to the public run. What are some of the considerations, what are some of the boundaries that we're working within, (and) security," said Mr Timothy Tan, head of the academy. 
"Some things that we take for granted, like the Internet and (going) out to research may not translate well … I think as an academy, we try very hard to deliver as realistic and comparable an experience (for the inmates)." 
One of the main challenges for academy trainer Foo Piao Xu, who also trains members of the public, was the lack of choice of locations in the prison. 
"Sometimes we take it for granted until we go (into the prison) and realise, okay, we have so limited choices. Organic to the nature of production is film location. So how we get around that is by being creative. We had to tweak the scripts that we would normally use outside," she said. 
"Instead, we will either have to create new scripts for them, or we will just basically have to use a little bit more imagination in class."
Another challenge Ms Foo faced was the lack of accessibility to Web resources. 
"With social media, we're able to use illustrations in class (with) members of the public, but not so much when we're teaching in the prison," she added.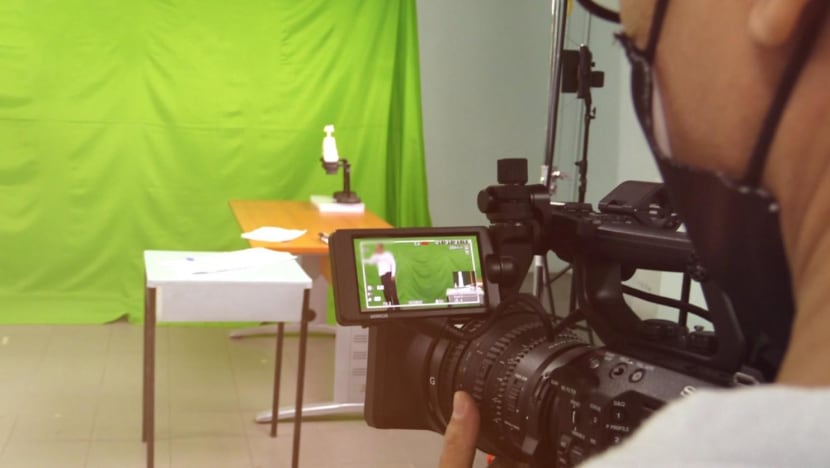 Even though there were obvious limitations from the get-go, Mr Tan said the academy chose to offer inmates the Diploma in Media (Content Production and Management) and Specialist Diploma in Social Media Marketing and Online Content Creation for several reasons. 
"As an assistant director on the set, you have a very good understanding with regard to the way the set works. It's a very good platform from which to learn other specialised vocations like sound, cinematography, directing, so we felt that (the course) was really helpful as an entry for inmates into the media industry," he said. 
The social media course was selected mainly due to market demand for "talented and trained" marketeers in the industry. 
"The other piece that is extremely important is content creation. Without content, we cannot advertise," he added. 
Yellow Ribbon Singapore said it hopes to train about 60 inmates a year under this collaboration with Singapore Media Academy. 
Mr Tan said the collaboration has "affected us as an academy".
"Going through the profiles of potential learners, understanding their background … these very touching stories that show their perseverance, determination and willingness to really prove themselves, despite the odds … that has inspired my team very much," he said. 
"That permeates into other fields of training that we do. We have students who may not meet the minimum entry requirement for some of our programmes. They write to us, we listen to them, and then we have our own systems and processes to give them a second chance as well."
Having benefited from second chances that people have given to him throughout his own career too, Mr Tan believes someone who's given a second chance would be "all the more determined" to prove themselves or make a mark. 
GIVING THEMSELVES A SECOND CHANCE
This, eventually, translated into "a sense of hunger", as Ms Foo observed in the inmates she taught, including Enoch and Adam. 
"They're actually able to sustain a very high level of positive learning attitudes throughout the entire course. I can sense that for the inmates, they were very, very hungry to learn anything new that would increase their chances of looking for a job in the future," she said. 
"The moment they learn something in class, they actually apply straight away, and they just do that on their own. And even between lessons, they will come to me and … ask me to give some input on the projects that they're working on."
For Adam, taking on the media diploma in prison showed him that he could "still study, still learn", and that he wasn't done upgrading himself, as he previously thought.
After being released, he hopes to make a career in film production and lead a production team as an assistant director. 
Enoch, on the other hand, wants to open his own creative agency, focusing on digital campaigns and online content, he told CNA over email. 
Both men ultimately acknowledged that getting beyond entrenched mindsets about ex-offenders once they're released from prison won't be easy, but pointed out that being given a second chance starts within. 
"I honestly feel that (discrimination) is something that is there, and we cannot force someone to change their thinking of us … that is something we can't control much. The most important thing is I need to give myself a second chance before people can give me a second chance," said Enoch. 
"I have my own demons so I have been working on that, and I think I've come to a point where enough is enough and (I'm) picking myself up and starting over again."
Adam added that overcoming discrimination was merely one part of life after prison. 
"If I'm not willing to put myself through change, then even if there's no discrimination out there … there's no room for improvement. Whatever it is, it starts with ourselves first," he said.