commentary Singapore
Commentary: Address our bias in the pursuit of gender equality
Each gender is conditioned from an early age to behave in a different way. We need to tackle this prevalent, insidious mindset, says the Singapore Council of Women's Organisations's Junie Foo.
SINGAPORE: International Women's Day - a day to celebrate all women in our world, as well as a day to strive towards their protection and equal rights.
While it's a nice thought and a busy month for companies embracing diversity and inclusion, I honestly find it disappointing that society needs a day to remember gender equality and the fair treatment of women.
Gender equality is not only a significant concern from a human rights standpoint, but will allow for the economic and political growth that developing nations need to make them competitive in world markets.
It makes sense – if women and girls can gain access to improved education, they will eventually get better jobs and be able to better contribute to the economy.
By the same token, including women in political decision-making leads to more effective governance, since women's presence in government brings greater diversity and different experience to the process.
Indeed, with the heightened awareness of the benefits of gender equality around the world, why are there still obstacles to achieving equality? Closer to home, why is there still a gender pay gap and a dismal percentage of female representation on boards?
Take for instance the percentage of women directors at all companies listed on the Singapore Exchange which has remained relatively unchanged over the past few years, hovering between 8 to 10 per cent. 
Other major international capital markets have higher rates of 27.2 per cent in Germany, 27 per cent in the UK, 20 per cent in the US and 15 per cent in Hong Kong.
Promoting equal opportunities is hard work. From a decade of working in this area, I am aware it is often greeted with suspicion, defensiveness and overwhelming ennui. 
There is resistance – implicit, explicit and institutional resistance when it comes to gender equality.
Where many say our meritocratic system should lead to equal benefits for equal merit, and point to a few women in positions of power, studies have shown systemic biases in recruiting, promotions and pay persist - leading to less female candidates getting the job or seeing the same salary growth as their male counterparts over time, all things being equal.
The issue is about the cause as much as it is the symptoms that are profoundly disturbing. 
If women now have a huge opportunity to succeed, why are they still largely invisible at the top table?
READ: A commentary on it still being a man's world, despite progress made by women in Singapore. 
'NOTHING STOPPING YOU'
My mother, a retired school teacher once told me: "There is nothing to stop you being whoever or whatever you want to be. The only thing stopping you is you." For this, I am eternally grateful.
Yet, even from early childhood education, each gender is conditioned from an early age to behave in different ways.
We train our girls to work hard and get As. When they get into an organisation, women continue to work hard, they do well and they wait to be picked for the next role.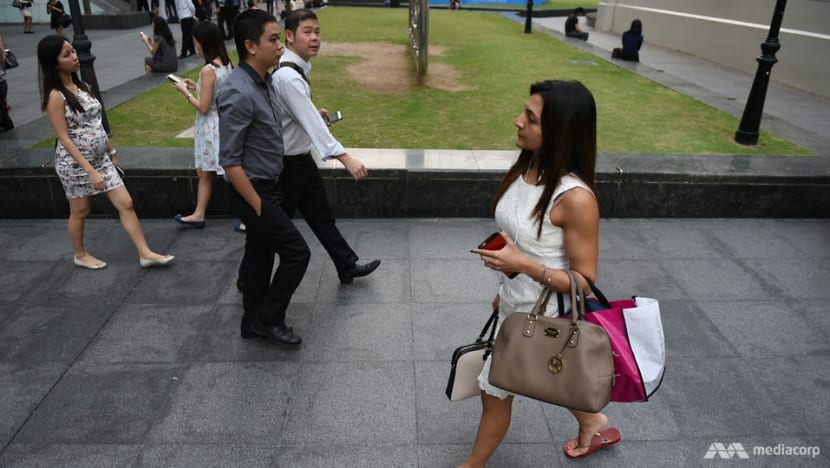 Basic anthropology tells us that groups tend to recruit new members who are similar to themselves. So a predominantly male field will often choose a male candidate – and research bears this out. 
This is an influential factor in why women are significantly underrepresented in traditionally male-dominated areas, and senior positions.
READ: A commentary on whether women can still "have it all".

As a hiring manager, I have interviewed enough candidates to know that women "get stuck waiting to be picked" while men will say "pick me, pick me", even if they are not quite up to scratch. 
Generally speaking, if a man has got 40 per cent of what it takes to do a job, he knows he's ready. But a woman will wait until she's pretty perfect and then think: "Am I ready for this?"
We need to actively tackle this prevalent, insidious mindset. We need to change how girls, families and society imagine what girls can be and can do. We need to give girls images and role models that expand their dreams.
We also need parents to see there really are opportunities for their daughters, that their only security is not just to be good wives and mothers, much as there is nothing wrong if that's what they want.
Women also need to build their confidence and go for it - and haul another woman up with them.
CHALLENGING OUR OWN BIAS
In order to overcome gender inequality we must address our own bias. Gender related bias that hold women back can include outright discrimination, the normalisation of everyday sexism, to deep-rooted unconscious attitudes.
From the classroom to the boardrooms – at an early age, we are conditioned to believe that girls are this way and boys are that way. Women should be warm and non-confrontational; men competent go-getters. 
It's about challenging these "natural" thoughts by examining, questioning and having open conversations.
Changing our bias in recruiting is integral, and admitting our own bias is an important step to a more open, diverse and fair workplace.
This is everyone's issue – men and women, and extends to women's own limiting self-beliefs.

Although it may be tempting to solve gender inequality by concentrating on women, gender inclusiveness should involve both men and women, as initiatives involving only half of the population will likely have reduced results.
Among other things, this means that fathers must also be involved and encouraged to tell their daughters that the sky is the limit and support her as she endeavours to become an engineer, a pilot, an astronaut or to run a company.
Women also have a part to play. Let us put in a good word for another woman instead of putting her down, let us build each other up instead of tear each other down due to our own jealousies and insecurities.
Maybe we would be able to build connections to better the world around us if we were not scared of the cruel words others would say about us for expressing our passions and opinions.
Maybe if women were to band together, International Women's Day need not be just a day. Every day would be a day to honour women and as women, honour ourselves.
Junie Foo is the chair and co-founder of BoardAgender, an initiative of the Singapore Council of Women's Organisation (SCWO).