Healing the Divide's Iris Koh seeks court permission to leave Singapore for cancer treatment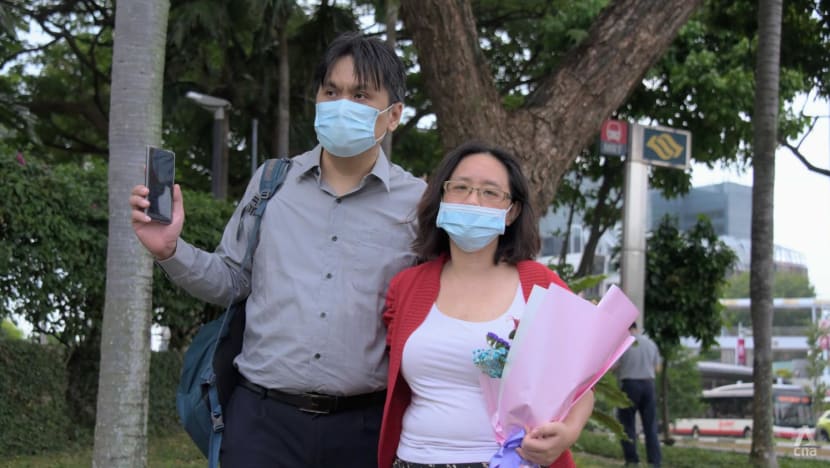 SINGAPORE: The founder of Healing the Divide, a group with a known stance against vaccination, has applied to leave Singapore to receive treatment for thyroid cancer.
District Judge Ng Peng Hong on Friday (Jun 17) adjourned the matter for Iris Koh Shu Cii to provide more information on her intention to travel to Malaysia for medical treatment. She will return to court next week.
Koh faces two charges. One is for conspiring with Dr Jipson Quah to defraud the Ministry of Health (MOH) into believing people were vaccinated with the Sinopharm COVID-19 vaccine between July 2021 and January this year.
The other is for obstructing a police inspector by refusing to sign and tearing up a copy of her statement while in lock-up in January.
The 46-year-old is out on bail for S$20,000. People on bail are required to stay in Singapore, and must apply for the court's permission to leave jurisdiction if they wish to go overseas. They must provide information such as the purpose, destination and duration of their trip.
Defence lawyer Wee Pan Lee had informed the court that his client was seeking permission to leave Singapore on Jun 19 to visit Malacca and Negeri Sembilan, before returning on Jul 22.
In Malacca, he said Koh would go to Makhota Medical Centre for a consultation with a doctor, who is expected to recommend that she receive therapy at Aenon Health Care in Negeri Sembilan. The therapy is expected to last from Jun 19 to Jun 29.
He said his client was unable to provide details of her transport and accommodation arrangements as these would only be made after her application to leave jurisdiction was granted.
According to Mr Wee, a doctor at the Singapore General Hospital had recommended the removal of Koh's thyroid gland as treatment for her cancer, and she was seeking "alternative therapeutic treatment" as opposed to "invasive surgical removal".
He added that Koh's bailor, Mr Raymond Ng who is her husband, would not be travelling with her.
Deputy Public Prosecutor Jiang Ke-yue argued that the documents supplied for Koh's application were "lacking".
He said the prosecution had asked for information on the nature of the treatment Koh would receive, the need to travel to Malaysia including whether alternative treatments in Singapore had been explored, and the necessity of travelling for one month and to two locations.
Mr Jiang said that documents provided by Koh's lawyer also suggested that a third location in Kuala Lumpur, named Spectrum of Life, would also be part of her travel plans.
He said that there was no explanation of the link between these three institutions in Malacca, Negeri Sembilan and Kuala Lumpur.
"I want to emphasise we are not standing in the way of Ms Koh's desire to seek alternative treatment of her choosing. We just need some answers, some clarification," he said.
Noting that Koh made her application on Jun 13, he also asked: "Why was this not started earlier so that information could be provided for the authorities' proper assessment?"
In response, her defence lawyer argued that the prosecution had not produced any evidence to suggest his client was a flight risk.
Mr Wee also said Koh was "devastated" after her diagnosis, spoke to various doctors and made her application "as soon as possible".
Judge Ng said that based on the information before him, Koh's medical condition "doesn't appear to be life-threatening at this point in time".
"It appears that we need some explanation," he said, adjourning the hearing of the application for the defence to provide more details.
The Healing the Divide group has described COVID-19 vaccination as "medical coercion", while MOH said the group adopts an "anti-vaccination stance" and "has a history of sharing misleading information about COVID-19 and its vaccines".
If convicted of voluntarily obstructing a public servant in the discharge of their public functions, Koh could be jailed for up to three months, fined up to S$2,500 or both.
If convicted of criminal conspiracy to make false representations, she could be jailed for up to 20 years, fined or both.