'It's all from your own pocket': Insurance agents weigh in on giving out freebies at roadshows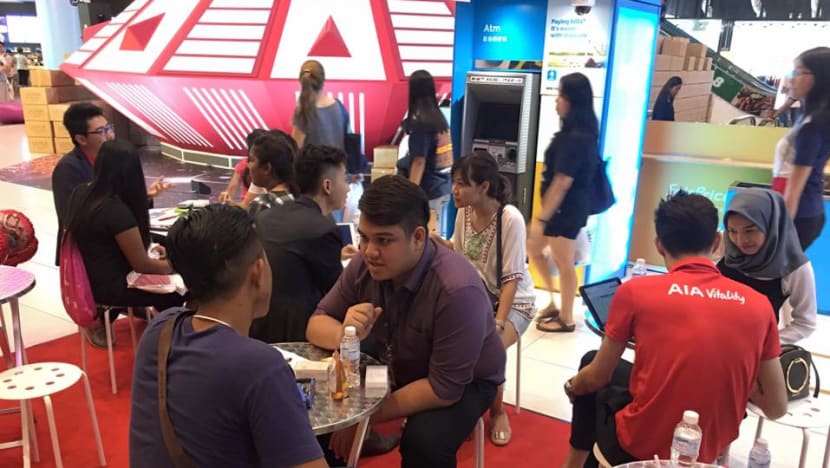 SINGAPORE: Last week, a disgruntled mother took to Facebook to complain about an AIA insurance agent who had given her daughter a balloon at a roadshow, only to take it back after realising the mum was not a suitable prospect.
Netizens criticised the agent for being "cheapskate", saying the move to take back the balloon was "lowly".
But insurance agents and financial advisers CNA spoke to were divided on the issue, with some disapproving of the agent's behaviour while others said it was understandable.
This is because expenses for roadshows, such as rent, logistic costs and freebies, typically come out of the agents' own pockets.
"I'm not surprised to see agents behaving like that, because as much as they want to earn a proper living, they must protect themselves," said Jack (not his real name), who has been an agent for two years.
"It's all from their own pocket. If they don't manage it well, it's easy for them to get into financial difficulties.
"I do know there are consultants facing financial difficulties, that's the reason why they got a little desperate and resorted to this to reduce costs … The Internet says this person is cheap, but it really depends on perspective."
Roadshow costs differ based on factors, such as location and the type of freebies, but participating in one can set you back by S$100 a day on average, according to agents.
Another financial adviser, who only wanted to be known as Gary, added that though agencies may co-sponsor the event, agents still have to fork out some money on their own. 
Rent is also higher these days, said Gary, who has been in the industry for 14 years.
He added that agents participating in roadshows tend to be junior ones or fresh graduates trying to build their networks.
GENEROSITY IS IMPORTANT
Guidelines by the Monetary Authority of Singapore (MAS) state that financial institutions should ensure any gifts offered to customers do not "unduly influence" their decisions to purchase any financial product or service.
But beyond that, there is no specific advice on the giving out, or retracting, of freebies.
Since it is a "grey area", agents often defer to their mentors, especially if roadshow costs are split among a group of agents, said insurance agent Han Yao Fong.  
But in such a case, generosity is sometimes the key, he said.
"You give a bit, you get a bit more back. This kind of small money, don't think so much, don't be so calculative," said Mr Han, who has been an agent for five years.
For instance, giving the balloon in such an instance might allow him to build rapport with a prospect.
"If we vibe well, I can give you my name card. If you like me, we can meet for coffee … If I make new friends, it means I have a new contact in my list.
"If the time comes (when the person is) ready, he'll get something from me, and if he finds my service is good, he'll refer people to me. It's a very friendly cycle."
Amanda (not her real name), who has been an agent for less than a year, had similar views.
"I strongly believe that building human relationships is far more important than selling a product.
"I definitely wouldn't entrust my money to someone with little social awareness and clearly only cares about their own self-interests."
The agent could have also done better by being "more upfront" and explaining the situation more clearly, said Gary.
ENSURING AGENTS FOLLOW GUIDELINES
He also noted that the incident has unfairly generated backlash towards insurance agents and financial advisers as a whole.
"Maybe 95 per cent of us are doing work through referrals and proper financial planning, but the incident puts practitioners in a bad light," Gary said.
Insurance firms and industry associations that CNA contacted did not provide statistics on complaints about agents' marketing activities.
But in response to queries, AIA Singapore said it takes customers' feedback seriously and will investigate the conduct of its representatives when required.
It added that its roadshow guidelines are aligned with MAS' standards of conduct for marketing and distribution activities.
"We recognise that it is an ongoing effort to maintain and elevate the standards of professionalism from our representatives, and we will continue to do regular reviews and updates of our internal processes accordingly."
Prudential, another major insurer, said its financial consultants are aware of the standards of conduct to follow, and these are communicated through induction programmes and training.
Consultants must also pass assessments on sales advisory standards before they can participate in roadshows.
"We also conduct checks to ensure that (consultants) comply with the roadshow guidelines and follow up if there is any feedback on non-compliance."
Consultants may also face disciplinary action, such as being disallowed to participate in marketing activities for a period of time, it said.