Power banks and Tiger Balms: 10,000 migrant workers get Christmas gifts in charity initiative
The presents were given out as part of ItsRainingRaincoats' annual Christmas drive, with the help of more than 200 volunteers.
SINGAPORE: Stepping into the second floor of ItsRainingRaincoats' new headquarters is a cheery affair, with colourful presents filling nearly every inch of the 71 sq m space in the days leading up to Christmas. 
The hundreds of presents are the fruit of the charity's volunteers this year, with up to 20 convening each day on the cosy second-floor lounge since mid-November to gift-wrap bottles of Tiger Balm, mugs, power banks, bottles and toiletries, among other items. 
ItsRainingRaincoats has received about 10,000 gifts from donors for its fifth annual Christmas drive. Its inspIRRe headquarters at 470 Upper Paya Lebar Road – opened in September – is being used as a collection point before distributing presents to migrant workers for the rest of the month. 
CNA visited the two-storey building on Dec 15 just in time to catch a group of corporate donors delivering four boxes full of shampoo, towels, portable chargers, bags and soap.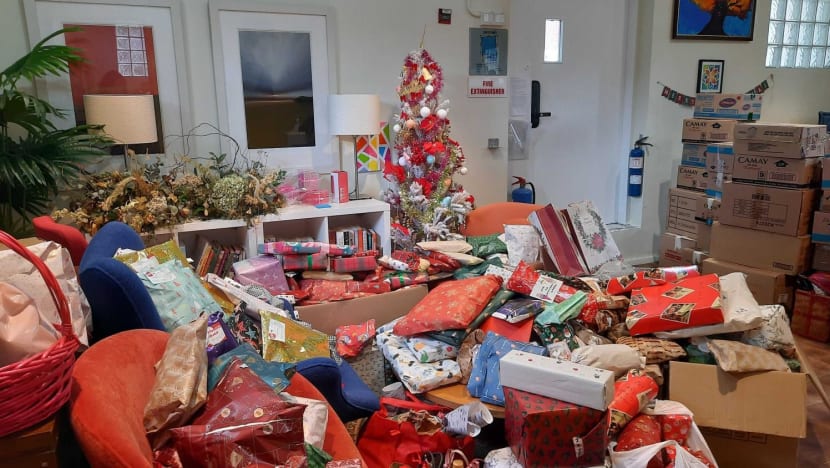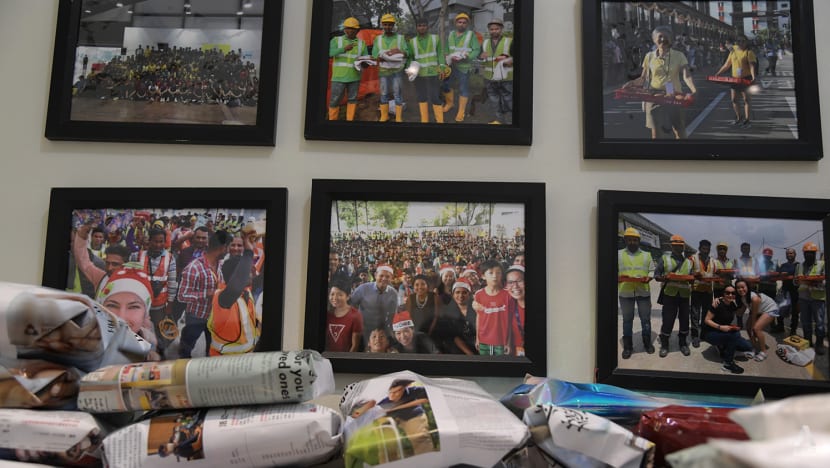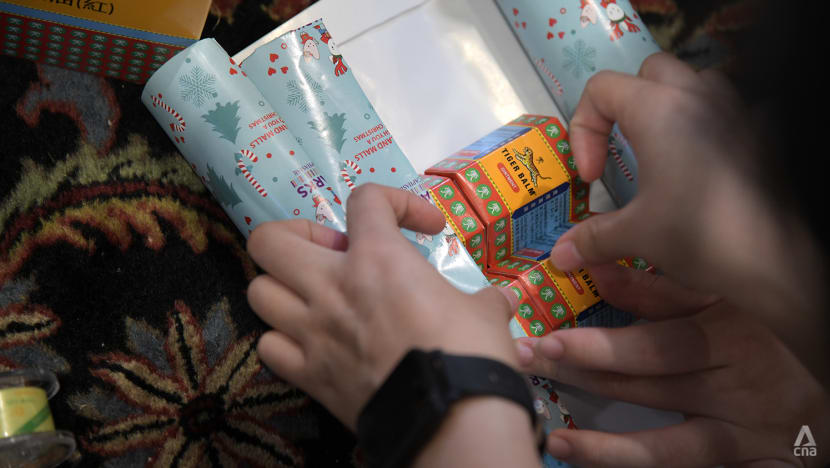 Human resources officer Gabriel Ang said that staff from his firm Anaplan Asia had gathered that very morning to wrap the gifts before delivering them to inspIRRe in the afternoon. 
Anaplan Asia is one of the many donors this year contributing to the Christmas drive.
This year, ItsRainingRaincoats held "wrap parties" at its headquarters, where volunteers can simply book a slot and head down to the premises to wrap items. More than 200 volunteers were involved in this year's Christmas drive, be it wrapping presents or collecting and distributing gifts. 
One pair of volunteers who attended a wrap party was Ms Anissa Wong, a 56-year-old homemaker who spent a few hours wrapping items with her domestic helper Mel Muel, 48. 
Asked about her decision to volunteer her time, Ms Wong shared that the idea came from a conversation with Ms Muel, whom she would exchange presents with on Christmas. 
"We didn't expect anything from her but she would still try to get chocolates or biscuits for us. In return, we also give her quite a few things because she's worked for us for 16 years. So she's like part of the family," Ms Wong said.
But the Filipino helper told Ms Wong earlier this year not to spend money on Christmas presents for her. Instead, they agreed to donate the money that Ms Wong would have spent on her gifts.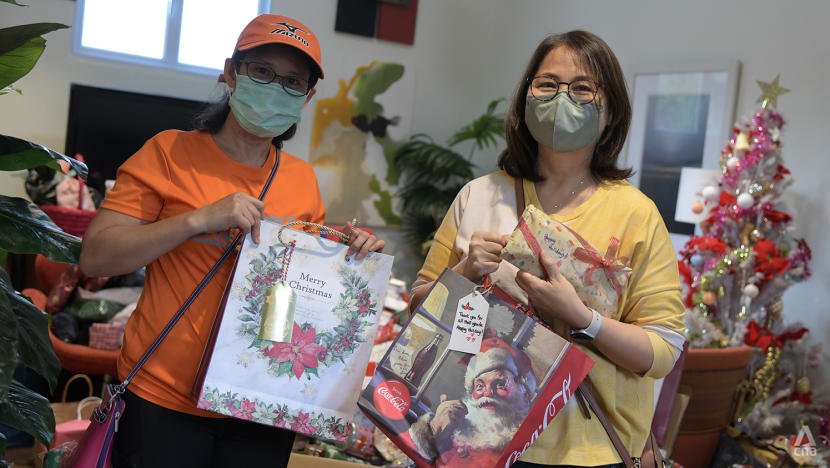 Ms Wong found ItsRainingRaincoats' Christmas drive online, and both agreed that it was a worthy cause.
"Migrant workers really put a lot of effort into developing Singapore as a whole, in gardening, tree trimming and construction work. She (Ms Muel) also has a soft spot for all labour workers.
"So we went shopping, and we bought stuff to donate," Ms Wong said, adding that they also decided to donate their time by volunteering to wrap gifts. 
The two spent around S$450 on gifts such as backpacks and dental kits. 
When asked about her motivation behind donating to the cause, Ms Muel became emotional. 
 "They work hard ... It's so hard and some of them they're not really having nice food," she said tearfully. "They are less fortunate than us. That is why we do this for them." 
STUDENTS VOLUNTEERING
Another group of volunteers seen wrapping gifts at inspIRRe were four undergraduates from a residential hall in the Nanyang Technological University. 
Mr Glen Chua, 22, who came for the second time that week, said: "It's really meaningful because personally, and for many of us, we did not have experience with migrant workers, helping migrant workers.
"They're actually very important members of our community, but yet, we often neglect their needs as well as their well-being."
Along with gift-wrapping, Mr Chua and his friends have doodled sketches and short messages to migrant workers who would receive these gifts at random.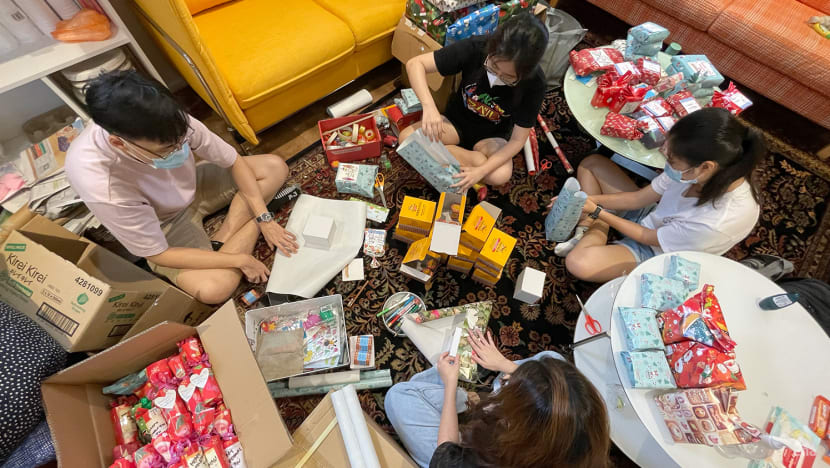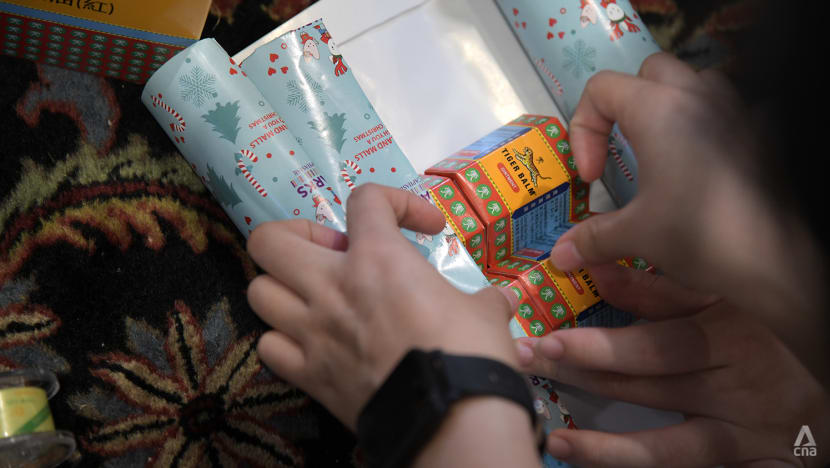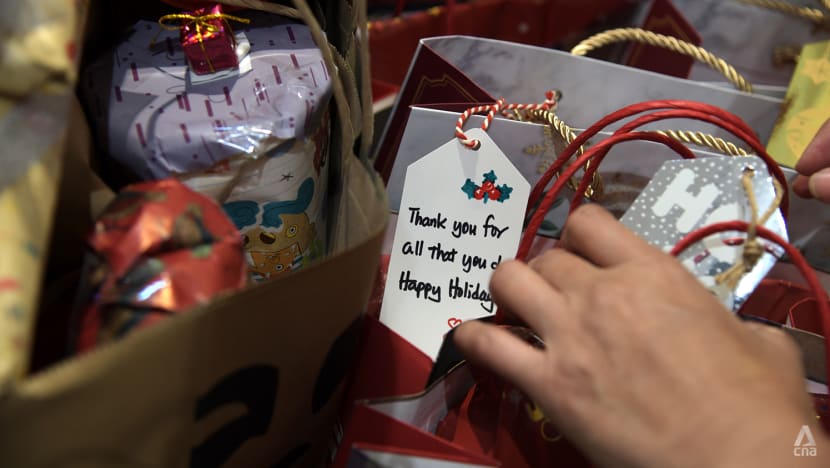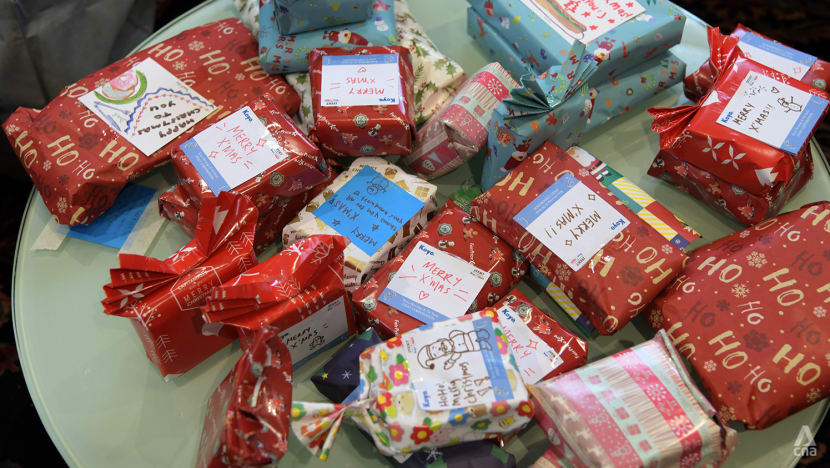 Also helping with the Christmas drive was ItsRainingRaincoats intern Shi Nengzheng, who also mans a "shop" at the first floor of inspIRRe. The shop is where workers can pick up second-hand items for free, such as clothes, shoes, electronics, and of course, raincoats. 
About 80 workers visit the shop each weekend after booking a slot online.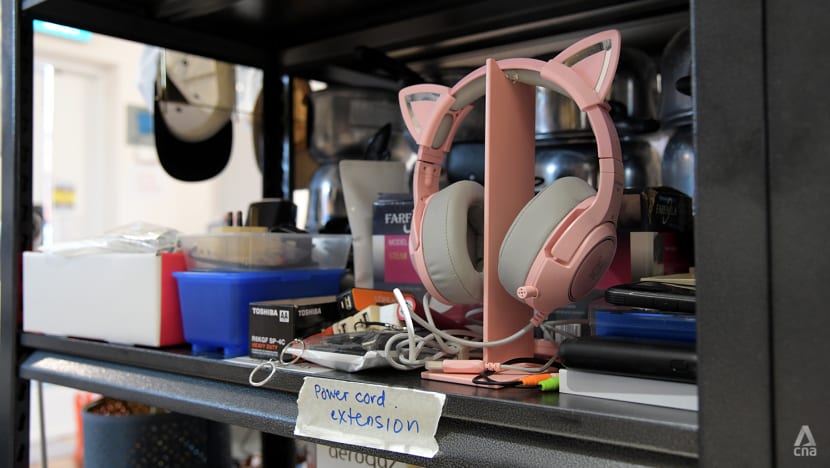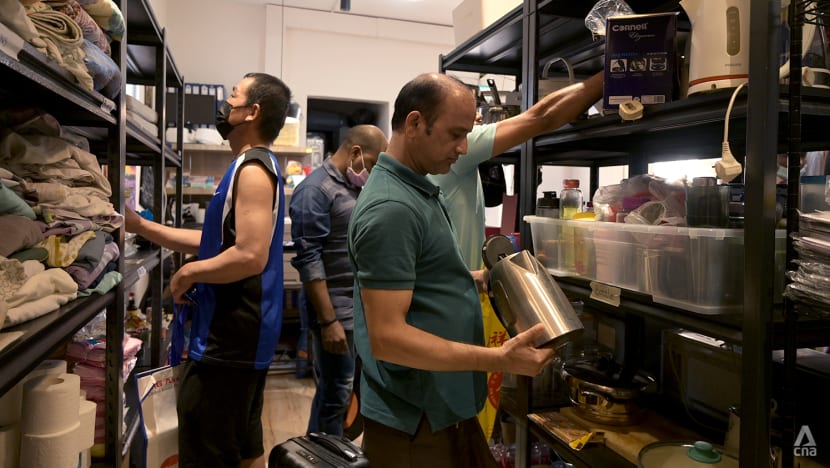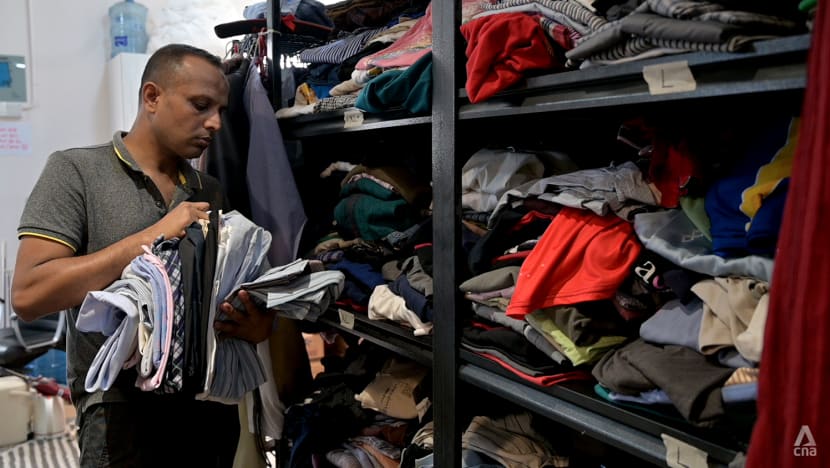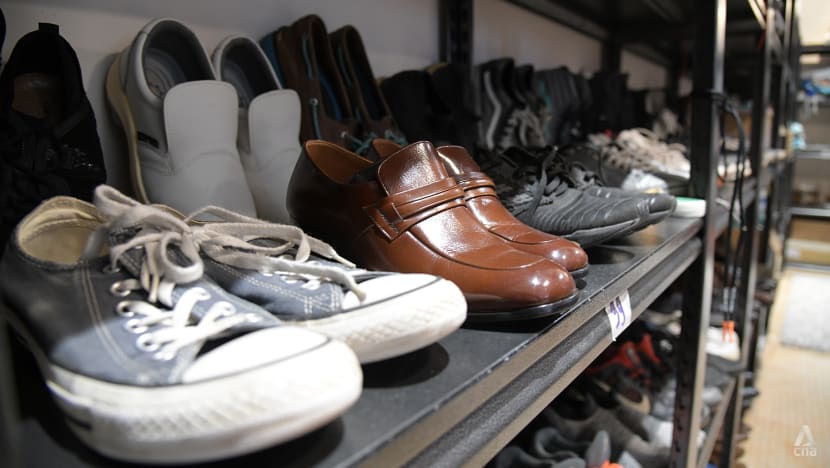 Shipyard worker Chowdhury Aradhon was one of those queuing outside ItsRainingRaincoats' headquarters on Dec 18 to pick up necessities. 
In addition to shoes, socks, a raincoat and toiletries, Mr Chowdhury, 39, was pleasantly surprised to receive a gift upon leaving the building that morning. 
Similarly, construction worker Wei Yinghai, 48, who picked up a hot water dispenser, shaving gel, Tiger Balm and face masks, was presented with a gift before leaving. 
He said that he intends to celebrate Christmas with his friends at a restaurant followed by a visit to Sentosa. 
ItsRainingRaincoats founder Dipa Swaminathan told CNA that the Christmas drive was a special part of the charity's calendar of events.
"The first year when we launched it, you know, we thought maybe we'll get 100 or 200 gifts and we were just blown away by how viral the drive went," she said, adding that the charity received about 30,000 to 40,000 presents that year. 
This year alone, volunteers have already wrapped and distributed more than 6,000 tubs of Tiger Balm ointment.
"A Tiger Balm ... people may think 'Oh, that's just a small thing', but it's not. It's very useful for migrant workers. 
"And it's not just the item but the fact that strangers have cared enough to come forward to put their time to gift wrap this and give it to a worker is very special," she said. 
"Many workers who get gifts from us tell us that it's the first time in their lives in Singapore, even though they may have worked here for like 10 years, that somebody's actually given them a gift-wrapped present.
Many workers are moved by the gesture, said Ms Dipa. 
Despite the scale of generosity, ItsRainingRaincoats still faces the challenge of gifting all the nearly 1 million migrant workers in Singapore. 
"Having said that, we're very grateful for everything we receive ... So even though we may not hit the full number, whatever we get we're super grateful for, but every year we hope we can get more and more."
For Ms Dipa, a lawyer who founded the charity in 2015, her personal wish for workers is for them to "remain safe and go back healthy". 
"That is the most important thing."