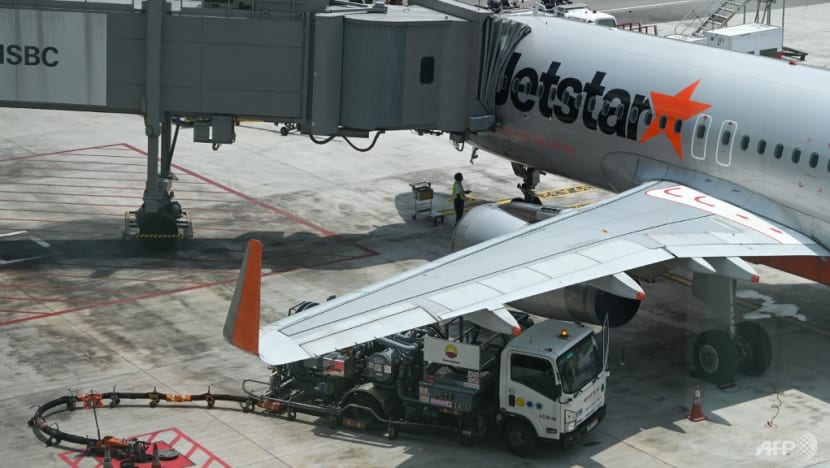 SINGAPORE: Jetstar Asia and Jetstar Airways will start operations at Changi Airport's Terminal 4 on Mar 22 next year, Changi Airport Group (CAG) said on Thursday (Dec 1). 
Last month, it was announced that Jetstar Asia would relocate its operations to Terminal 4 from Terminal 1 by Mar 25, 2023. 
In a press release on Thursday, CAG said the first Jetstar Asia flight arriving at Terminal 4 on Mar 22 will be from Manila at 12.40am, with another flight to Manila departing from the same terminal at 6.15am. 
The first Jetstar Airways flight operating out of Terminal 4 will depart Singapore for Melbourne at 10.10pm on the same day. The return flight will arrive in Singapore at 8.10pm the next day. 
"The relocation to Terminal 4 will enable Changi Airport to optimise the use of its aircraft gates to meet the growing demand for air travel, while creating headroom for Jetstar to grow at the global hub," said CAG. 
Jetstar Asia will initially operate more than 200 weekly services in and out of Terminal 4, to and from key Southeast Asian destinations, including Bangkok, Jakarta and Kuala Lumpur.
Jetstar Airways will continue to fly between Singapore and Melbourne up to six times a week, with the route operated by a Boeing 787 Dreamliner, carrying more than 200,000 passengers each year between the two cities. 
Jetstar Asia is based in Singapore and is part of the Jetstar Group, which also consists of Jetstar Airways and Jetstar Japan.
In July, CAG had said that Jetstar Group was slated to move to Terminal 4 on Oct 25 this year, joining airlines such as AirAsia Group, Cathay Pacific and Korean Air. 
Jetstar said at the time that it had "no intention of moving", and that the decision to relocate was made unilaterally by CAG.
Both parties announced earlier this month that Jetstar Asia will relocate its operations to Terminal 4 by Mar 25 next year, following a joint study that looked into Jetstar's concerns over the move.
Chief Executive Officer of Jetstar Asia Barathan Pasupathi said the move represents "a new chapter for Jetstar Group".
"By relocating as a group, combined with the assurance provided by CAG, customers will experience seamless connectivity while we continue to extend our excellent product offering to our premium airline partners," he said.
He added that the airline will ramp up its operations and expand its network.
Jetstar Airways' Chief Operating Officer Matt Franzi said: "Jetstar has been flying customers from Australia to Singapore for more than 15 years and as part of the Qantas Group, we're one of the largest airline groups to operate out of Changi."
He added that Singapore remains a popular standalone destination while retaining appeal as a stopover for travellers from around the world.
"Many of our customers take advantage of Jetstar Asia's extensive Southeast Asian network from this global hub and so it was important for us to also relocate to Terminal 4," said Mr Franzi. 
Opened in 2017, Terminal 4 is Changi Airport's newest terminal and has a capacity of 16 million passengers per year.
While Terminals 1, 2 and 3 are connected by skytrain, Terminal 4 sits on its own and is served by shuttle buses. CAG previously said shuttle bus services on both the landside and airside will provide a connection for passengers and visitors between T4 and other terminals.