On The Job as a hawker assistant: Long hours, stifling heat but great job satisfaction
In the new series where Channel NewsAsia journalists try working in some of Singapore's essential but undervalued jobs, Lianne Chia tries her hand at being a hawker assistant. She comes away with a renewed respect for the hardworking hawkers behind many people's breakfast, lunch and dinner.
SINGAPORE: It all looked and sounded deceptively simple. Take orders from waiting customers, collect money from them, scoop them a bowl of soup – with a scattering of spring onions as a garnish – before sending them on their way with a freshly prepared bowl of bak chor mee.  
I did not understand why Jack was looking at me so incredulously.
"You can try serving customers for two hours between 3 to 5pm," he said. "But once the lunch crowd comes, you confirmed cannot."
I was sitting at a coffee shop, having an impromptu job interview over a bowl of noodles and a can of green tea. My task was to convince Jack to let me work at his stall for three days.
And it was not proving to be easy. Jack runs Meng Kee Mushroom Minced Meat Noodle, a popular bak chor mee stall in MacPherson that sees long queues at lunch time and a steady stream of night-time customers all the way into the wee hours. Not only was I asking him to let me serve customers, but I was also requesting that he let me try my hand at whipping up his stall's signature dish. 
He shook his head. "Are you sure you want to do this?" he asked again. "Your English is good, but my customers order in Cantonese or Hokkien. You can cope, meh?"
I figured there was only one way to find out.
That was how I found myself reporting for duty at 6am one weekday morning. Despite the early hour, it was already a buzz of activity, with stallholders busily opening their stalls and preparing ingredients in anticipation of the crowd to come later in the day.
I sought out Ah Hua, Jack's daytime chef and my designated mentor. The grizzled, elderly man was friendly enough, putting at rest my fears of surly hawkers barking at me when I failed to keep up with customers' orders. But there was much work to be done, and I was put straight to work attending to the stream of customers coming in looking for their breakfast fix.
LEARNING THE LINGO
"Hi, can I take your order?" I smiled sweetly at the middle-aged man studying the brightly lit signboard intently.
He looked at me, muttering something unintelligible under his breath.
"Perhaps you would like to try out the signature noodle?" I prompted, thinking he was new to the place.
Ignoring my words, he looked past me and waved at Ah Hua, who looked up from his cooking and nodded.
"This one, regular one," he said. "Collect S$4 from him."
It was barely three hours into the job, and I was already feeling redundant. There was a trickle of customers walking into the coffee shop, but nothing like the hordes of hungry people Jack had warned me would descend on the stall over the lunch hour. Most of the breakfast customers I encountered that morning either lived or worked around the area, and Ah Hua knew them well.
And it was a good thing he did, because the much-feared language barrier soon became an issue. There were times I had to ask customers to repeat themselves or clarify which type of noodle they wanted, earning me some impatient tongue-clicking. Often, those I didn't understand simply shouted their orders out to Ah Hua or waved at him. And without blinking an eye, he would prepare their noodles, unerringly remembering all their special orders.
This man, I marveled to myself, has the memory of an elephant.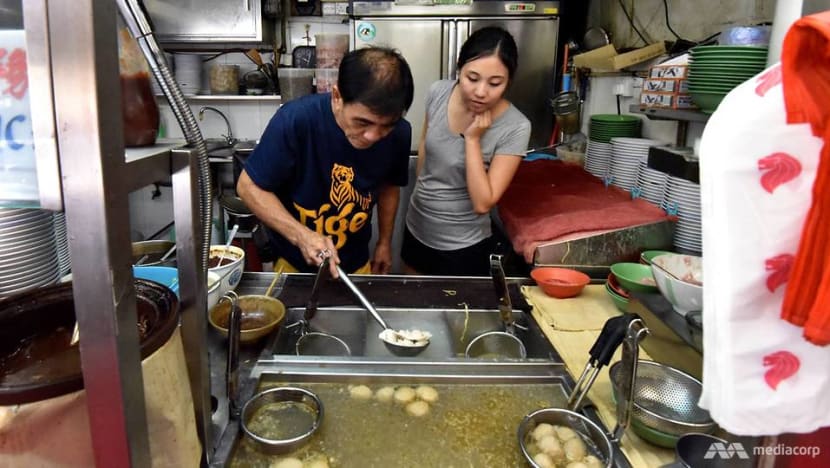 I decided to stick to doing what I knew best: Scooping soup into bowls for customers as Ah Hua prepared their noodles, and gathering chopsticks, spoons and tubs of chilli padi for them. And I soon learnt that if I initiated the conversation with customers and spoke in English, they would, naturally, respond to me in English. That made things slightly more smooth-going, and as I went along, I managed to pick up the lingo.
Mee pok, or mee kia? Chilli, or no chilli? When a customer asked for signature noodles, I learnt to tell Ah Hua that the customer wanted a "Number 12". That was S$5, and almost everything else on the menu was S$4 by default. And as for takeaways? That'll be an extra twenty cents, please.
It seemed like I was starting to get the hang of it. But there was something I had not taken into account: The dreaded lunch crowd.
SURVIVING THE HUNGRY HORDES
At 11.30am, I had been warned, workers from the nearby offices would start streaming in. With only one hour to eat and return to work, they would, Jack had said, naturally be impatient. So I would have to pick up the pace, or face their wrath.
It was a bleak picture Jack had painted for me, and I approached the lunch hour with some trepidation.
Crowds of office workers thronged the coffee shop looking for seats, some wandering around looking at the various stalls' offerings while others made a beeline straight for us. Orders came in fast and furious, and I began to feel my stress levels rising. What if I miscalculated and gave someone too much change? Or make a mistake in the orders?
The queue stretched all the way to the end of the coffee shop, and I found myself running from customer to customer, taking their orders, mentally calculating how much they owed me while struggling to remember their orders.
The biggest problem I faced was remembering the orders when customers ordered three or four bowls at once, each with its own special order. And the line of hungry customers waiting as I struggled to remember each order seemed a never-ending one.
As I scurried around collecting money, returning change and grabbing chopsticks, spoons and chilli for customers, I reflected dimly that on any other day, I would have been the one placing my order with Jack or Ah Hua. That other life seemed an eternity away.  
In the mad scramble, I learnt many things. For one, there is an art to something even as simple as scooping soup into a bowl. Or laying out the chopsticks and spoons in such a way there is space on the tray to accommodate the bowl of noodles and a smaller bowl of soup. Or sealing plastic takeaway containers quickly and efficiently.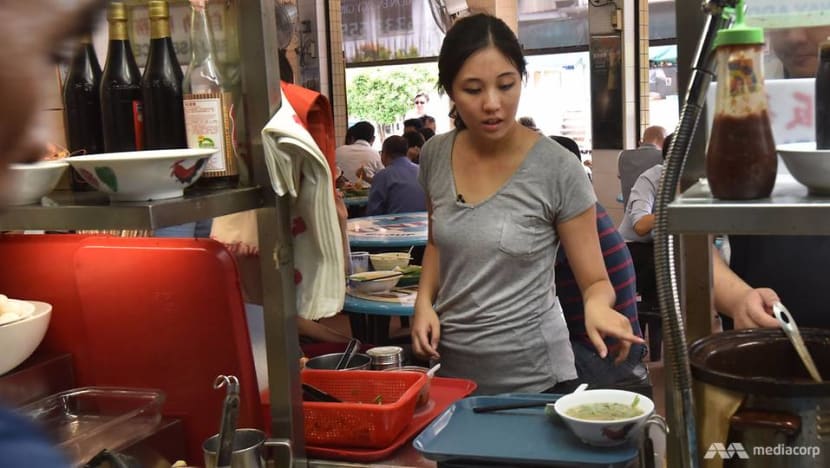 As I mopped my brow and took a deep breath before turning to face the next customer, the metal cup I was using to scoop soup was gently tugged out of my hand.
"Go and collect money, I'll take orders and handle this," I heard from behind me.
Like a hero swooping in to save the day, Jack had arrived.
HAWKER FOOD: WELL-LOVED, BUT UNDERVALUED
Take the nervous journalist-cum-hawker-assistant out of the picture, and a similar scene is played out on a daily basis at the numerous coffee shops and hawker stalls all over Singapore. 
Hawker centres, according to a report by the Ministry of the Environment and Water Resources (MEWR)'s multi-disciplinary Hawker Centre 3.0 Committee, remain a "popular and well-loved dining destination amongst Singaporeans."A survey carried out by MEWR in 2015/2016 showed that almost three-quarters of people visit a hawker centre at least once a week.
But according to the report, the median age of existing hawkers is 59, and the trade may increasingly face challenges in terms of sustainability. "Even though there are currently some aspiring hawkers, the numbers could remain too few to be able to sustain the hawker trade in the long run if nothing is done," it said, adding that there is, therefore, a need to attract more people into the trade.
When the lunch crowd had died down and we had time to breathe, I asked Jack, who's 28, why he was in the business. And the answer surprised me: It turned out that Jack comes from what he termed casually as a "hawker family".
"My father's been a hawker for more than 50 years," he told me. "My grandfather too. Back in the day, it was called kok kok mee," he added, referring to the push cart hawkers selling traditional Teochew fishball or minced meat noodles, who used to go around the neighbourhood making the distinctive clacking sound with a bamboo device to attract their customers.  
He added that after graduating with a diploma, he decided he was better off taking over the family business than trying to enter the workforce. "The hours are flexible, and because we have so many customers, I can earn a decent salary," he said. "I want to take over the family business and carry on the trade."
The family used to have a stall at a hawker centre in the East Coast area before moving to this coffee shop, and business, he said, has always been brisk. But for those who don't have a family business to go into, passion and a love for cooking may not be sufficient to keep them going.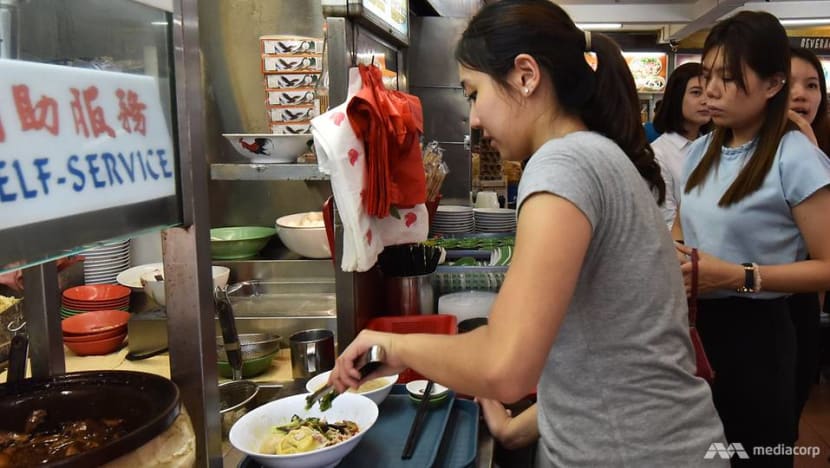 The main challenge for new hawkers, according to popular food blogger Leslie Tay of ieatishootipost, is an economic one. "They can only sell (food) at a certain amount," he said. "Any higher, and people won't accept it, because it's hawker food."
Dr Tay, who is also a member of the Hawker Centre 3.0 Committee, highlighted the example of a young hawker he met who sells prawn paste chicken. "At his hawker stall, he's selling it at S$4.60 for two wings and some rice, but he can sell the same thing at a pop-up store at Marina Bay for S$8," he said. "So people are unwilling to pay just because you're at a hawker centre."
COOKING UP A STORM...AND INEDIBLE NOODLES
I had grown up eating Jack's bak chor mee, and he had my regular order down pat: Fishball mee pok to go, with extra vinegar and less chilli. And now that the lunch crowd had tapered off, I decided it was time to try my hand at making those chewy, fragrant noodles I knew so well.
"You try and cook," Jack told me, "And you will eat it first. If you can finish it, then you can sell it to customers. That was what my father taught me."
There were many steps, he said, as he deftly tossed the noodles, straining it and transferring it into a bowl before mixing it with vinegar, chilli and oil. Moving at a lightning-quick pace, he added a scoop of mushrooms, a spray of vegetables and a few pork dumplings, before passing it to me to serve the customer.
"Your turn," he said, handing me the noodle strainer and motioning for me to come in to the stall.
But my nervousness was obvious from the way I held the strainer and tossed the noodles – a task made even more difficult as I was left-handed, and the stall was configured for right-handed cooks. I missed subtle but essential steps, like using a wooden chopstick to separate the pieces of meat being cooked.
Worse still, I had left the noodles too long in the water, and they were horribly overcooked.
"It's okay," Jack said, tossing the noodles into the waste bin. "Try again."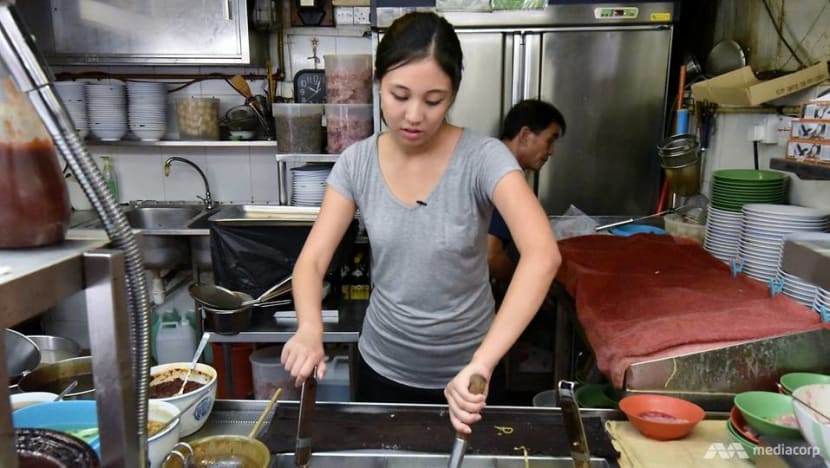 In my anxiety to get the noodles right, I turned the gas off and removed them from the water too soon, and they turned out undercooked. I sighed in frustration. It seemed like the likelihood of cooking an edible bowl of noodles was slim.
Jack chuckled. "I didn't expect you to know how to do it," he said. "You can't learn how to cook a good bowl of noodles in three days."
CHANGING FOR THE BETTER
I met Jack's family for a chat one evening after the end of my shift. Despite it being past dinner, the coffee shop was still full of people, and the distinctive whirring sound of the gas stove in the stall was a constant reminder of my disastrous cooking experience.
And it turned out that Jack's family is indeed a hawker family. Older brother Alex is a full-time financial consultant, but spends his evenings running an oyster omelette stall at the coffee shop to supplement his income. David, Jack's father and the "big boss" of the stall, started plying his trade when he was just nine years old and can, as he proudly demonstrated, prepare three bowls of noodles at once.
He is happy that his sons have joined the trade. But he pointed out that as Singaporeans become more educated, fewer young people want to become hawkers.
"In the olden days, when people give birth to 8 or 9 children, there were many sons and daughters to do different work," he said. "Nowadays, people only give birth to one or two children, and they would want their children to be educated, and focus on white-collar jobs.
"Why would university graduates want to become hawkers?"
"There may be fewer young people coming in because they don't feel that this is a glamorous job," added Alex. "I think they also want job progression, but this is a customer service job.
"You can't write it into your resume."
But things may be changing for the better.
Dr Tay pointed out that while there may still be some stigma, the perception is "slowly changing".
"I think in recent years, I've been seeing more young people going into this," he said. "There seems to be a change and there's a different perception that our hawker food is worth preserving, but it needs to translate to pocket savings.
"We are seeing that it's on the national agenda, people are thinking about it and talking about it, and university students are doing projects about it," he added. "So we all talk about it, and once you talk about it, people become more aware that it's something that you need to keep." 
For Jack and Alex, it is their passion and desire to keep the family business going that drives them. "When customers give feedback that the food is good, we feel a sense of achievement that we cooked this," said Alex. 
And as I found out for myself towards the end of my last day On The Job, this sense of achievement is a very real and tangible source of motivation. 
As I tossed the noodles, mixed the condiments and served up an edible – and, dare I say, delicious – bowl of bak chor mee with springy noodles at just the right texture, I couldn't help grinning from ear to ear. 
Perhaps I could really be a hawker, after all.