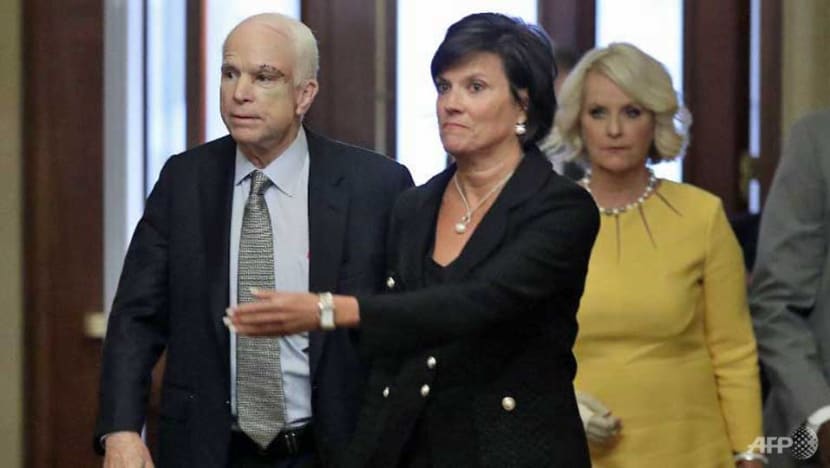 SINGAPORE: Several Singapore leaders, including Prime Minister Lee Hsien Loong, have penned condolence letters to Cindy McCain, wife of the late US senator John McCain. 
McCain died on Saturday (Aug 25) at the age of 81 after battling brain cancer.

In a letter dated Aug 26 addressed to Mrs McCain, Mr Lee said that both he and his wife are "deeply saddened" to learn about McCain's death, adding that the late senator was a "true hero".
"His strength in adversity, moral fortitude, and courageous acts of patriotic service to his country were a model for us all," wrote Mr Lee. 
"He was also a great friend of Singapore, visiting regularly over the years, and was an outspoken and unstinting supporter of the United States' continued presence in the Asia-Pacific."
Mr Lee also reminisced on his past encounters with McCain, adding that he would remember his "wise words of counsel".

"Senator McCain has left an indelible legacy, and will be remembered as a man of principle and true conviction. His passing is a loss for us all," Mr Lee said.
Separately, Deputy Prime Minister Teo Chee Hean also wrote to Mrs McCain expressing his condolences.

"I have greatly benefited from my conversations with John over some two decades," said Mr Teo in his letter.
"I will always remember him for his deep and abiding sense of duty and service to his country, and his steadfast commitment to fighting for what he believed to be right. 
"True to his indomitable spirit, John fought the good fight until the very end."
Foreign Affairs Minister Vivian Balakrishnan also took the opportunity to write to Mrs McCain, adding that he was "deeply saddened" by her husband's death. 
Dr Balakrishnan referred to McCain as a "good friend of Singapore" and commended his "tireless diplomacy, unwavering sense of conviction, and outstanding service to his country".
He went on to describe McCain as a "profound inspiration". 
'With his passing, the United States has lost a true patriot and a statesman. He will be deeply missed," said Dr Balakrishnan in his letter.
Earlier, Dr Balakrishnan had also paid tribute to McCain in a Facebook post where he referred to the late senator as a "real hero".

Mr Lee's letter to Mrs McCain is reproduced below:
Dear Mrs McCain,

Ho Ching and I are deeply saddened to learn of the passing of your beloved husband, Senator John McCain.

Senator McCain was a true hero. His strength in adversity, moral fortitude, and courageous acts of patriotic service to his country were a model for us all. He was also a great friend of Singapore, visiting regularly over the years, and was an outspoken and unstinting supporter of the United States' continued presence in the Asia-Pacific.

I had the privilege of meeting Senator McCain on many occasions over the years, most recently in October last year when I visited Washington D.C. He always spoke his mind, and I will remember his wise words of counsel.

Senator McCain has left an indelible legacy, and will be remembered as a man of principle and true conviction. His passing is a loss for us all.

Yours sincerely,

LEE HSIEN LOONG
Mr Teo's letter to Mrs McCain is reproduced below:
Dear Cindy,

My wife Poh Yim and I send our heartfelt condolences to you and your family on the passing of your beloved husband, Senator John McCain, whom we last met at the delightful gathering in Sedona a year ago.

I have greatly benefitted from my conversations with John over some two decades. I will always remember him for his deep and abiding sense of duty and service to his country, and his steadfast commitment to fighting for what he believed to be right. True to his indomitable spirit, John fought the good fight until the very end.

He was a dear friend of Singapore and will be greatly missed.

Yours sincerely,

TEO CHEE HEAN
Dr Balakrishnan's letter to Mrs McCain is reproduced below:
Dear Mrs McCain,

I am deeply saddened to hear of the passing of your beloved husband, Senator John McCain.

Senator McCain's tireless diplomacy, unwavering sense of conviction, and outstanding service to his country earned him respect and admiration the world over. He was a tireless advocate of the United States' interests, striving to enhance its international standing. I always looked forward to meeting Senator McCain on his regular visits for the Shangri-La Dialogue with Congressional colleagues from both sides of the aisle. He was a good friend of Singapore, and contributed immensely to the Singapore-United States relationship.

The life and service of Senator McCain are a profound inspiration to all of us. With his passing, the United States has lost a true patriot and a statesman. He will be deeply missed.

Yours sincerely,

DR VIVIAN BALAKRISHNAN