Jolovan Wham on trial for allegedly organising public assembly where Hong Kong's Joshua Wong gave speech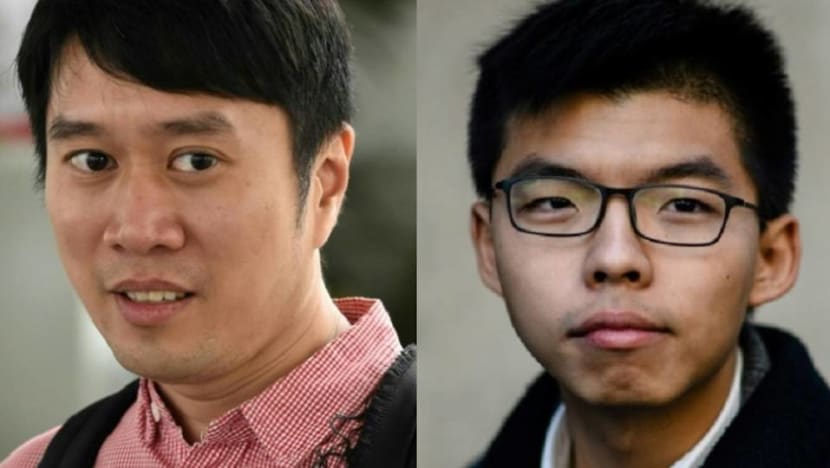 SINGAPORE: Social worker Jolovan Wham was in court on Monday (Oct 1) for the first day of a trial over a public assembly he allegedly organised two years ago.
The event, titled Civil Disobedience and Social Movements, featured a live speech by Hong Kong activist Joshua Wong Chi-Fung via video call.
Wham, 38, claimed trial to two charges: One of organising the public assembly at event venue The AGORA in Sin Ming Lane on Nov 26, 2016, and one of refusing to sign a statement he gave to the police.
The trial began on Monday with the cross-examination of the prosecution's first witness, Deputy Superintendent (DSP) Lee Ting Wei of the Singapore Police Force.
DSP Lee told the court that he began investigating the case on Dec 1, 2016. He said he was investigating a possible offence as a foreign speaker had given a talk via live-streaming at an event without a police permit.

He informed his colleague in the cybercrime department about the matter, asking him to save any online content related to the event for his investigation. A Facebook page for the event had been set up and a video relating to the event had been posted on the Facebook page of The Online Citizen.
The event was a public one, DSP Lee said, with 7,600 invited and 366 people indicating their interest to attend.
Others who gave speeches at the event include Kirsten Han and Seelan Palay, who was in court last week for staging an alleged public procession in October last year.
The owner of The AGORA confirmed that he had rented the space to Wham from 4pm to 6pm.
DSP Lee told the court that the event included a live video of Mr Wong, a Hong Kong citizen, who delivered a speech through Skype.
The video call was projected on a screen and Wong addressed the audience at the venue, DSP Lee said. According to forensic analysis of a laptop belonging to Wham's event co-organiser Zeng Ruiqing, the video call lasted for about two hours. This was followed by a question-and-answer session.
When cross-examined by Deputy Public Prosecutor Nicholas Wuan, DSP Lee said he asked Wham after taking the first statement from him if the statement was accurate. Wham said it was, but when DSP Lee asked him to sign the document, "he said he would not be signing the document as it was his personal practice to only sign documents he could get a copy of".
DSP Lee had explained to Wham that he could not be given a copy of his statement as it was confidential.
"I told him that if he does not sign the document, it may constitute an offence," DSP Lee told the court. 
He printed out the statement, read it back to Wham and asked if it was correct, which Wham affirmed. According to DSP Lee, he asked Wham to sign the statement again, and Wham refused.
However, Wham signed other statements as he was told he would be given copies of those, DSP Lee said.
YOU THREATENED HIM: DEFENCE TO POLICE OFFICER
Wham's defence lawyer Eugene Thuraisingam charged that DSP Lee had "threatened" Wham.
"You threatened the witness. You told him that if he did not sign, you will charge him, correct?" he said.
"That is incorrect," DSP Lee replied.
"You told him that if he doesn't sign, he will be charged under Section 180 of the Penal Code," Mr Thuraisingam added.
Section 180 of the Penal Code states that any person who refuses to sign a statement he makes, when required to sign it by a public servant, can be jailed for up to three months, fined up to S$2,500, or both.
DSP Lee explained: "What I did was merely inform him that if he doesn't sign it, it may constitute an offence."
He added that it was the first time he encountered someone who refused to sign his statement. At the time of the incident, DSP Lee had been an investigating officer for about a year and five months.
Mr Thuraisingam then asked DSP Lee why he gave "an abridged version" of Wham's reasoning for why he did not want to sign the statement.
"You told the prosecution that Wham said it was his personal practice to sign only what he had a copy of," said Mr Thuraisingam. "He said he would not be signing the statement as he advocates for migrant workers to have a copy of whatever they sign, and he would practise what he preached."
DSP Lee acknowledged that he left out the portion about the migrant workers, as he felt that he had presented "the gist" of what Wham said.
Mr Thuraisingam also questioned DSP Lee on whether there was any disturbance to public order on the day of the event, whether there was any riot, and whether there was any public order incident where the safety of individuals was put at risk.
To all three questions, DSP Lee replied: "Not to my knowledge."
The trial resumes in the afternoon and is slated to run for the next two days.