SportSG suspends support for Joseph Schooling, Amanda Lim, Teong Tzen Wei for a month after drug-related offences
An internal review found Commonwealth Games silver medallist Teong to be the third national swimmer known to have consumed controlled drugs overseas.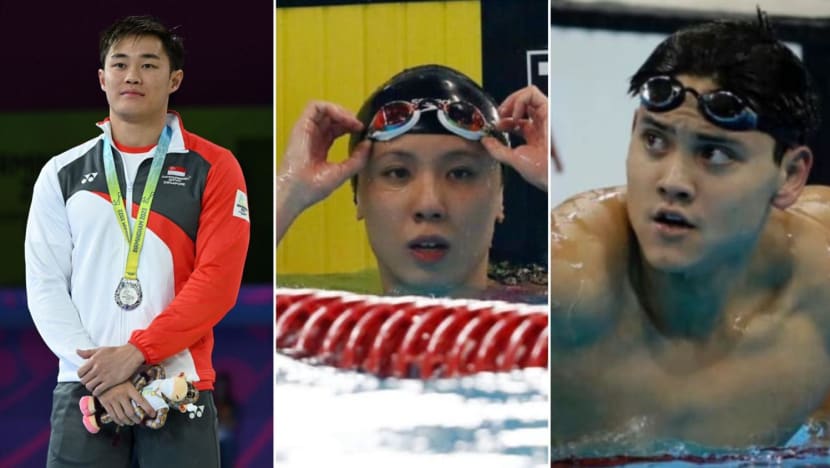 SINGAPORE: Sport Singapore on Wednesday (Sep 28) said that it will suspend all support for national swimmers Joseph Schooling, Amanda Lim and Teong Tzen Wei for a month after they confessed to consuming controlled drugs overseas.
For a month beginning from Oct 1, the three carded athletes under the high performance scheme will not receive training assistance grants or have access to sports science and sports medicine facilities and services, SportSG said in a statement after it concluded an internal review.
SportSG named Teong for the first time on Wednesday as the third swimmer who was investigated for drug-related offences. 
Teong broke the SEA Games 50m freestyle record in May 2022 - his time of 21.93 made him the first Southeast Asian swimmer to go below 22 seconds. He is also Asia's second fastest in the event this year.
Teong also won silver in the men's 50m butterfly final at the Commonwealth Games.
SportSG noted that the athletes had tested negative for controlled drugs while under investigation by the Central Narcotics Bureau (CNB) for drug-related offences, but admitted to drug use while being TeamSG athletes. 
Given Schooling's abuse of disruption privileges, MINDEF had said earlier that he will no longer be eligible for leave or disruption to train or compete while in National Service.
Lim was given a stern warning by CNB under the Misuse of Drugs Act for possessing a drug utensil.
Schooling and Lim both issued apologies in August.
It is illegal for Singaporeans and permanent residents to consume cannabis, whether in Singapore or overseas. The substance is also on the World Anti-Doping Agency's list of banned in-competition drugs.
In response to CNA's queries, a spokesperson from the Singapore National Olympic Council (SNOC) said that its disciplinary proceedings are still ongoing.
"The disciplinary committee will meet with the involved athletes soon and is projected to complete its findings in the next week," SNOC said.
"A decision with regards to the prize money will be determined after the disciplinary proceedings are completed."
In considering the appropriate steps to take, SportSG said that it met with the athletes and conducted an internal review, which concluded last week.
Schooling, Lim and Teong have been issued with letters of warning, it added.
SportSG said that the action taken against them "underscore their responsibility and accountability as national athletes".
It added that a range of factors were taken into account, including CNB's findings. 
"All three athletes cooperated fully throughout the internal review process, and readily admitted to the consumption," SportSG noted.
"They had expressed remorse for their lapses in judgment, and have appealed to be given a second chance to prove themselves and fulfil their roles and responsibilities as national athletes."
Schooling, Lim and Teong have resolved to avoid controlled drugs in the future, and are "committed to making amends by contributing back to the sporting community and play a part in education and other efforts to prevent others from making the same mistake".
"SportSG will continue to support all three athletes after the period of suspension, in both their sporting endeavours as well as their continued rehabilitation from this episode."
The Singapore Swimming Association (SSA) said in a statement that as part of their suspension, the three swimmers will not be able to train at the National Aquatics Centre or have access to any facilities, benefits or services accorded to high-performance athletes during this period.
However SSA added that it will continue to support Schooling, Lim and Teong after their suspension.
While the association has a zero-tolerance stance on the use of controlled drugs, the swimmers should not be ostracised from the community for their mistakes, SSA president Mark Chay said.
"The three swimmers have realised their mistakes and are remorseful for their actions," said Mr Chay. 
"They will face the consequences for their actions. More importantly, the association is taking steps for us, as a swimming community, to come together and help our own get back on their feet.