Public opinion on Schooling's cannabis confession split, some sympathetic while others call for fair treatment
After Joseph Schooling confessed to consuming cannabis overseas, many online commenters expressed sympathy while others called for the national swimmer to be treated like anyone else who has broken the law.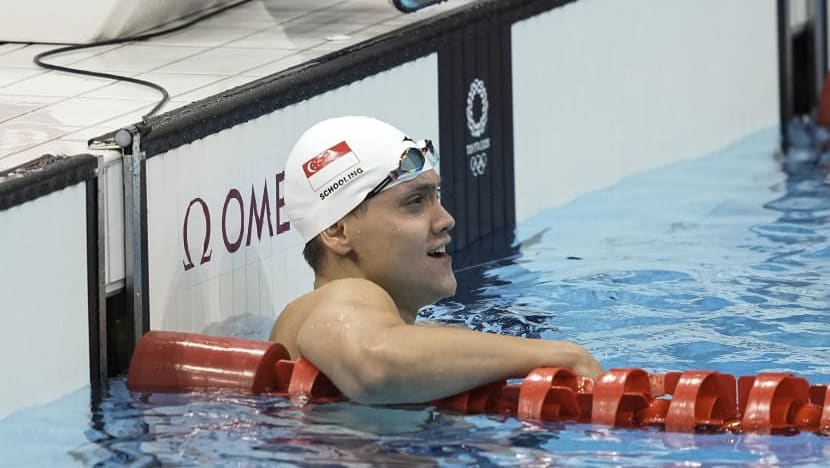 SINGAPORE: Public opinion on Joseph Schooling's confession that he consumed cannabis overseas has been split, with some expressing sympathy for his plight while others called for him to be treated like any other person who has broken the law. 
The incident happened in May when the Singaporean swimmer was on short-term disruption from National Service (NS) to train and participate in the SEA Games. 
Schooling's sporting privileges have been revoked, the Ministry of Defence (MINDEF) said on Tuesday (Aug 30). He will no longer be allowed to take leave or disrupt his NS to train and compete.
Many online commenters said that while the swim star made a mistake, he might have been going through a hard time and expressed sympathy for his situation. 
Some also said that they were satisfied with his apology, as he promised to take responsibility for his actions. 
"Joseph Schooling has apologised, and that takes courage. His apology makes me think even more highly of him as a person," said Facebook user AT Pasteur in a comment on CNA's Facebook page. 
"Besides, we have no idea the stress he has been going through, and the loss of his father as well. A person who admits and apologises is a far better person than one who covers things up."
Another Facebook user May Lin said: "Hadn't been easy for him since getting the gold. Hope he gets through this difficult phase safely. I wish him peace."
Other commenters were more scathing about his drug use, pointing out that he should face the consequences of breaking the law and should even be held to a higher standard as a national athlete and public figure. 
"Quite disappointing. Expect more discipline from our national athlete," said Facebook user Joyce Lee.  
Another user, Sorensen Cartino Lim, said the confession did not lessen Schooling's "grave mistake as a sportsman".
The 27-year-old, who became Singapore's first Olympic gold medallist after he edged out swim icon Michael Phelps at the 2016 Rio Olympics, apologised in a statement on Tuesday night. 
"I am sorry that my actions have caused hurt to everyone around me, especially to my family and the young fans who look up to me," he said. 
"I gave in to a moment of weakness after going through a very tough period of my life. I demonstrated bad judgment and I am sorry.
"I made a mistake and I'm responsible for what I've done. I will make amends and right what is wrong. I won't let you down again."
Schooling failed to qualify for the 100m butterfly semi-finals at the Tokyo Olympics in July 2021. His father, Colin Schooling, died in November at the age of 73, after undergoing treatment for cancer in recent months.
Sociologist with the National University of Singapore (NUS) Tan Ern Ser said many people in Singapore still think of Schooling as a "local boy achieving international fame" after he became the country's first Olympic gold medallist. 
"This impression is in turn extended to how people view him as a person, who may make mistakes, arising especially from circumstances perceived as not within his control," he added. 
Many also view Schooling as a hero due to his sporting achievements, said Assoc Prof Tan. 
"And especially since he has come across as humble and modest and therefore likeable, unlike some who act entitled and diva-like," he added. 
Political analyst Eugene Tan, of the Singapore Management University's Yong Pung How School of Law, noted that some segments of the public empathise with Schooling and the challenging time he has had in the last few years. 
"To be clear, they do not condone his actions. I think there is a sense that we cannot be fair-weathered supporters. Sure, he has done wrong and set a bad example particular to the young athletes who look up to him as a role model. 
"There is also perhaps a recognition that his fall from grace reflects the challenges and demands of coping with his Olympic success." 
Assoc Prof Eugene Tan was also the team manager of the national swim team at the 2004 Athens Olympics.
Singapore's chef de mission for the 2016 Olympics Low Teo Ping said in an interview on CNA938 that he was "a little bit disappointed" about the decision to not let Schooling train during his NS.
"They should just let him continue and I think that would be a much more positive approach to teaching - if you can call it a lesson," he added.
SINGAPORE'S STANCE ON CANNABIS
Besides having his sporting privileges in NS revoked, Schooling will also be placed on supervised urine tests for six months.
All Singapore Armed Forces personnel who test positive will be charged and sentenced accordingly, said MINDEF.
According to the Central Narcotics Bureau, any citizen or permanent resident found to have consumed controlled drugs outside of Singapore will also be liable for the drug consumption offence under the Misuse of Drugs Act. 
Those convicted of drug consumption may be jailed for up to 10 years and fined up to S$20,000.
Minister for Law and Home Affairs K Shanmugam said previously that Singapore needs to "hold the line" on its stance on cannabis use, after the United Nations removed cannabis from the most tightly controlled category of narcotic drugs in 2020. 
When asked to assess Singapore's drug situation at the time, Mr Shanmugam said: "You can never win the fight. But we more or less have it under control." 
The number of first-time drug abusers being picked up in Singapore has been on the rise, he noted. 
With East Asia and Southeast Asia being the second-largest market for meth, Mr Shanmugam said the situation is "not pretty". 
"We have managed to have it under control in Singapore, but you need to be constantly on the vigil, and there is a fight internationally as well," he added. 
"We need to put forward our position, persuade countries that it is in the public interest – their public interest as well as our interest – that we fight this together."
Younger supporters could take on a more liberal attitude towards Schooling's drug use, especially since some countries are liberalising the use of cannabis and normalising the recreational use of drugs, said NUS' Assoc Prof Tan Ern Ser. 
Noting that people in Singapore are not indifferent towards recreational drug use, Assoc Prof Eugene Tan said the public may be indulgent towards elite athletes, and see that "behind the facade is a human person with human frailties like you and me". 
"There may well be a less forgiving attitude towards recreational drug use among some people and this is also tied to his being seen as a sporting idol of sorts. So what he did in using controlled drugs is seen as setting a very poor example," he added. 
However, there is a sense that Schooling's achievements are not undone by his mistakes, said Assoc Prof Eugene Tan. 
"He has owned up and acknowledged that he has fallen short. I see the difference in response as reflecting a difference in the indulgence accorded to Schooling."