Joseph Schooling receives S$1 million prize for Olympic gold
The Olympic champion will be giving 20 per cent of his prize money - or S$200,000 to the Singapore Swimming Association.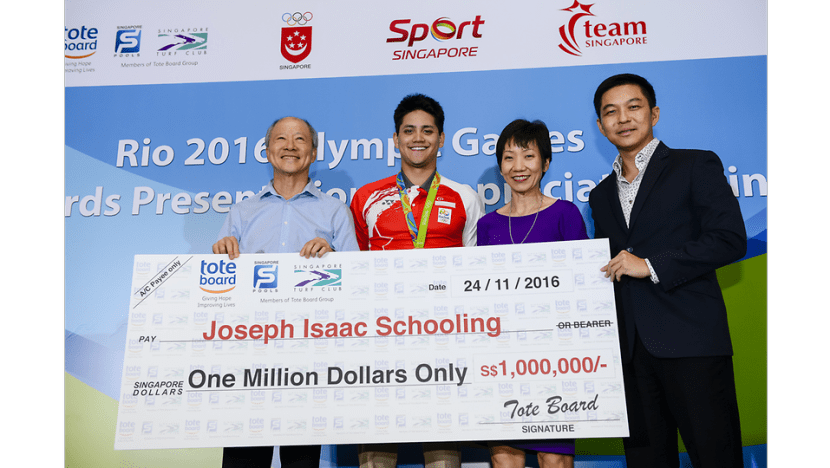 SINGAPORE: Swimming sensation Joseph Schooling on Thursday night (Nov 24) received his S$1 million prize for his historic Olympic gold for Singapore at the Rio Games.
The 21-year-old is the first person to get the top award in the Multi-Million Dollar Award Programme which rewards Singaporeans who win medals at the Olympic, Asian, Commonwealth and Southeast Asian Games.
Some of the athletes who took part in the Rio Olympics were present at the ceremony held at the Mandarin Oriental Hotel, along with Schooling's parents.
It was a very proud moment for his family when the swimmer received his million-dollar cheque from Singapore National Olympic Council president Tan Chuan-jin, Culture, Community and Youth Minister Grace Fu, and chairman of the Tote Board Group Moses Lee.
Later on, Ms Fu also presented Schooling with the National Day award to mark his achievement in Rio.
On what he plans to do with the money, Schooling said: "Give it to my parents, I guess. I'll either put it in the bank, invest it, I don't know. What does a college kid need (to do) with all that money?
"I'm just happy to be able to receive that support and the rest is up to my parents. I'm just going back to school, doing my thing over there. I don't need that, but it's nice. I appreciate it," he added.
Schooling will not be taking home the entire amount. Olympic medallists are required to give back 20 per cent of their reward to their respective sporting associations, so he will be giving S$200,000 to the Singapore Swimming Association.