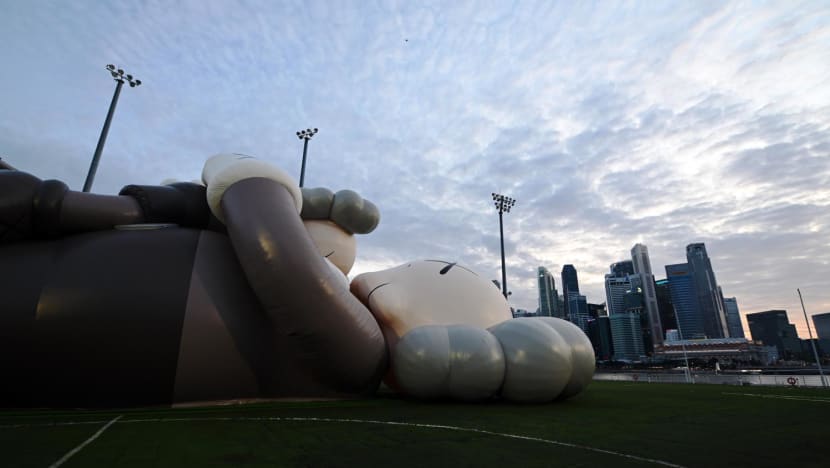 SINGAPORE: The KAWS:HOLIDAY exhibition at The Float @ Marina Bay will reopen on Tuesday (Nov 16) after a court discharged an interim injunction that ordered the exhibition to stop.
The Ryan Foundation, a non-profit organiser, had obtained an interim injunction to stop the exhibition as it was in breach of the foundation's intellectual property rights and confidentiality. All sales and distribution of merchandise linked to the exhibition had to be halted.
Organiser of the exhibition AllRightsReserved - a Hong Kong-based studio - said on Monday evening that the case was heard in court earlier that day, and the interim injunction discharged.
It added that the court had ordered The Ryan Foundation to pay legal costs.
"The court further ordered that there will also be an inquiry into the damages sustained by AllRightsReserved by reason of the injunction," said the studio.
The exhibition, which showcases a 42m-long inflatable of KAWS character COMPANION, will reopen on Tuesday, it confirmed.
In a statement on Monday evening, The Ryan Foundation confirmed the exhibition has been allowed to proceed.
"While the injunction is a temporary court remedy only, The Ryan Foundation has informed the court that it is happy for the public to enjoy the artwork and that the temporary injunction has increased the public's awareness of other's ideas and intellectual property," it said in a media release.
The foundation added that it will "pursue AllRightsReserved for breaches of confidence and infringement of its intellectual property rights".
The foundation's director Adrian Chan said it was a "long case that will be fought for all freelancers and creatives".
The foundation's founder Ryan Su told CNA on Saturday it had been in talks with AllRightsReserved to bring a KAWS exhibition to Singapore in 2019, but it did not materialise.
The foundation applied for the court order after it found out that an exhibition would be coming to Singapore.
AllRightsReserved called the allegations "groundless". 
The free exhibition will be on display at The Float @ Marina By until Nov 21. The KAWS:HOLIDAY exhibition has travelled to several sites around the world, including Seoul, Taipei, Taiwan, Hong Kong and Tokyo.