SINGAPORE: KidZania will return to Singapore in the first quarter of 2024, said theme park developer Sim Leisure Group (SLG) on Monday (Jun 12). 
The theme park, an indoor family attraction that allows children to role-play different jobs, first opened in Singapore in April 2016 on Sentosa Island but closed permanently in mid-2020 amid the COVID-19 pandemic due to financial difficulties. 
It will be located at the same premises, after SLG entered into a tenancy agreement with Sentosa Development Corporation.
"SLG will refurbish the 7,600 sq m Family Entertainment Centre located at Sentosa's Palawan Beach ... and introduce a whole suite of new attractions and experiences," said the group, adding that it secured the long-term licensing rights for Singapore from KidZania, a Mexican privately held international chain of indoor family entertainment centres.
"Some offerings include YouTube Entrepreneur, Animation Studio and Makers Space, and a range of KidZania activities across Sentosa Island to make it even more engaging for families and children."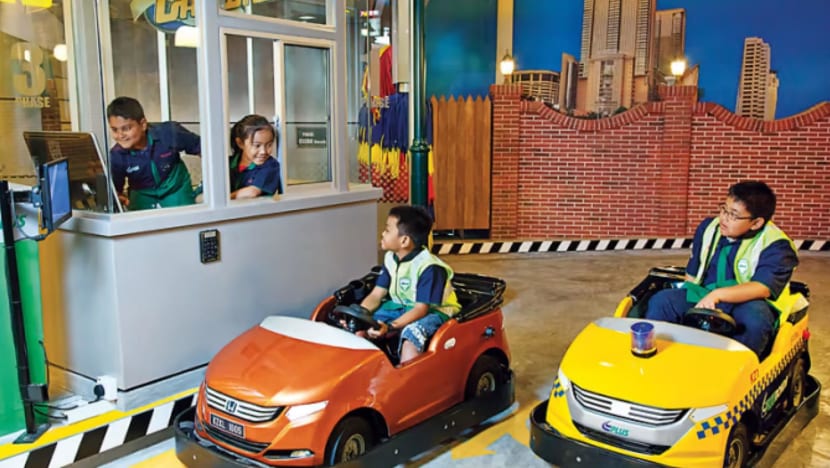 The new theme park will focus on portraying the "cities and jobs of the future", instilling a better sense of sustainability and incorporating at least eight elements of the United Nation's 17 sustainable development goals, the group said. 
Singaporean and worldwide brands will also join SLG in enhancing KidZania as "purpose partners" of KidZania Singapore, it added.
"The perceptive guests of today are beyond inquisitive, and encouraging curiosity especially among the young ones is key as they discover new ways of thinking through play," said CEO of Sentosa Development Corporation Thien Kwee Eng. 
"As Sentosa continues to refresh our offerings, we are confident that KidZania Singapore will be an integral part in our revitalisation of Palawan Beach and its vicinity into a compelling family-centric precinct, alongside upcoming offerings such as The Palawan @ Sentosa."
The theme park also marks SLG's expansion into Singapore, and the group's addition of a second KidZania under its wing. It currently operates KidZania Kuala Lumpur.
SLG's founder and chairman Sim Choo Kheng said he is confident that Kidzania Singapore will be a "runaway success".
"This time I will make sure KidZania Singapore is here to stay," he said.
Founder and CEO of KidZania Xavier López Ancona added: "In addition to helping kids realise their aspirations and pursue their passions, our mission is to help them develop a solid foundation of values and lifelong skills."