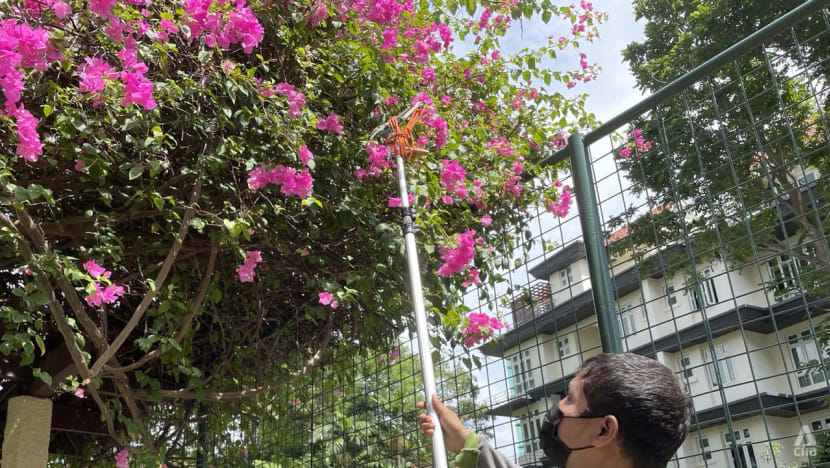 SINGAPORE: In the coming years, baseline salaries for landscape maintenance workers will rise by between S$100 to S$165 each year – a level of growth higher than initially planned.
These increments, which come under the progressive wage model (PWM), mean baseline wages will grow by an average of 6.3 per cent annually for six years.
This is more than double the minimum 3 per cent annual increase, which was previously announced in 2018 as part of a six-year schedule of wage increases, said the Tripartite Cluster for Landscape Industry (TCL) on Friday (Aug 20).
The higher increments, which will take place from 2023 to 2029, were among the recommendations made by the TCL, following a review of the PWM for the landscape maintenance sub-sector.
These recommendations, which also include carving out specialist roles to attract new blood, have been accepted by the Government.
"The TCL's latest set of recommendations aims to support the industry's transformation efforts and ensure it continues to be vibrant, with a strong Singapore core," it said.
As of Jan 1, 2021, 358 landscape companies have adopted the PWM, covering about 3,000 resident landscape maintenance employees.
WAGE INCREASES PROVIDE RECOGNITION FOR WORKERS
In this latest review, the TCL recommended introducing larger baseline wage increases for PWM roles from Jul 1, 2023 to June 30, 2029.
It will build on the initial six-year wage increase schedule which began in 2020.
"We decided to extend (the schedule) by another three years, so it gives greater certainty to the industry to plan for their budget.
"(It is) also to factor in the wage increases into contract pricing, because landscaping maintenance is primarily an outsourced sector. The certainty of wage increase is very important for planning ahead," added the cluster in a media briefing.
Illustrating the increases, it said those at a landscape worker job level would see their baseline wages grow cumulatively by 45 per cent from 2022 to 2028.
Senior Minster of State for Manpower Zaqy Mohamad lauded the move as a way to appreciate the contributions of these workers.
"Singapore prides itself as a city in nature. The lush greenery that we enjoy is the result of the hard work of many of our landscape workers who toil … This is a way for us to recognise how they are all backbones of our economy and our society."
He added that the increments support the tripartite workgroup's aim of helping "the wages of our low-wage workers grow faster than the median worker", in order to "bridge (them) up to the median".
The wage schedule will be further reviewed in 2025.
ATTRACTING YOUNGER ENTRANTS, ENHANCING SKILLS
In January this year, the Government accepted the TCL's recommendation to introduce a specialist track under the sector's career ladder to draw in new entrants. This comes after stakeholders said they found it difficult to attract younger talent.
New job roles such as landscape specialist and senior landscape specialist will thus be created. And from Jul 1, 2023, students who graduate with the necessary qualifications may be placed on this track.
In addition, from Jul 1, 2023, all PWM job roles will require the same number of mandatory training modules to be completed, to ensure all new workers get adequate training at each job level, said the TCL.
To make sure workplace safety remains a high priority, all training modules at the Landscape Worker level will also cover hazards and prevention measures.
And to help more senior workers minimise potential workplace injury risks, it encouraged this group to attain certain training qualifications on controlling hazards, for example.
UPLIFTING LOW WAGE WORKERS
The labour movement's Deputy Secretary-General Chee Hong Tat said: "We believe this package approach, where we develop an ecosystem of measures, will be an effective and more sustainable way of uplifting our low wage workers."
Working in close partnership with authorities and employers are also key in achieving these outcomes, he said.
Mr Zainal Sapari, the chairman of the TCL, added that it is important that these workers are "duly recognised as professionals in their respective fields, and the wages commensurate with their skills and competencies".
Mr Felix Loh, CEO of Gardens by the Bay, who hosted tripartite members to a visit, added that the firm supports the cluster's recommendations.
But while employers do their part to raise workers' wages, skills and productivity, he said the "support of service buyers and end-consumers to pay better fees for quality services is also crucial".
"I also urge the industry to adopt outcome-based contracting to incentivise service providers to innovate and deliver better performances," he said.