Hold on to things that bind Singapore together: Lawrence Wong
The Deputy Prime Minister also said he was looking forward to this year's National Day Parade, the first full-scale celebration since the COVID-19 pandemic began.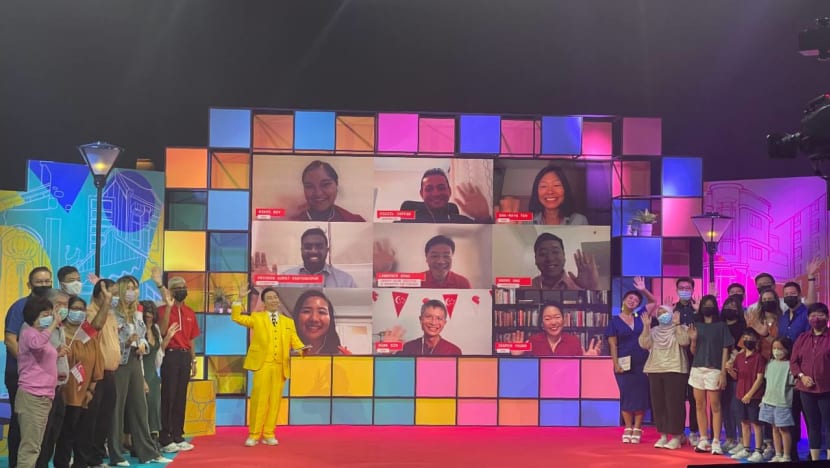 SINGAPORE: The people of Singapore should hold on to what they have in common, rather than their differences, and strengthen their sense of solidarity in dealing with any challenges, said Deputy Prime Minister Lawrence Wong on Saturday (Aug 6). 
Mr Wong took part in an ask-me-anything segment via video call, fielding questions from overseas Singaporeans at Singapore @ Home, an event organised by Singapore Global Network, an arm of the Economic Development Board.
Throughout the COVID-19 pandemic, the people of Singapore have seen that their "shared humanity as a people" binds them together, he said. 
"We've experienced that during the pandemic, especially when we've gone through periods of isolation and being having to spend time apart from one another," added Mr Wong, who is also Finance Minister. 
"We are a diverse community in Singapore and of Singaporeans everywhere around the world. But regardless of our differences, I think we should hold on to the things that bind us together, and (what we) share in common," he said. 
"And there is a lot more that we have in common than the differences that pull us apart. So we should hold on to that commonality and strengthen that sense of solidarity in dealing with any challenges that we face as a people of Singapore." 
The global community is living in a world that is "increasingly uncertain, fractured, turbulent", said Mr Wong. 
"But it's so much more important that we try to find common ground that we share in order to deal with some of the pressing challenges of the world." 
Responding to a question about how Singapore has grown as a nation after the pandemic, Mr Wong noted that going through a crisis would motivate anyone to develop, mature and become stronger and more resilient. 
"And I think that has been our experience as a country these past two years going through a crisis like COVID-19… I feel confident therefore that that sense of solidarity and resilience will help us navigate through future challenges ahead as well." 
Mr Wong also expressed that he was looking forward to this year's National Day Parade, which will be the first full-scale show since the start of the COVID-19 pandemic. 
"I think that really feels special for every Singaporean including myself. Imagine for the last two years, we've been running NDP on a very different basis. It was very small scale, no live show very limited live audiences. And even around the Marina Bay, it was all about crowd control. Keep out, distancing, don't come out," said the Deputy Prime Minister. 
"It was a very different feeling and I think there was tremendous pent up demand just to come out and celebrate and be with one another." 
Responding to another question about what overseas Singaporeans could look forward to in the local food scene when they return home, Mr Wong listed hawker dishes like prawn noodles, mincemeat noodles and oyster omelette as some of his personal favourites. 
"I don't follow the latest fads in food and new inventions. All I can say is my favorite food when I go overseas and when I spend time overseas and I come back I usually just go for our local hawker food," he added with a chuckle. 
Describing the F&B scene as "very vibrant", Mr Wong noted that there is a wide diversity of F&B offerings in Singapore. 
There are also more up-and-coming young Singaporean chefs infusing a Singaporean flavour into their cuisine, he added.
"If you've not been back for some time, come back and enjoy the fullness of Singapore cuisine."