'We now have a good outcome': Ministers congratulate Lawrence Wong on selection as 4G leader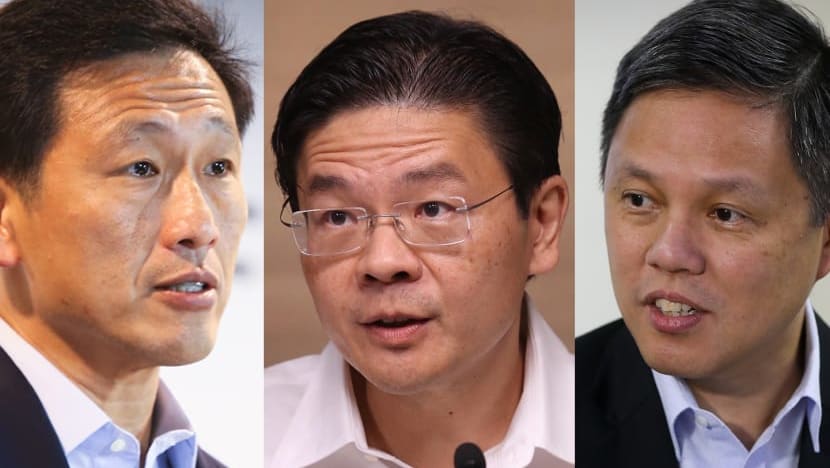 SINGAPORE: Messages of congratulations and support have poured in for Finance Minister Lawrence Wong, following his selection on Thursday (Apr 14) as the leader of the fourth generation, or 4G, of Singapore's political leadership.
Health Minister Ong Ye Kung was among the numerous Cabinet members who posted their messages on Facebook. Describing their professional relationship, Mr Ong said he has known Mr Wong for many years and has "witnessed his dedication and commitment to Singapore".
Both men are currently co-chairs of the Government's multi-ministry COVID-19 task force.
"He puts his heart and soul into what he is doing and is never a seeker of credit or fanfare," said Mr Ong.
Mr Ong was widely seen as one of the frontrunners to be Singapore's next Prime Minister, a role that Mr Wong is now primed to take on following the official endorsement.
"Right from the start of the succession planning process, 4G Ministers are clear that we are selecting someone who can bring out the best in the team as we serve Singapore," Mr Ong added.
"We now have a good outcome."
He added that the 4G team will "continue to put Singapore and Singaporeans at the heart of every decision we make".
"I will do my utmost to support him, and look forward to be part of his team," he said.
Education Minister Chan Chun Sing, who was also viewed as a contender for the top job, said he was glad a decision on succession plans had finally been reached.
"I deeply appreciate the camaraderie that we have shared over the years and look forward to continue working closely with him and the team to tackle the challenges and seize the opportunities ahead of us," he wrote on Facebook.
While Singapore is cautiously emerging from the worst of the pandemic, there remain many geopolitical and economic uncertainties and social challenges that the country will have to overcome, Mr Chan said.
"The 4G team will continue to work closely together with Singaporeans to improve their lives while seizing opportunities to leave behind a better Singapore for future generations," he said.
All three - Mr Wong, Mr Ong and Mr Chan - were mentioned in Senior Minister Tharman Shanmugaratnam's congratulatory message.
Mr Wong "will lead a 4G team that has been working well together for several years," said Mr Shanmugaratnam, adding that "(Chan) Chun Sing, (Ong) Ye Kung and the others each bring real strengths and dedication to Singapore".
In his ringing endorsement of Mr Wong, Mr Shanmugaratnam described the newly named 4G leader as someone who is "a down to earth, has his heart in the right place, and has the steel to make tough decisions".
"Lawrence has it in him to be an excellent leader, for a changing Singapore in the years ahead," he said.
"Knowing Lawrence, I'm sure he will earn the trust of Singaporeans in his own way and be a PM with his own character."
Minister for National Development Desmond Lee also posted on his Facebook page.
"Thank you, Lawrence Wong, for stepping forward and taking up the responsibility of leadership. Let us all rally together and continue to work hard for Singapore," he said.
Speaker of Parliament Tan Chuan-Jin wrote: "May our leaders and team be blessed with wisdom, courage and love. May we all be united as we continue to strive as one people, one nation."
Emeritus Senior Minister Goh Chok Tong, who has spoken frequently on the succession process, also congratulated Mr Wong.
"Marine Parade can be proud of Lawrence. He grew up in our estate. His father was an RC (Residents' Committee) leader," said Mr Goh, who was Member of Parliament in Marine Parade for 44 years and remains Adviser Emeritus to Marine Parade grassroots organisations.
Others, like Minister of State for Communications and Information and National Development Tan Kiat How and Members of Parliament Seah Kian Peng and Ang Wei Neng chimed in with words of support.
Describing the endorsement as a "crucial moment" for Singapore, Mr Ang spoke of a "transition phase" ahead. 
"With the support of all Singaporeans, we have a high chance to overcome the odds," he said.