Public service should never become politicised, must remain impartial and objective: DPM Wong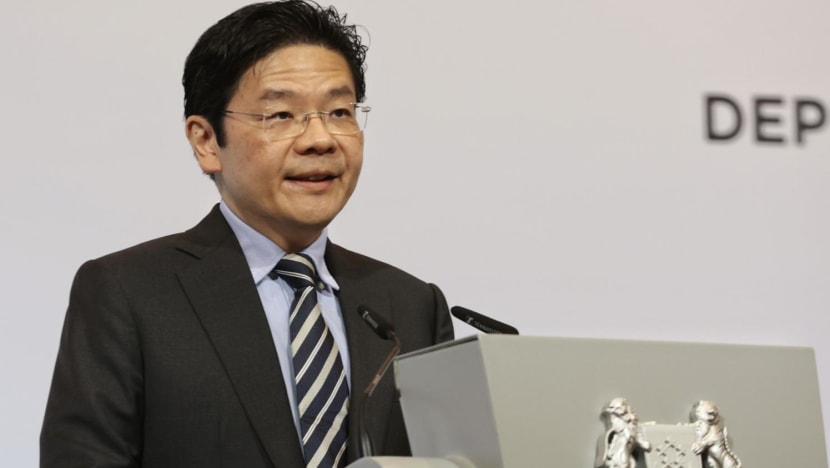 SINGAPORE: Singapore's public service should never become politicised and must always remain impartial and objective, said Deputy Prime Minister Lawrence Wong on Tuesday (Mar 28).
In a speech at the administrative service's appointment and promotion ceremony, Mr Wong highlighted the challenges faced by developed countries - such as stagnating income levels, rising inequality and an increasingly divided and polarised society.
To tackle these, the government needs "all hands on deck" and "conviction of purpose" to chart a new way forward for Singapore, he said.
Mr Wong, who is also finance minister, said political leaders would also have to win the confidence and trust of citizens, seek their support for policies and secure the mandate to govern.
"So whenever tough calls have to be made, we will have to consider how far to go, and how we can explain the position and persuade Singaporeans why such painful decisions are necessary, and will ultimately, benefit everyone," he added.
Citing the recent Goods and Services Tax (GST) hike as an example, Mr Wong said: "Believe me, it's not something I would have liked to introduce in my first Budget as Finance Minister.
"But we have designed a unique system in Singapore that combines the GST with offsets, and that ensures the GST increase does not hurt the poor," he said.
"With that assurance, I decided to proceed, recognising how vital this move was to balance our budget, and to ensure sound and sustainable public finances over the coming years."
While the public service is not directly involved in the weighing of such political considerations, Mr Wong said it has to understand the priorities, considerations and agenda of the elected government.
It also has to appreciate the growing diversity of society and an increasingly complex and contested environment; and work closely with political leaders in nation-building efforts, he said.
"In short, you have to be politically sensitive to do your work effectively. But you should never become politicised," said Mr Wong.
"You must remain impartial and do your work with professional objectivity, while recognising the political context in which we operate."
He stressed that public servants should not second guess what they thought ministers would find "politically convenient" but rather, give their best professional judgment and be candid in sharing views.
While final decisions by politicians may not always "accord fully" with such professional recommendations - and ideas may not be taken up - Mr Wong urged public servants to not be disheartened.
"There will always be broader considerations to take into account in decision-making," he said. "But I assure you that your professional inputs and insights matter greatly to me and my team, and are a vital part of our decision-making process."
LEADERSHIP RENEWAL
During his speech, Mr Wong also highlighted the importance of developing a healthy pipeline of future leaders to ensure a high-quality public service.
Several senior permanent secretaries have retired in the last few years, and one-fifth of senior public service leaders are already in their mid- to late-50s, said the minister.
At the same time, 33 new senior public service leaders have been appointed over the past five years.
"It can be unsettling and difficult to see experienced officers who have proven their reliability and worth leave the organisation," he said. "But leadership renewal is necessary for any organisation to remain healthy and sustainable."
Mr Wong said this applied especially to the admin service - a leadership track in the public service - which, through scholarships and green harvesting programmes, continues to recruit "vigorously" and bring in young talents to serve Singapore.
In addition, the service has started extending the tenure of senior leaders to age 60, while finding other meaningful ways for retired senior leaders to contribute.
"This is how the admin service, and the public service more generally, have struck a balance between giving its officers meaningful careers, and at the same time, renewing itself and its leadership," he said.
"If the turnover in leadership is done too quickly, we will lose good people unnecessarily. But if it is done too slowly, the organisation will become too settled, and young capable officers will not have space to grow and take on key leadership positions, as they mature in their careers."
DEVELOPING PEOPLE
At the same time, the admin service must continue to expand the range of development and training opportunities for its officers, to better equip and prepare them for future leadership roles, said Mr Wong.
"We do need to give this some focus and pay deliberate attention to this because it means being able to periodically pull back from the daily work and constant fighting of fires to reflect, to learn and to develop our people."
While greater depth of expertise and specialisation can help the public service better deal with complexity, he said this would also create more reporting structures and additional layers.
All of which would result in younger officers getting less exposure in terms of the scope of responsibilities and breadth of work, said Mr Wong.
"This trade-off is something that the service needs to be conscious of and manage carefully," he noted.
"Even as we fine-tune our job roles and processes to make government administration more effective, we must also ensure promising officers retain sufficient opportunities to be exposed to a broad range of issues and tasks."
"Only then can we nurture and sustain effective leadership development."
Mr Wong called on the public service to embrace its wide diversity of officers and talents, adding that how it develops and nurtures them over the course of their careers can have a big impact on the overall strength and effectiveness of the service.
"We should avoid pigeon-holing officers too early into certain roles or pathways," he said. "At the same time, we must ensure flexibility and porosity between the different pathways."
"Not only will this help us make better use of all our talents, it will also reinforce a stronger sense of shared responsibility and teamwork across the public service."