Leong Mun Wai's election as PSP chief signals party's confidence in him, endorsement of debate style: Analysts
"Mr Leong is big into histrionics and portrays himself as the proverbial David against Goliath. However, his antics have also got him into trouble more than once," says an analyst.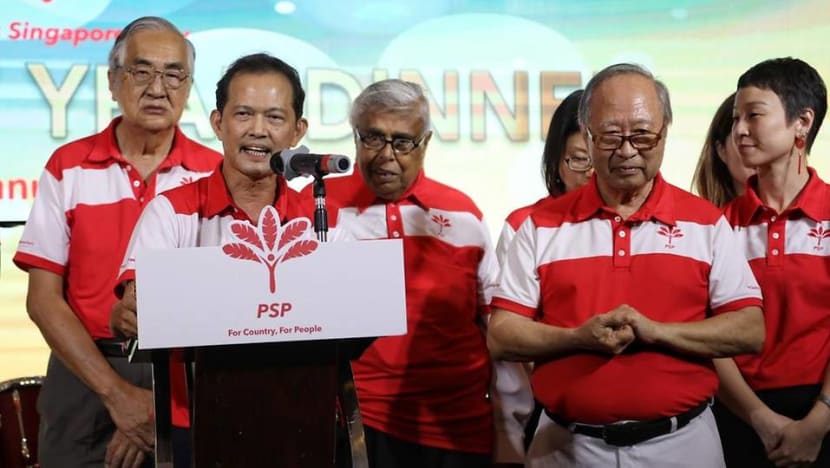 SINGAPORE: The election of Mr Leong Mun Wai as Progress Singapore Party's (PSP) new chief signals the party's confidence in him and is an endorsement of his style of debate in parliament, political analysts said. 
PSP announced on Tuesday (Apr 4) that Mr Leong has been elected its new secretary-general after former chief Francis Yuen stepped down from his position in March after two years. 
The party was founded in 2019 by Dr Tan Cheng Bock, a former lawmaker with the ruling People's Action Party (PAP). Dr Tan remains the party's chairman in its new Central Elective Committee (CEC).
Ms Hazel Poa will be PSP's new vice-chairman, taking over from Mr Wang Swee Chuang. Both Mr Leong, 64, and Ms Poa, 52, are sitting Non-Constitutency Members of Parliament (NCMPs). 
Electing Mr Leong and Ms Poa to the party's CEC is a strategic move as they have both garnered "quite an attraction" through their parliamentary presence, said Dr Felix Tan, a political analyst from Nanyang Technological University (NTU). 
"Despite that Mr Leong can be unprofessional at times, I think a vocal articulation of his thoughts in parliament has given him leeway, perhaps an increasing number of supporters for the way that he goes about voicing concerns amongst certain groups of Singaporeans," he added. 
"In that way, the appointments by the PSP are ... seen as a strategic move to tap on this sort of popularity at this point in time." 
Since becoming an NCMP, Mr Leong has engaged in heated debates with various Members of Parliament (MPs).
On Mar 22, he was involved in an exchange with Home Affairs and Law Minister K Shanmugam about whether Mr Lee Hsien Yang and his wife "absconded". Mr Leong also apologised to Speaker Tan Chuan-Jin, after the latter reminded him to "retain the decorum" of the debate. 
In electing Mr Leong as its chief, the party is endorsing his approach to debates in parliament as a way of raising PSP's profile, said Associate Professor Eugene Tan from the Singapore Management University's (SMU) Yong Pung How School of Law. 
"Mr Leong might be emboldened to continue with his dogged but confrontational style in parliament," he continued. 
"I see the PSP as seeking to distinguish itself from the WP (Workers' Party). Mr Leong is big into histrionics and portrays himself as the proverbial David against Goliath. However, his antics have also got him into trouble more than once." 
Assoc Prof Tan noted that Mr Leong's behaviour in the House means he may have to deal with the Committee of Privileges or may even be referred to the Attorney-General's Chambers at some point.
While Mr Leong's "folksy persona" does appeal to some quarters, it also makes him look out of his depth in parliament, he added.
"He also has a tendency to make bald assertions in parliament as an attempt to play to the gallery," he continued. 
"With Mr Leong's elevation, and with his style very different from his fellow NCMP and party colleague Hazel Poa, we might see Mr Leong upping the ante in the rest of the 14th parliament's term." 
LEADING PSP INTO THE NEXT GENERAL ELECTION?
Mr Leong's parliamentary style should be viewed separately from his party duties and responsibilities, said Assistant Professor Elvin Ong from the National University of Singapore's (NUS) Department of Political Science.
"His appointment as secretary-general will be a test of his internal party leadership and organisational abilities, which is an entirely different skillset from parliamentary debates," he added.
The PSP's moves provide Mr Leong with a greater profile and line him up to lead the party into the next General Election "if there are no mishaps along the way", said Dr Gillian Koh, deputy director for research and senior research fellow at NUS' Institute of Policy Studies. 
"In other words, this only works if he is viewed as a strong and credible opposition politician through his performance in parliament," she told CNA. 
"He'll need to pick the right battles, do the homework to put forward sound arguments to not only question the front bench on its policies and legislation, but provide alternative policy positions for the public to judge their calibre." 
The People's Action Party's (PAP) team in West Coast – where Mr Leong and Ms Poa contested alongside Dr Tan in the previous General Election – comprises two ministers, Minister for National Development Desmond Lee and Minister for Transport S Iswaran, Dr Koh noted. 
"Since cost of living and the social compact will continue to figure in public discourse over the next few months, as they say, everyone is going to have to up their game in the sense that the quality of debate, the articulation of what matters to the constituents will be judged," she added. 
Although the party is signalling its confidence in Mr Leong, he will have to act in ways that attract fresh members to the PSP leading up to the next General Election, said Dr Koh. 
"We will see if the PSP would tend towards a good ground offensive – which means that it needs members to meet residents directly, door-to-door – which is what WP majors in. Or, if it is via a strategy of aerial bombardment, which focuses on policy debates and recommendations in parliament," she added.
The resignation of Mr Yuen as the party's chief also likely pushed it to elect Mr Leong to the position, since they needed to fill the role as soon as possible, said NTU's Dr Tan. 
It was "quite a surprise" when Mr Leong and Ms Poa relinquished their positions on the CEC in 2020 to concentrate on their parliamentary work, he added. 
As the new secretary-general, Mr Leong is now the face of PSP, with Dr Tan Cheng Bock "receding more and more into the background as a party elder", said SMU's Assoc Prof Tan.
To some, Mr Leong's election could be seen as the PSP falling short and not being able to sustain the promise and potential it had in 2020, when it outperformed more established parties at the General Election, he added.
"It could point to the party lacking suitable office-bearers such that they have to tap on their two NCMPs who will now have to juggle substantial party work with their parliamentary duties," he said. 
"The party is clearly thinking of the next General Election and sees the second half of the parliamentary term as a time to aggressively raise the party's profile." 
The PSP recognises that it has to make a compelling case that there is room for another opposition party in parliament, said Assoc Prof Tan. 
"To that end, the PSP might continue with Mr Leong's combative posture while playing the defiant underdog speaking for the masses," he added.