Less than a third of children aged 5 to 11 in Singapore have minimum protection against COVID-19: MOH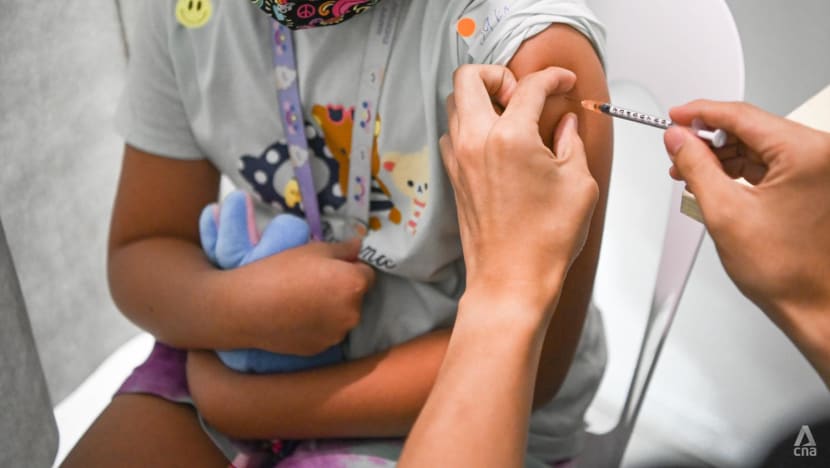 SINGAPORE: Less than a third of children aged five to 11 in Singapore have minimum protection against COVID-19, the Ministry of Health (MOH) said on Saturday (Apr 29).
As of Apr 23, 81 per cent of the total local population in Singapore have minimum protection against the disease.
This includes 28 per cent of those aged five to 11, 87 per cent of those aged 12 to 59 and 89 per cent of those aged 60 and above, the Health Ministry said in response to CNA's queries on COVID-19 booster take-up rates.
According to MOH, to achieve minimum protection, those aged five and above should have received at least three doses of the Pfizer-BioNTech, Moderna or Novavax vaccines. The first and second doses should be spaced eight weeks apart, while the recommended interval between the second and the third is five months.
They can also take four doses of the Sinovac vaccine.
No further doses are recommended for children aged five to 11. Since end-October last year, children in this age group have been offered a booster shot five months after their second dose.
MOH said on Saturday that the majority of COVID-19 patients who were hospitalised or required oxygen supplementation had not received a booster dose within the last one year. 
A "substantial number" had not completed vaccine doses required for minimum protection, the Health Ministry added.
Statistics from the Health Ministry show that there has been a steady increase in the average daily number of hospitalised cases since the week starting Mar 5. As of the week starting Apr 16, the figure was above 300.
It comes amid a rise in the weekly number of COVID-19 infections, with more than 27,000 cases estimated in the week starting Apr 16.
The number of COVID-19 infections is estimated based on the National Acute Respiratory Infection Surveillance Programme, according to MOH.
"Minimum protection from COVID-19 vaccination provides sustained and effective protection against severe disease and hospitalisation due to COVID-19," said the Health Ministry.
"Achieving minimum protection is important as the risk of hospitalisation is highest amongst those who have not achieved minimum protection."
ADDITIONAL BOOSTER FOR VULNERABLE GROUPS
The Health Ministry also urged people from vulnerable groups to receive an additional booster dose at an interval of about one year after their last booster.
"Individuals aged 60 years and above, medically vulnerable persons and residents of aged care facilities are particularly vulnerable to any changes in the COVID-19 situation, given their underlying susceptibility to develop severe disease, as well as COVID-19 destabilising their other medical conditions," said MOH. 
"Due to the transmissibility of the Omicron variants, seniors who avoid leaving their home may still be infected, as family members are interacting in the community."
Healthy people aged 12 to 59 may also receive an additional booster if they choose to, MOH added.
As of Apr 23, about 544,000 of people aged 60 and above have received their last booster dose within the last year.
MOH said it has been monitoring areas with a higher number of seniors who are eligible for additional booster vaccinations. It has deployed mobile vaccination teams to locations nearer to them, including nursing homes.
For people with mobility issues, MOH has also been sending out home vaccination teams.
Members of the public can also walk in to any Joint Testing and Vaccination Centre to receive their jabs. Polyclinics and some Public Health Preparedness Clinics also offer the Pfizer-BioNTech and Moderna bivalent vaccines.
"Vaccination remains our first line of defence against COVID-19, and we urge everyone to keep up to date with their vaccinations," said MOH.
"Studies have shown that a booster dose of the bivalent vaccine enhances protection and provides a high level of protection against severe COVID-19 illnesses, including that caused by the circulating variants."