Professionalisation, wage ladder for lift technicians a long time coming
With starting salaries for newly trained lift technicians at S$1,200, the industry is heavily strapped for manpower and more importantly new blood, say stakeholders in the lift sector.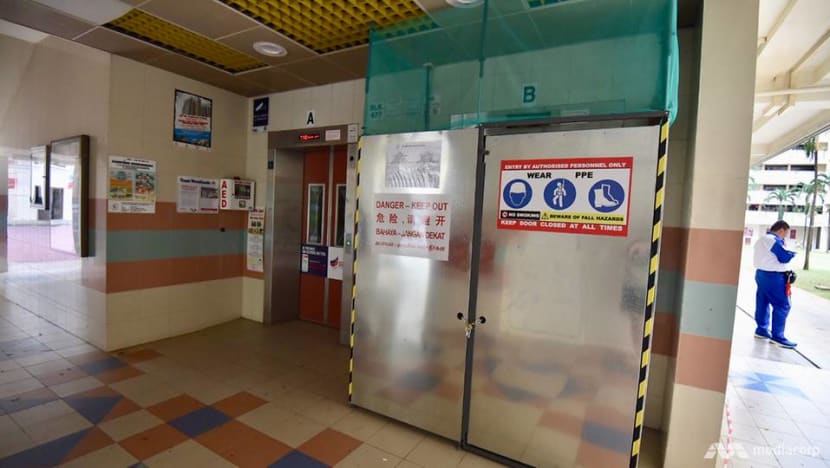 SINGAPORE: Many are put off by the dirty and dangerous work of installing lifts or performing maintenance in a lift shaft. Others prefer jobs that pay more.
This has led to a dearth of technicians with about 2,000 of them servicing more than 63,000 lifts in Singapore. Under a Memorandum of Understanding signed last year, 1,000 jobs for lift technicians will be created by 2020.
Those in the industry told Channel NewsAsia that an "uplifting" for lift technicians is long overdue. That will happen soon. 
A progressive wage model (PWM) is planned for them, announced National Trades Union Congress (NTUC) Secretary General Ng Chee Meng in his National Day message on Jul 31. Lift technicians will be the fourth group of workers to benefit from PWM which aims is to increase the salaries of workers through the enhancement of skills and improving productivity.
The progressive wage model has been made mandatory for workers in the cleaning, security and landscape sectors which are mostly outsourced services.
LOW SALARY, SLOW PROGRESSION, UNATTRACTIVE WORK
A survey by the Institute of Technical Education (ITE), showed that fresh NITEC graduates entering the lift industry earn a monthly salary of between S$1,200 and S$1,500.
Progression is slow, said former lift technician Kenneth Khoo. He left his job three years ago after a 10-year career because of the low pay. He began his career as a lift technician with a starting pay of S$1,300 which grew to "around S$3,000 plus" when he left as a lift engineer.
"Generally the career progression is quite slow but I was lucky because I had a diploma certificate. For most local technicians they hold the NITEC certificate or for Malaysians, the upper secondary Form 5 certificate," he added.
Mr Khoo added that some older technicians have it worse.
"There are a lot of old lift technicians. Some work for almost 20 to 30 years and they still get S$2,000-plus currently. If they had other choices, I think they will leave this industry also," said Mr Khoo.
Engineer Seah Siew Chye, 41, is another who left the lift company he worked for because of the low pay. He said his technician co-workers have done the same as well.
"It has always been difficult to find young technicians to join the industry. Even if companies have gotten young technicians, it's a high chance that they have left the industry," he said.
He explained that there are two types of lift technicians - those who specialise in project work such as lift installations, and those who work on servicing lifts. The former is considered more highly skilled but there are few takers.
"The installation side of it is more rugged. Most people tend to shun the construction industry, and lift installation is tied to the construction industry," Mr Seah said.
Zul Lim, who works as a sales and marketing consultant for Lift Works, agreed that it is harder to find technicians who can perform installation work because they need to be very knowledgeable about the lift systems they are installing.
"They are assembling the lift from scratch compared to someone just doing the normal oiling adjustments and change of spare parts," Mr Lim said.
"After they learn the basics from school, they have to do on-the-job training and learn a bit more about our specific brands and how to install it when they join the company," Mr Lim said.
The company has about 30 local lift technicians and struggle to employ more due to the small pool of lift technicians available locally. The company has had to turn down business opportunities due to the manpower crunch, he added.
ATTRACTING, RETAINING TALENT
Companies like Schindler Lifts and Otis Singapore have implemented their own wage ladders similar to the PWM for their lift technicians.
Schindler, for example, uses a belting system to sort the competency level of its lift technicians, service director Nima Bahadori told Channel NewsAsia. It starts with "white belt" for those with little to no experience and progresses to "black belt" for those who have chalked up a wealth of experience.
"You come in as a white belt and you get assessed according to certain criteria. Then you progress to yellow belt then to a green belt. Each one of these stages is linked with salary adjustments, basically to reward you for your achievement and skill level," Mr Bahadori said.
The belting system, which has been in place for at least 10 years, has paid off in retaining talented lift technicians, he added. Retention rates for new hires are "quite good" after they have seen and experienced what the job is all about, Mr Bahadori said.
Mr Bahadori said he expects the PWM to be a "first step" in attracting Singaporeans into the industry. "It's getting them to consider this vocation in the first place," he said.
"We would still like to see more Singaporeans entering into these roles because still, we have a high dependence on foreigners. What the PWM does, because it's not just about wage systems, but also supports in trying to make the industry more attractive to them," he said.
Otis Singapore's managing director Greg Nagle said the company has a "comprehensive" training strategy for employees' development. It also offers full sponsorship should employees want to further their learning with accredited universities.
One employee who has benefitted is foreman Chuah Cheng Siong, who started as a lift tester 34 years ago.
"I have made good career progression with Otis and [was] given the opportunity to work across both construction and maintenance operations. I started off as a junior tester and made steady progressions throughout my career," Mr Chuah said.
SERVICE BUYERS HAVE TO FOCUS ON OUTCOMES INSTEAD OF PRICES
As part of PWM, outcome-based sourcing practices were recommended for the cleaning, security and landscape sectors. Service buyers are asked to consider awarding contracts based on performance and quality instead of the asking price.
Priecyllia Tio, who has been with the lift industry for more than 15 years, said that service buyers have to agree to higher tender prices when PWM is implemented.
"The current issue is with the market, the competition of prices," Ms Tio said.
"It's very difficult to increase [price]. Increase S$20 also bargain until want to die. Can you imagine? If everybody wants it cheap, then the technicians will suffer even further," she added.
Agreeing, Mr Khoo said: "The bidding prices for projects will be higher if PWM is implemented for lift technicians to sustain the increment of the salary."
"I think the salary part is the most important for lift technicians out of the PWM. They need to be seen as professionals. In other countries like Australia or United States, they get more respect. They are paid quite well. Lift technicians in Singapore are not," Mr Khoo said.
TECHNOLOGY TO HELP MANPOWER SHORTAGE
While much of the work done by lift technicians today continues to be labour-intensive, Mr Bahadori said that there is space for technology to fill in for manpower shortages.
Schindler is among various lift companies exploring smart, connected lifts powered by the Internet of Things. Such lifts come with sensors and analytics to update lift companies with information on their maintenance schedule instead of relying on logbooks.
It also provides maintenance crew with information on how frequently the lifts are used and their passenger loads.
With newer lifts equipped with sensors, Mr Bahadori said that they can issue clear instructions to technicians instead of just having prescriptive time-based work.
"We can be more specific and say, 'Actually your time is best spent to do these specific tasks because that's what the elevator is telling us'," he said.
With old lifts, technicians typically respond to a faulty lift equipment by troubleshooting to find the problem.
Melvin Yong, who chairs the Sectoral Tripartite Committee (STC) for the lift and escalator industry, said that the committee is working on implementing a PWM for the industry to benefit all lift technicians.
"More details will be released in the STC report in the coming weeks," he said.