SINGAPORE: Under the morning sun, 89-year-old Mdm Teow Swee Cheow pedals slowly but steadily on a rickety, rusted bike towards Jalan Bukit Ho Swee in Tiong Bahru.
The small, sprightly senior hops off in front of a ground-floor public housing flat and knocks on its wooden door, as she has done every week for the past few years.
She's greeted by a warm smile from 78-year-old resident Mdm Yap Lian Hua, who lives alone. "Eh, hello!"
The pair waste no time, chatting animatedly about the past week's happenings in a mix of Mandarin and Hokkien.
One robust catch up later, the silver-haired octogenarian zips off to more units nearby, likewise checking in on their elderly inhabitants.
All in a day's work for Mdm Teow – the oldest volunteer at social service agency Lions Befrienders.
She has been a "befriender" for more than 20 years, as part of the organisation's efforts to support socially isolated seniors.
And the role suits her to a tee.
"I'm the type of person who really likes going out and about … I can't stay at home. Even spending one minute at home is really tough," she said with a shy, toothless grin.
"Anyone who asks me to help out, I will do it," said the soft-spoken Mdm Teow. "Some elderly can't walk, so whatever they want to buy, they call me and I help them.
"I like helping and volunteering."
"OF COURSE THEY WILL BE A LITTLE LONELY"
Mdm Teow belongs to a rare breed of volunteers with Lions Befrienders: Out of more than 1,600 of them, only about 50 are above 70 years old.
This group is challenging the idea that volunteering is only for the young.
Mdm Teow's own befriending journey started about two decades ago, when she lost her husband.
The agency reached out to her and invited her to become a beneficiary, but she had other ideas.
I said: 'I don't want to be a senior, I want to be a befriender!'
"They asked me why I didn't want to be a beneficiary. I said: 'I can walk, I can help others. The day that I can no longer walk, even if you drive to my doorstep, I won't be able to come out what.'"
She now has about 20 seniors to visit every week in the area, which was where she lived for decades.
Her familiarity with the neighbourhood and its older folks has proven useful – she has drawn in several new beneficiaries to Lions Befrienders.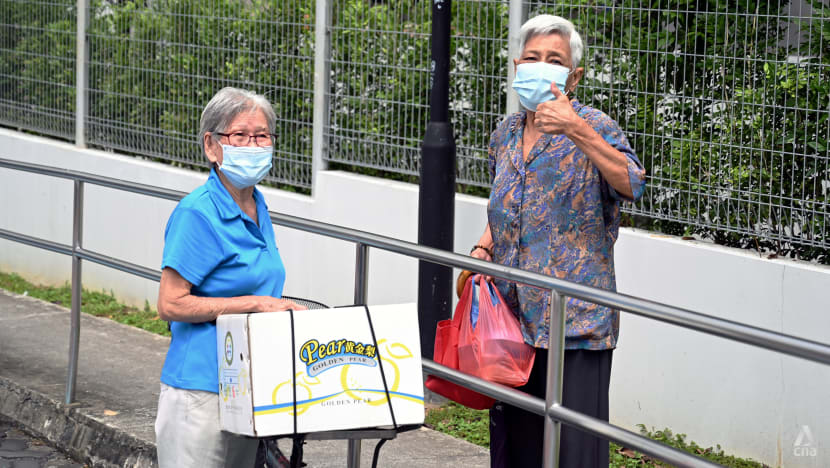 Their services are important for seniors, who often live by themselves, she said. Especially for those without kids, "of course they will be a little lonely", she said.
She was the one who had convinced Mdm Yap to join the programme.
"It makes me happy as there are lots of people to chat with. Before the pandemic, they would sometimes bring us out too," said Mdm Yap, who has been living in the estate for 50 years.
She always looks forward to Mdm Teow's visits, adding that her favourite memories with her befriender are nothing grand – but instead, the everyday delight of chatting together.
The sentiment of fondness was returned by Mdm Teow: "She's really good to talk to."
RETIRING SENIOR VOLUNTEERS
In June, Lions Befrienders said it was "seriously short of" volunteers who can commit to helping out at least twice a week over a minimum of six months.
This shortage may get worse because its longest-serving pool of about 10 volunteers – who have been caring for seniors for the past 26 years – are now well into their 70s, and set to retire this year.
That includes 80-year-old Mdm Wong Cheok Moy, a tall, lively grandmother who has been volunteering for more than 30 years.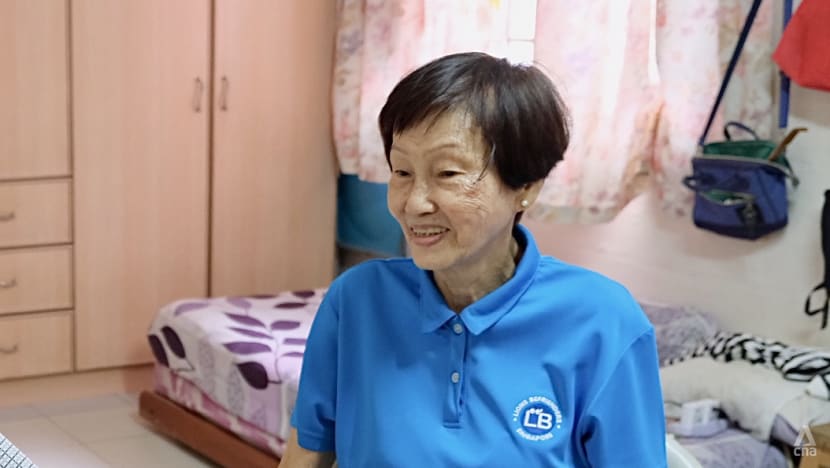 A pioneer of the befriending team, she was transferred over from an initial pilot by the Government to help lonely seniors, such as samsui women and "ma jie" – female immigrant labourers and domestic helpers.
The decades of service have taught her plenty.
"You learn how to interact, be more caring, sincere, loving, patient and compassionate," she said in Mandarin.
And while some seniors are closed-off, others have built a strong foundation of trust with her and her team of befrienders. 
"We had one senior who told us: 'Next time, I'll hand you my possessions and my bank account to take over.' We said we couldn't do that!"
She shares this with CNA as she sits across from her longest current beneficiary, 82-year-old Mr Leow Ah Eng, in his North Bridge Road flat.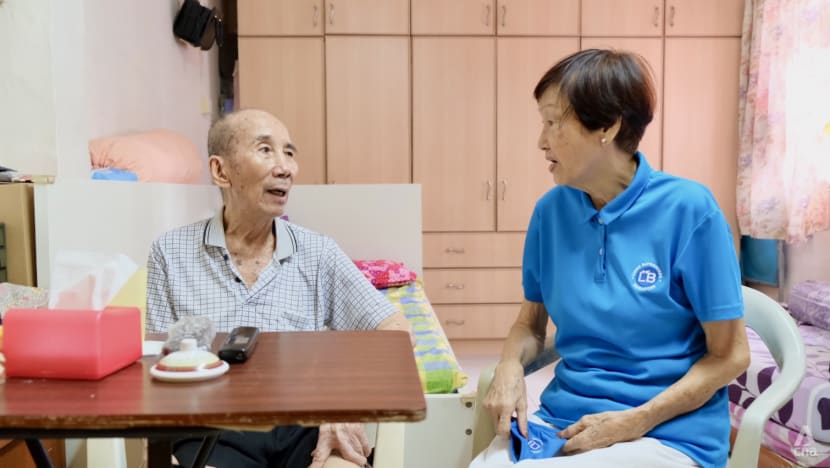 They have known each other for more than five years. Over time, she came to know him as a "kind, composed and humble" man.
They chat about daily events and about shows and performers of bygone eras. After years of easy, weekly chats, meeting up is really like seeing an old friend, she said.
He too looks forward to her visits. "It's good that she (and volunteers) come in and check on me … It's not so boring," said Mr Leow, who suffered a stroke about two decades ago.
But the sun may be setting on Mdm Wong's volunteering years.
The zone she looks after is set to be taken over by another organisation as part of a new eldercare model being introduced islandwide.
With that, it may also be time to retire, she said, adding that while she is strong now, it will not always be so. Her family has also suggested that she retire. 
If she does, she would like to spend more time playing table tennis or tending to a community vegetable garden with 10 other "aunties", Mdm Wong said.
The decision, which would cap off three meaningful decades serving seniors in need, is one that she is weighing carefully.
In the meantime, her colleague, Mdm Teow, isn't done with befriending yet.
"Now I can walk, I can go around, I can cycle anywhere. I don't like that after you retire, you're very lonely by yourself at home. I like going out!"
With a quiet pride, she said: "I'll volunteer until I really am not capable anymore."
Later on, as we leave the neighbourhood and part ways, I ask where she is headed – home?
Hopping onto her bike, she said: "I'm off to another senior's place first!"