IN FOCUS: These siblings left corporate life to fulfil their mum's wish of expanding her lor mee stall
For more than two decades, a humble lor mee stall in Yew Tee's S11 coffeeshop has been filling the bellies of customers - until its tired owner nearly made the decision to close shop. 
SINGAPORE: The sky is still dark when this reporter makes her way down to a flat in Bukit Panjang belonging to a family that sells lor mee.
It's not yet 3am, but the Toh family is already at the void deck, bustling with crates and bags, and raring to go. They load their goods, including yam, soya beancurd, garlic, chilli into the back of their car before the family of four – one son remains asleep at home as he works later hours – packs into the seven-seater. 
It's a tight fit with a journalist and a videographer joining them for work on a Saturday (Sep 24) morning, but the four are happy to squeeze for the brief 10-minute drive.
We are heading to Yew Tee S11 coffee shop, where the family's lor mee stall – rebranded Yew Tee Feng Zhen Lor Mee in recent years – has been for the past two-and-a-half decades. 
When asked if the family usually starts ahead of schedule, the family's only daughter Jaycee Du, 32, chirps that the clock in the family's living room has been running 20 minutes earlier since her mother Teo Siew Tin, founded the lor mee stall in 1997. 
Eldest son Du Han Zhong, 39, said it's to "train the sense of urgency" in the family. 
In fact, Madam Teo herself woke at 1am and refused to head back to bed. Laughing, she said she was afraid of oversleeping. 
All too soon, the car reaches the shuttered coffee shop and the family begin unloading their goods and bringing them to their stall using the back door. At this time, only the char kway teow stall owner and another coffee shop employee – there to keep an eye on the filming – are present.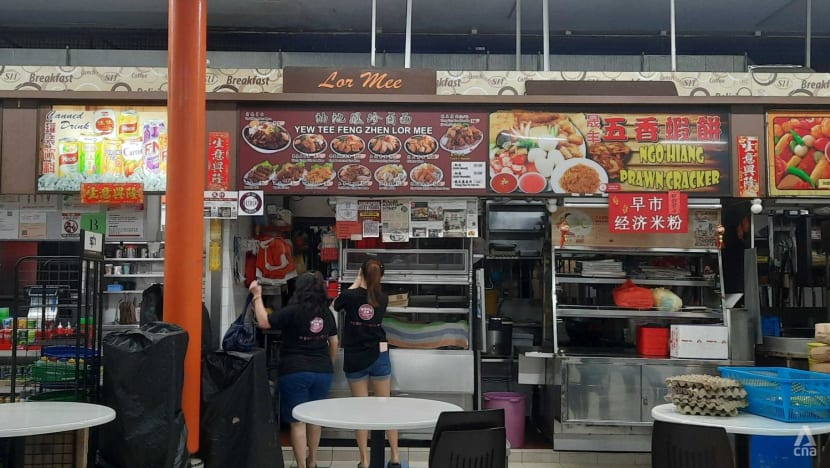 Like clockwork, the four family members begin cooking the starchy broth, the noodles and other handmade ingredients like prawn rolls, dumplings, pork balls and pork belly. They work mostly in silence, comfortable in their roles. But hours in, dad Toh Pee Tian tells this reporter that his wife is not usually this quiet. 
"Luckily you all are here today, or else she will be scolding and asking everyone to hurry up," he said goodnaturedly, setting a basin of braised pork belly on a table. 
By all accounts, Mdm Teo is the matriarch whose sharp tongue has been a source of fear for her children since young. 
Now 62, Mdm Teo still nags, but has mellowed since her three children decided to set aside their own careers to help with the family business. It came as a relief after Mdm Teo nearly shut the stall in 2020 from sheer fatigue. 
Under the lead of the young ones, Yew Tee Feng Zhen Lor Mee has been given a new lease of life. The family business has undergone more change in the past two years than Mdm Teo has seen in as many decades.

Now she is fervently hoping that the younger generation can help her achieve her dream of opening a restaurant that can showcase her culinary repertoire.
THE FLEDGLING YEARS
Raised to help out at her own mother's canteen stall from young, the Mandarin-and Hokkien-speaking Mdm Teo only attended school until the age of eight.

After that, she began working to support her five siblings. Work became her sole focus, even as Mdm Teo married at age 16 to Mr Toh, then an odd job labourer. Despite the young family's efforts, money was tight and things became worse when Mr Toh's various businesses failed to take off.

By the 1990s, Mr Toh's failed ventures put the family in heavy debt. Then with three young children to feed, Mdm Teo decided to turn to what she did best to help the family finances – cooking.

Borrowing a few thousand dollars from her mother and tapping on the family's meagre savings, Mdm Teo took a leap of faith, renting the Yew Tee S11 coffee shop stall when it became available. She named the stall Feng Zhen Lor Mee, after herself.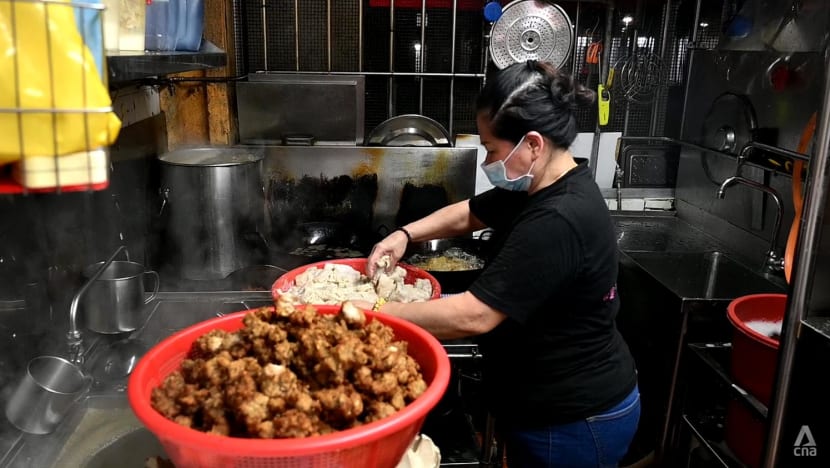 Mdm Teo said in Mandarin: "At first I wanted to do something simple like … noodles, but not many people were doing lor mee – why not I try lor mee to see if I can sell it? Then slowly, some customers said 'hey it's not bad'. Occasionally I would slip up and customers would say 'hey today's lor mee isn't very good'.
"When I heard that I would feel very upset, so I thanked them for telling me and promised that I would improve. So I slowly started improving from there."
Eventually, Mdm Teo sought to expand. She opened a second stall at Taman Jurong Hawker Centre in 2003 which her husband ran. However when Mr Toh began falling ill, Mdm Teo was forced to give the stall to her mother, who eventually came to be mistaken as the founder of the business. 
Now run by Mdm Teo's brother, Taman Jurong Feng Zhen is a separate enterprise from the original Feng Zhen Lor Mee, with a different menu and recipe. Jaycee, the marketing brain behind the Yew Tee stall, made the decision to rebrand the business to Yew Tee Feng Zhen Lor Mee in a bid to differentiate the two entities. 
Expansion took a backseat for Mdm Teo, as did dreams of her own restaurant. But hawkering would soon come to define the family's way of life, with the children caught up in Mdm Teo's dedication to her craft and determination to please her customers.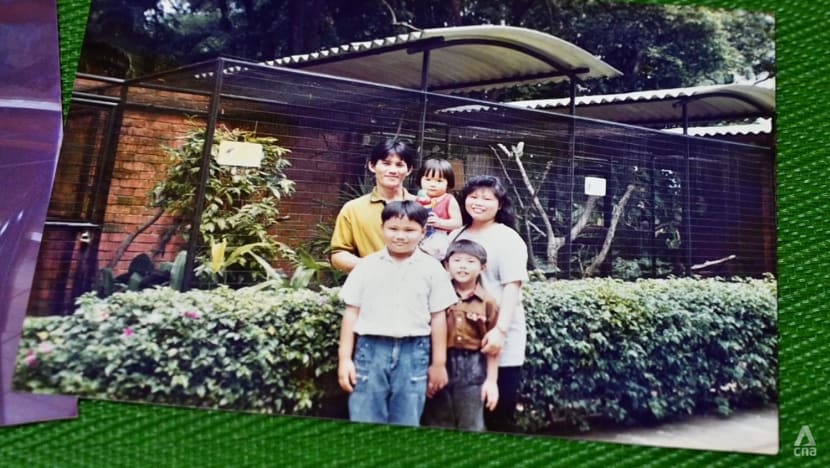 CHILDHOOD STRUGGLES: "SCARY", "AFRAID", "EMBARRASSED" 
The year is 1997. Seven-year-old Jaycee is woken up by her mother hours before dawn to help out at the lor mee stall. There's no sleeping in for the young girl, who trudges alongside her two older brothers, bleary-eyed and groggy, to the hot and dark coffee shop to start the morning's prep work cutting chilli, rolling dumplings and stuffing fish paste into vegetables.
This was not the life that eldest son Han Zhong had envisioned as a 14-year-old teenager. All he wanted to do was hang out with friends. All his mother wanted him to do was serve customers lor mee. 
He characterises his early memories of the stall as "Scary. Afraid. Tired."
"Whenever we disobey her orders, she will scold us very fiercely or nag at us very frequently. Just nag or scold us or raise her voice, causing us to have a phobia," he told CNA from the family's flat in Bukit Panjang. 
He felt then that his time at the stall was a "waste" of his youth as he could not enjoy himself or play with friends. 
Likewise, Jaycee's earliest memories of the stall were filled with reprimands – often when her mother deemed her work to be sub-par.
"She is someone who has a very high standard in her food quality. So she's not like other mothers who would be very gentle to you. She is someone who is very short-tempered and for her, she wants to deliver a very good bowl of lor mee to people so whenever customers feedback or what, if she knows that we are the ones preparing, she would just 'blast' us, saying why didn't we do a good job," Jaycee said.
She remembered how she ruined a ladyfinger while trying to stuff fish paste into the delicate stalk.
"It's not that easy for a seven-year-old kid I suppose, 'cause you need skills to really (pluck open) the ladyfinger to put the fish paste. So there are times when I spoiled the ladyfinger and she would scream at me."
Crying would only annoy her mother further, Jaycee quipped.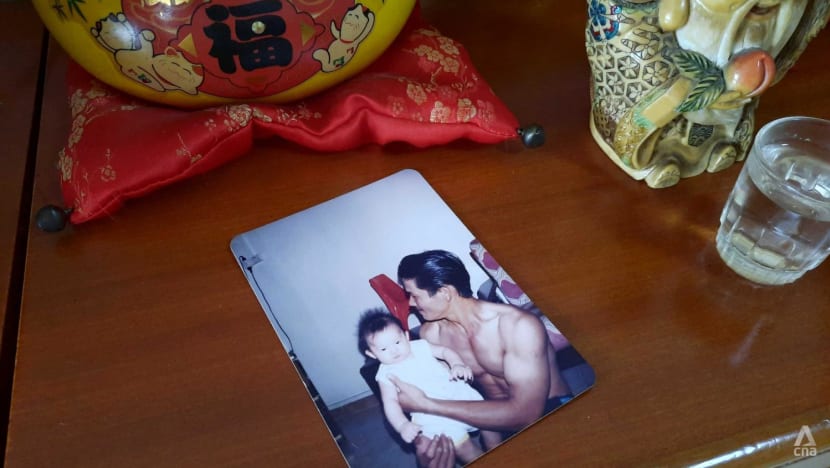 Even slicing the chilli padi was a measure of standard for Mdm Teo, who insisted that chilli pieces had to be cut evenly.
When a young Jaycee unwittingly rubbed her eyes while cutting chilli and panicked over the resulting burn, her mother simply told her to wash her eyes.
"She would tell us 'go and wash your eyes, go and take the ice and rub on your eyes. Then you just sit down like that and wait, you will feel better later'. Then she would be busy cooking and serving customers and she would just put you to one side.
"It's like the whole of her life is lor mee," Jaycee observed with a chuckle.
As Jaycee entered her teenage years, she became embarrassed to be seen at the stall, where patrons would call her "lor mee mei (sister)". She was also deathly afraid of being seen by classmates in her "auntie" clothing. 
All three children described how Mdm Teo's dedication to her work often came at the expense of supervising her children. 
"My studies weren't very good back then. Often our teachers would call my mum to talk about the three kids not doing well in their academics. My mum will just flare at us again but she doesn't know the root cause, she doesn't know that is her problem to really supervise her kids," Jaycee said. 
Her second brother Du Han Chuan, now 38, would run to the nearby playground with friends at every opportunity he could – until his mother screamed for his return. 
"That time she was so scary you know," he said, adding that the siblings "shivered" at the sound of her voice. "Back then I didn't like helping out at the hawker, cause (it was) very tiring, sticky, sweaty and hot."
But it is Mdm Teo's brand of tough love that prepared her children for the demands of hawker life, paving the way for their return years down the road.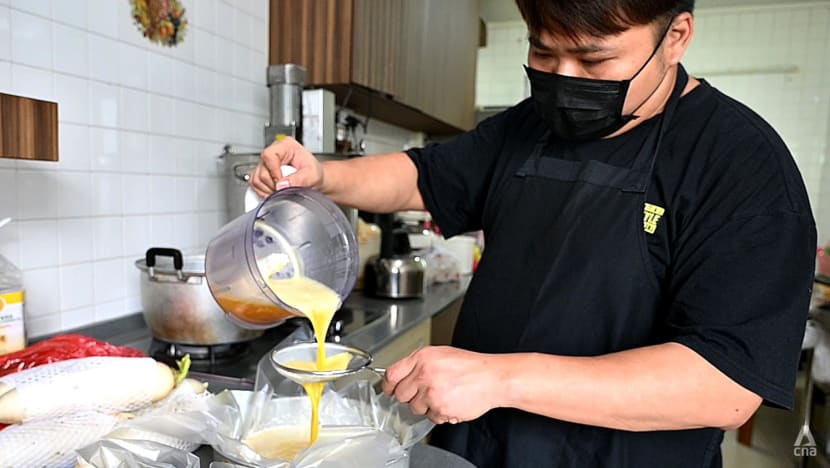 BECOMING SECOND-GENERATION HAWKERS
As they outgrew their fear of their mother's tongue, the trio began to understand the reasons behind her frequent outbursts and nagging. 
"Initially, we could not understand her thinking, like why is she so rigid over every single thing that we do in terms of operation. Then slowly as we took over to help her we realised that her motive is very simple. It's just to deliver good quality (food)," said Jaycee.
Han Zhong was the first to put aside his own career to help his mother run the business after workers started to quit on her. 
"My mum's very hardworking in her own career … It's better not to give up lah. My mum is getting older and older so I think it's better to help out," he said with a shrug. He simply quit his job. 
His younger brother Han Chuan decided to join the family business full-time after getting retrenched from his administrative job in an investment firm.
"You see them getting older and older," he said about his parents. "They really (have a) shortage of manpower … the (workload) is very high for them."
By then, the three children had witnessed firsthand their mother's trips to the traditional Chinese medicine practitioner for body aches and pains.
Compounding the wear-and-tear was Mdm Teo's occasional falls in the course of being a hawker. Years ago, she slipped on a stray bottle cap outside her stall and hit her head against a pillar. 
She continued to work even as blood streamed from the back of her head – simply using a cloth to stem the flow – until her husband insisted that she see a doctor. On another occasion, she fell and chipped her tooth. 
Just a month ago, she slipped again and hit the same area on the back of her scalp. She still feels the pain today.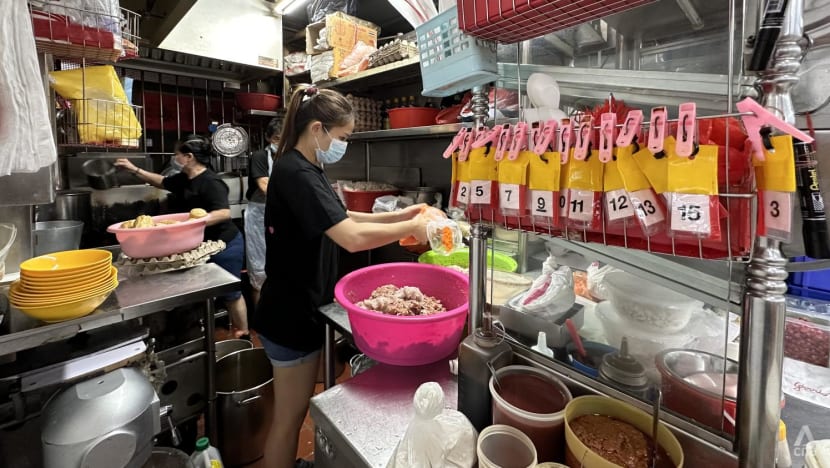 "I WILL SETTLE FOR YOU"
Jaycee was the last sibling to join the business full-time. 
Driven by her parents' quarrels over money, she took on part-time stints in her teenage years, from retail to service jobs. Busy earning her own keep, she soon drifted away from the stall. 
She returned to help out from time to time after getting a full-time job in the public service when she was 21. This went on for close to a decade until April 2020, when her mother called her on the phone on the verge of a breakdown.
Crying, she told Jaycee that she was tired and didn't know if she could continue running the stall. Her dad's health was not good and the stall was only operating three to four days a week.
"Customers kept telling her 'did you all strike the lottery, is that why you are always not open' and 'are you all rich now that's why you don't have to work anymore?' My mum was very affected ... so she just declared she didn't want to do it anymore."
In that instant, Jaycee made the decision to quit her job.
"I told her that business is doing well, why do you have to give up. Just give me a while ... I will settle for you.
"Then (my mother) said 'actually my dream is to open a restaurant, can any of you fulfil that wish?' Then I was like 'we definitely will, give me a bit of time'." 
Her mother told her to think it over. Jaycee's colleagues, bosses and even her human resources manager asked if she was sure. But she had made up her mind.
True to her word, Jaycee wrapped up her last project and left the public service months later, drawing to a close 10 years of corporate life.
Then 30, she swapped her high heels, makeup and dresses for black rubber clogs, denim shorts and a shirt imprinted on the back with the stall's slogan "You are my lor mee o (a play on the word Romeo)" in Mandarin. She also took a pay cut of 70 per cent.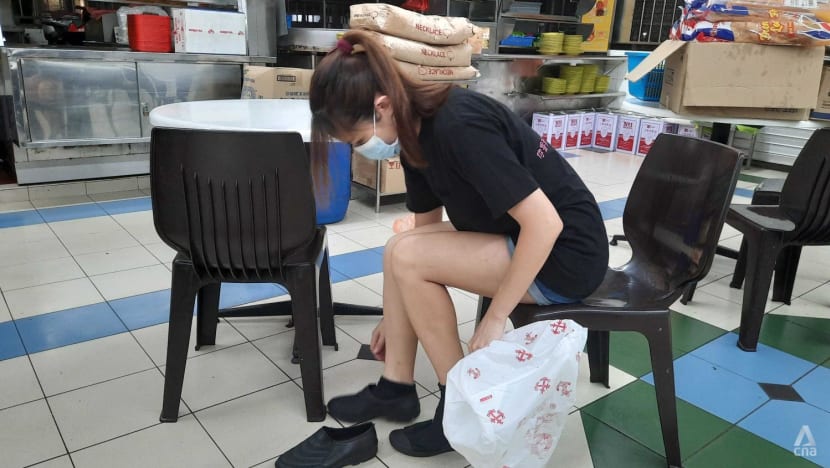 Early nights and mornings were a struggle for Jaycee, already used to the nine-to-six of corporate life. She continued to be nagged at by her mother for referring to recipe notes while cooking, or for failing to remember customer orders.
But Jaycee's efforts soon bore fruit. Within two months, she opened Yew Tee Feng Zhen Lor Mee's second outlet at Devan Nair Institute in Jurong East. A third branch in Bukit Merah Central launched on Monday. The family also participated in the food fair held at the Singapore Expo in mid-September, and plans to take part in more events to gain more exposure for the brand. 
Jaycee is also experimenting with marketing tools completely new to her mother, including getting her family to do the voiceovers for a cartoon about the business.
The eventual goal, she said, is to have an outlet in "every corner" of Singapore. Whether these come in the form of hawker stalls, or Mdm Teo's dream restaurant, remains to be seen.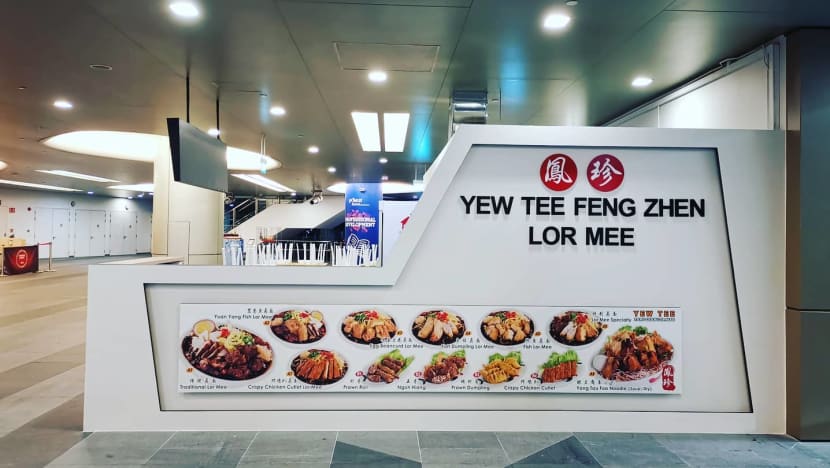 Drawing aspiring hawkers to the trade
Several government initiatives are in place to encourage potential hawkers to enter a trade widely seen as physically tough and dogged by long hours. 
In 2018, the Incubation Stall Programme was launched to offer pre-fitted hawker stalls at subsidised rent for the initial 15 months. 
However, the programme saw limited success, with just 39 hawkers signing up between 2019 and 2021, according to a written parliamentary reply by Minister for Sustainability and the Environment Grace Fu.
The Hawkers' Development Programme, launched in 2020, offers participants a two-month apprenticeship with veteran hawkers. 
Close to 400 took part in this scheme, Ms Fu said. About 70 per cent of the participants were below 50 years old.
The National Environment Agency has also launched the Hawkers Succession Scheme to help retiring hawkers pass down their skills and stalls to successors.
WHAT REGULARS SAY
As the hour nears 6am, the four family members pick up their pace noticeably. The sky remains dark, but already customers stream through the back door of the coffee shop to order lor mee. 
The shutters pull up minutes later and business starts in earnest as the sky begins to brighten. 
An early crowd forms and one familiar face who appears is Mr Fred Fok, who has frequented the store since 1998 – the second year of the stall's debut.
"(Han Zhong and I) grew up together," said the 47-year-old, who spoke to CNA over a steaming bowl of his favourite lor mee dish – no egg or cut chilli – on Saturday morning. The technician is so familiar with Mdm Teo and her family that he calls Jaycee "younger sister" and Han Zhong "elder brother". 
"Personally, I like what they do, seeing their preparations. A lot of times in the morning when the lights are not on yet, I can see the way they prepare. I appreciate the way they do not deceive customers. The ingredients are really there," Mr Fok said.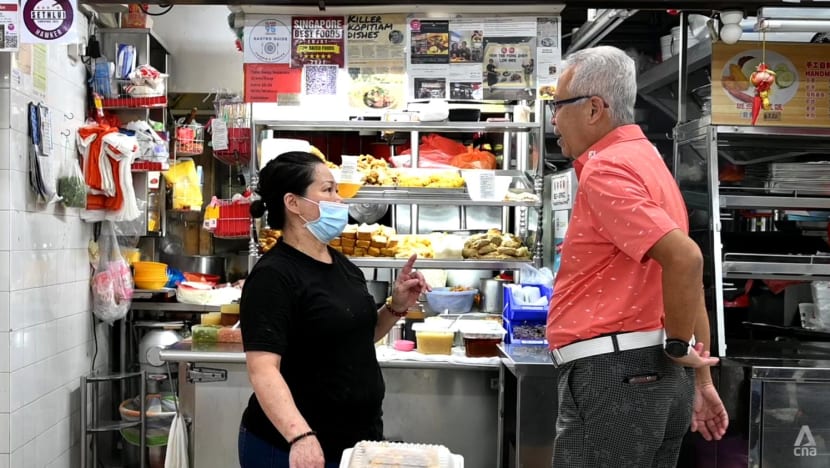 As the queue builds, other familiar faces appear, such as couple Gavin Seah, 29, and Mitch Lin, 32, who had their typical order – one large bowl of lor mee each with a shared prawn roll and fish cutlet – to kick off their weekend dates. 
Yew Tee Feng Zhen Lor Mee has been such a significant part of their lives that it featured in the couple's pre-wedding shots late last year. 
"Usually every weekend we will make a trip down to the stall for lunch and it became a frequent thing over the last few years, part of our dating days before we got married. We've always looked forward to our 'lor mee date'," Mr Seah, an author, told CNA over the phone. 
"It became something that was quite memorable for us. So when we thought about wanting to create a pre-wedding shoot, we wanted it to be something that we can look back and say that definitely defines our great dating memories."
The couple, who got hitched in March this year, was pictured in bridal wear posing in front of Yew Tee Feng Zhen Lor Mee and enjoying their lor mee in its signature takeaway containers at the coffee shop.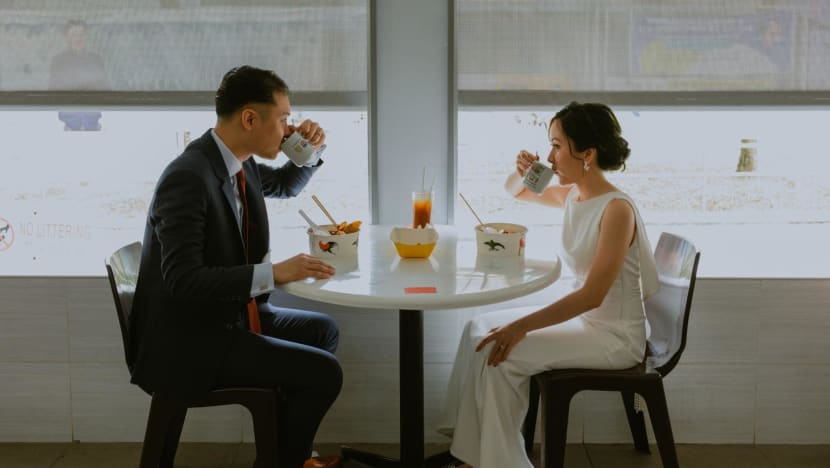 The day's work is not done even when the last bowl of lor mee is doled out at around 1pm to 2pm.

The family cleans up and returns home, where they continue prepping for the next day, cutting yam, mincing garlic and steaming trays of soya beancurd. It's only towards evening when they can finally retire for the day, and Mdm Teo rests her weary legs. 
Despite all her aches, Mdm Teo said she will not take a back seat. Not until the day her customers tell her that her children have done well.
"I tell the regulars that my children are doing it. You try it and if there are any problems let me know, my children will accept it. If it's not good, let them know. A lot of customers come and tell me it's not bad, you can let go now, you really can let go. They can do it. 
"When customers tell me this then slowly I will let go."