Syringe-filling machine deployed at some COVID-19 vaccination centres, reducing workload of health workers
SINGAPORE: An automated vaccine extractor has been deployed at several COVID-19 vaccination centres, replacing the manual step of filling syringes with liquid doses.
 
It is designed to reduce the workload of healthcare providers and increase accuracy and productivity, said the Agency for Science, Technology and Research (A*STAR) in a media release on Thursday (Sep 30).
 
The machine has been set up at seven vaccination centres, including Senja-Cashew Community Club and Bishan Community Club. 
 
While it is only used for the Pfizer-BioNTech vaccine currently, the settings on the machine can be customised for Moderna doses or any other vaccines that use a similar form factor and extraction process.
HOW IT WORKS
The machine, called the Automated Vaccine Inoculation Dispenser (AVID), uses a combination of robotic parts, smart sensors and digital technologies, said A*STAR.
 
Researchers from the agency's Advanced Remanufacturing and Technology Centre and the Singapore Institute of Manufacturing Technology (SIMTech) developed it, in collaboration with local systems integrator Sysmatic Global.
 
Before using the machine, healthcare workers will thaw the Pfizer-BioNTech vaccine and dilute it in the vial.
 
Typically, vaccine administrators will then extract individual doses from the vial with syringes, with one vial containing six doses of the vaccine after dilution. They will also disperse the bubbles inside the syringes.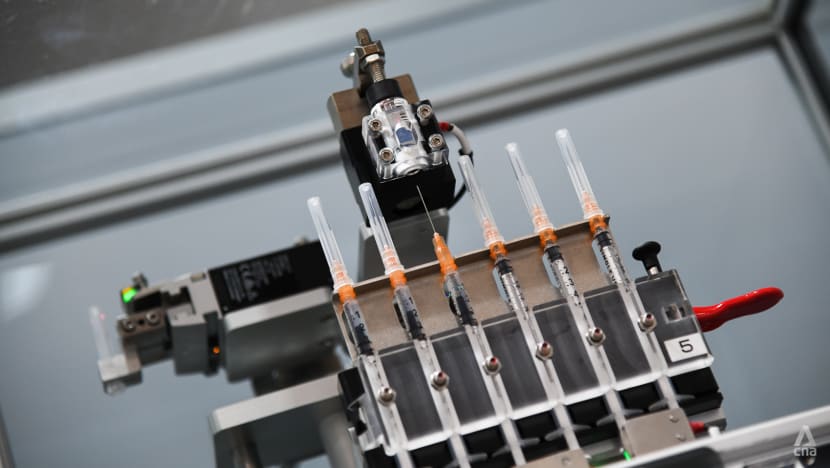 These steps could take up to 20 to 30 seconds for each person being inoculated, Thomson Medical's nurse manager Nellie Tan, 47, told CNA during a demonstration at Senja-Cashew vaccination centre.
 
But the machine automates this process. It also uncaps and recaps the syringes during the transfer of the vaccine from vials to syringes.
 
"It is easy to use at just the push of some buttons, only needing simple training without any special qualifications required," said A*STAR.
Apart from reducing the workload of healthcare workers, the automation allows them to focus on interacting and communicating with people receiving the vaccines, said A*STAR.
 
It also reduces the risk of cross-contamination and vaccine wastage, as well as improve safety for healthcare workers who need not handle sharp syringes during the extraction process, the agency added.
 
"The machine's small footprint and low weight (less than 25kg) means it can be easily deployed to any vaccination centre," said A*STAR.
On how the vaccine helps with her work, Ms Tan said it "eliminates some of the human processes".
 
"As a nurse, we just need to deliver our patient care," she said. This involves explaining the purpose of the vaccine to those receiving their jabs and advising them on how the side effects to look out for.
 
She estimates that with the automation process, she can see twice as many patients in a day.
In a Facebook post on Thursday, Deputy Prime Minister Heng Swee Keat said he had observed earlier this year how nurses manually drew 0.3ml of vaccine into each syringe, describing it as a "labour-intensive step" requiring "high-skill and meticulousness".
He then "challenged" the A*STAR team during a visit to design a solution to ease the workload of the vaccination teams.
"Less than two months after my visit, the A*STAR team came up with the Automated Vaccine Inoculation Dispenser (AVID) system," said Mr Heng.
"This is one of the many ways that innovation in science and technology have contributed to fighting COVID-19 and tackling our national challenges."

The Ministry of Health recently announced that those aged between 50 and 59 who completed both doses of the COVID-19 vaccine at least six months ago will be offered an mRNA booster shot from Oct 4.
 
Booster shots have already been offered to people aged 60 and above, as well as those who are moderately to severely immunocompromised and residents of aged care facilities.
 
About 82 per cent of Singapore's population have completed their full vaccination regimen of two doses.