Malaysia PM Mahathir invited to speak at democracy conference by political activists
Five Singaporeans met Dr Mahathir Mohamad, including former student union leader Tan Wah Piow and historian Thum Ping Tjin.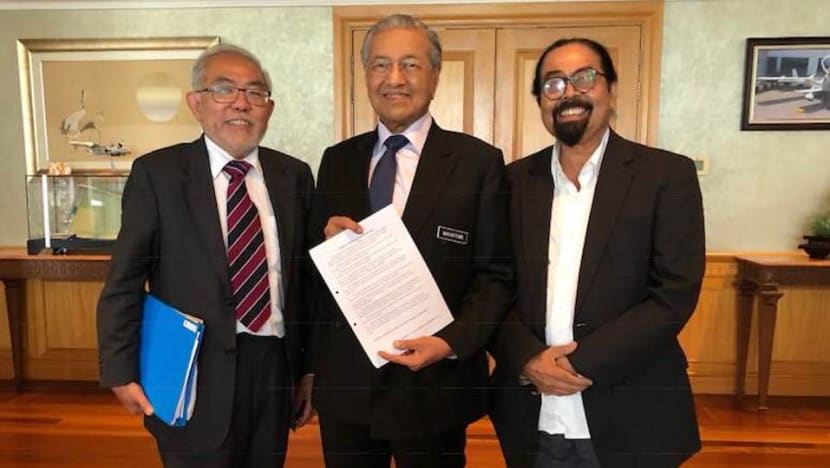 PUTRAJAYA: Malaysia Prime Minister Mahathir Mohamad has accepted an invitation "in principle" to speak at a conference on building democracy in Southeast Asia next year, organised by a former Singaporean citizen - activist Tan Wah Piow.

A representative from Malaysia's Prime Minister's Office confirmed this after a meeting on Thursday (Aug 30) between Dr Mahathir, Tan and four Singaporean "non-governmental individuals", including historian Thum Ping Tjin. The other individuals did not wish to be named.

Separately, activists Jolovan Wham and Kirsten Han posted on their Facebook pages that they had attended the meeting with Dr Mahathir. Author Sonny Liew posted comments about the meeting on his page.
The meeting was organised with the help of Malaysian political activist, Hishammuddin Rais, who was present and is also part of Tan's organisation - Forces for the Renewal of Southeast Asia.

Dr Mahathir led the Pakatan Harapan coalition to victory for the first time in Malaysia's history in May, defeating his former alliance, Barisan Nasional.

He was asked to give the keynote address at the yet-to-be-named conference but the 93-year-old returning PM's attendance depends on his availability, his office said.

"As far as I'm concerned, the most important things that Tun Mahathir brought about through his victory is this positiveness and aspiration for a freer society," Tan told media outside Dr Mahathir's office at the Perdana Leadership Foundation in Putrajaya.

"Personally, I am very grateful for this open, democratic space that Tun Mahathir's government has opened and it's a beacon for many who are struggling for democracy. Not just in Singapore but in other parts of Southeast Asia."

Thum added that he had "urged (Dr Mahathir) to take the lead in lobbying for the promotion of democracy and freedom of expression and inquiry in Southeast Asia" during the meeting.

 "I felt Malaysia is in a unique opportunity to really be a beacon of democracy in the region," he said. 

When asked what he thought the Singapore government's reaction to the meeting would be, Tan replied: "I think they will be very concerned, not because I met with Dr Mahathir, but the fact that the prime minister is prepared to share his views about democracy and to enhance the development of democracy in the region.

"And that Malaysia is now shining this beacon which is probably stealing the limelight from Singapore. I think that's what worries them. Singapore is becoming (an) outdated, archaic society with its dominant party controls."

Tan, a former student union leader, fled Singapore in 1976 after being convicted in a rioting case. 
The Singapore Government named Tan as the mastermind of the 1987 Marxist Conspiracy, which led to 22 people being detained for allegedly being part of a plot to overthrow the Government, in a crackdown known as Operation Spectrum. Tan's Singapore citizenship was revoked that same year.

Thum made the news in April when he crossed swords with Law and Home Affairs Minister K Shanmugam for six hours over the academic's alternative interpretation of historical events such as Operation Coldstore at public hearings by the Select Committee on Deliberate Online Falsehoods.