MPs suggest more ways to support Singaporean families who rely on maids for caregiving needs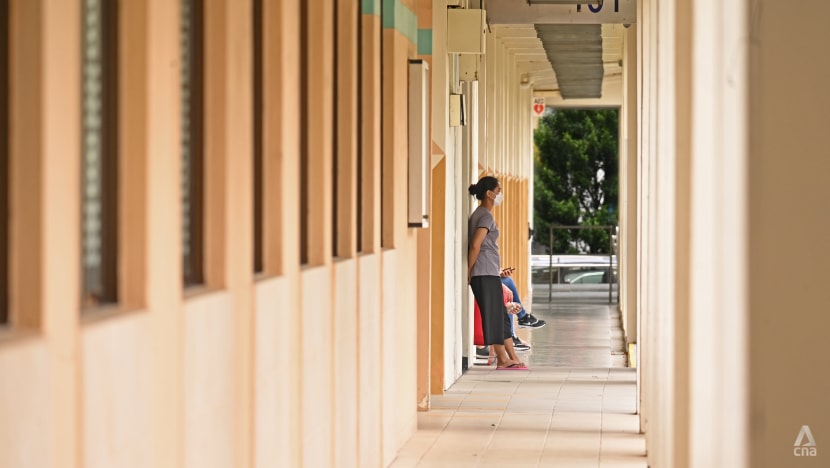 SINGAPORE: Amid challenges faced by some households in hiring maids as caregivers, two Members of Parliament on Wednesday (Nov 3) put forward suggestions to better support such families. 
These include a higher maid levy for high-income non-local households, a ban on private bartering for domestic workers via social media platforms, as well as a cap on the number of transfers initiated by a domestic worker.
Speaking during an adjournment motion in Parliament, MP Tin Pei Ling (PAP-Macpherson) said many Singaporean families who rely on maids for caregiving needs are "crying for greater support".
"Some are busy trying to make ends meet and some are just not savvy with the systems," she said. "Thus, could the Ministry of Manpower consider establishing a neutral advisory channel or platform offering these families information and consultations?"
Domestic workers are an integral part of the caregiving landscape in Singapore, said Ms Tin, citing figures showing that the number of these workers increased by 27 per cent from 2010 to June 2019.
She outlined three categories of challenges faced by families in hiring maids - escalating salary expectations, allegations of abuse, as well as demands for a transfer using an ultimatum.
"These challenges had been fomenting pre-COVID. But the challenging situation boiled over when the supply of migrant domestic workers was curbed by travel restrictions during the pandemic," Ms Tin said in her speech.
"A number of Singaporean employers wrote to me to express their desire for fairer treatment and called for more help," she added.
SALARIES
In a bid to secure domestic workers urgently, some salary offers went up to as high as above S$1,000 per month, said Ms Tin, adding that these offers were publicised in Facebook groups like "Singapore transfer helpers (maids) direct hire".
Such high salary offers prompted some workers to demand an end to their existing contracts so that they can be transferred to employers who pay more, Ms Tin added.
"Families stunned by such requests have little option – they could not just find a replacement easily, especially during the pandemic period," she said.
"Many of such families dare not ask the MDWs (migrant domestic workers) to honour the contracts and stay on because their loved ones are literally in the hands of the MDW.
"Hence, they either offer a higher salary or consent to the transfer. The latter obviously leaves families with real care needs in the lurch. Such a phenomenon would also come across as favouring the high earners."
Ms Tin said it is important to ensure equitable access to hiring domestic workers for "ordinary Singaporean families" with real care needs.
"Could we consider introducing a higher tier of MDW levy for high-income non-local households to mitigate the imbalance of paying power?" she asked.
She also asked if the Ministry of Manpower (MOM) could consider disallowing "private bartering" via social media platforms, meaning only maid agencies will be allowed to match workers with employers. 
Ms Tin acknowledged, however, that there are concerns about whether this will give employment agencies too much power and risk high agency fees.
ALLEGATIONS OF ABUSE
In some instances where families were reluctant to agree to the transfer, allegations of abuse were made to force the move, Ms Tin said.
She shared the experience of a young working mother who was accused by her maid of providing insufficient food and rest. The allegations by the maid, who had demanded a transfer, were found to be untrue based on camera footage, Ms Tin said.
She added that MOM's investigation of complaints can take months, and meanwhile, families face challenges hiring replacements.
"Even if the allegations were eventually found to be baseless, the MDWs often faced no legal consequence and were sent back to their home countries, at worst," Ms Tin said.
"Innocent families that had endured the ordeal are then left to pick up the pieces on their own. Many felt helpless."
Ms Tin proposed imposing a cap on the number of transfers initiated by the domestic worker in a year.
"Exceeding that cap with no valid reason and proof would then require the MDW to return to their home country," Ms Tin suggested, adding that currently, employers who repeatedly request for transfers in a short period of time face restrictions in hiring workers.
"It would seem fair to ensure all parties involved to take the contract seriously," she said.
Ms Tin also suggested more stringent checks or restrictions on domestic workers with a poor performance record when re-entering Singapore for new jobs.
SENIOR CARE
MP Nadia Ahmad Samdin (PAP-Ang Mo Kio) also spoke on the matter, with a focus on care needs for the elderly.
Families who need to care for seniors turn to domestic workers due to unfamiliarity with existing schemes, she said.
Some have also raised concerns about the waiting list for subsidised elder sitting services, daycare centres and nursing homes, she added.
"Looking for suitable step-down care services causes stress for families, and many also find it risky to wait and see if their loved ones qualify for a subsidised space or not," Ms Nadia said.
She suggested paying closer attention to matching and training domestic workers by establishing a more thorough needs assessment of employers' families. The information can be verified by employment agencies through submitted health records, she added.
Ms Nadia also suggested expanding the home caregiving grant by using a points system instead of separate financial and functional criteria to qualify.
"The number of activities of daily living that require assistance and household per capita monthly income can be tiered. A combination of these scores can provide a fuller picture for families in greater financial need," she said.
MOM HAS INTRODUCED SEVERAL MEASURES: GAN SIOW HUANG
Addressing the issues and suggestions raised by the two MPs, Minister of State for Manpower Gan Siow Huang noted that MOM already pays special attention to local households with caregiving needs.
Only households with at least one Singaporean with care needs are eligible for the concessionary maid levy rate of S$60 dollars per month, while non-local households with or without caregiving needs pay S$300 per month.
Instead of placing a cap on the maximum number of transfers for a domestic helper, Ms Gan said that MOM has adopted the approach of making the information more transparent. This allows employers to make "informed decisions" when hiring, she said. 
Employers may access information relating to prospective workers' work experience, the types of households they have worked for, the length of each past employment and the reasons why they left employment.
"We started collecting the reasons from employers for the cancellation of the MDW's work permit since September last year. With time, the information in the MDW employment history will become more comprehensive," said Ms Gan.
The employer reference channel also allows prospective employers to contact former employers of workers, she said, adding that MOM will look into how it can raise awareness of these existing initiatives.
Ms Gan noted that more than 80 per cent of employers hire domestic workers with the help of a maid agency.
For the remaining employers who prefer to hire workers directly to avoid incurring the additional cost of engaging an employment agency, disallowing them to do so would inadvertently increase the cost of hiring, she said.
MOM takes all allegations of abuse seriously, she added.
Giving figures in Parliament, she said that over the past two years, the police investigated and issued warnings to 17 domestic workers for providing false information against their employers or household members. Of these. 13 were blacklisted while the rest are pending a review of their case facts.
"We will continue to find ways to safeguard the interests of MDW employers while protecting the well-being of the MDWs," Ms Gan said.
"Ultimately for MDWs to continue to be part of our caregiving landscape we strive to build a system that is fair to both the MDW employers and the MDWs."