Malaysia PM Anwar to visit Singapore on Sep 13
Prime Minister Anwar Ibrahim, who is set to speak at the Milken Institute Asia Summit, will be hosted to tea by Prime Minister Lee Hsien Loong.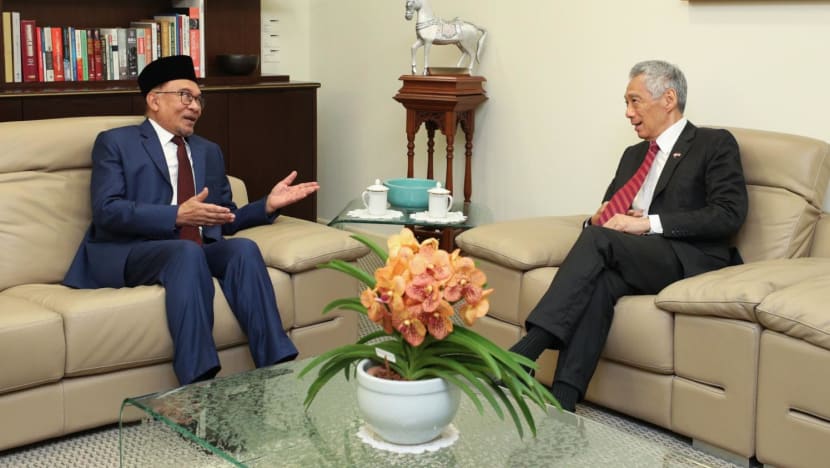 SINGAPORE: Malaysian Prime Minister Anwar Ibrahim will visit Singapore on Wednesday (Sep 13) to speak at the Asia Summit organised by think tank Milken Institute.
The conference, held from Sep 13 to 15, brings together policymakers, industry leaders and academics across various fields to discuss subjects such as digitalisation, global inequality, public health and environmental sustainability.
This is Milken Institute's 10th Asia Summit
During his visit, Mr Anwar and his wife Wan Azizah Wan Ismail will be hosted to tea by Prime Minister Lee Hsien Loong and his wife, the Ministry of Foreign Affairs (MFA) said in a press statement on Tuesday.
Mr Anwar, who is also Finance Minister, will be accompanied by Malaysia's Minister of Investment, Trade and Industry Tengku Zafrul Aziz and Foreign Affairs Minister Zambry Abdul Kadir.
Mr Anwar made his first official visit to Singapore as prime minister on Jan 30, during which he and Mr Lee witnessed the signing of bilateral agreements on digital and green economies as well as cybersecurity.
The meeting between both leaders "reaffirmed the longstanding and immutable friendship" between the two countries, MFA said in January.